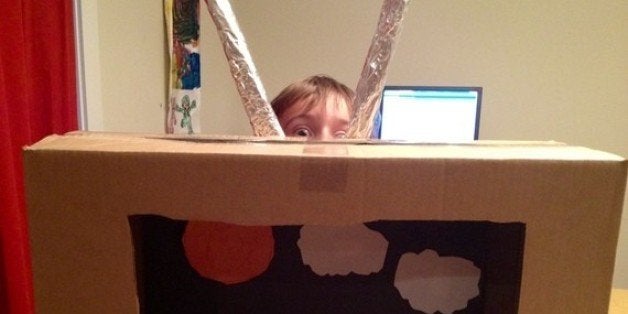 I've never been a crafty girl -- I'm waaay too impatient.
I tried my hand at scrapbooking (too time-consuming), making my own greeting cards (too many accessories and tools) and I went to a "party" where I spent a ton of money on big rubber stamp set that I was going to use for all my scrappin' and card makin' (that did not happen).
As a kid, I loved to draw. I loved to paint. I loved to create and make things. Macaroni art! Paper mache! Ash trays!
But as an adult the craft chip didn't compute -- until I started to get inspired by my 6-year-old.
Isn't it great when we get to experience that whole you get to be a kid again through your child thing? Because I think that's happening now. Although he's doing most of the work -- I'm handing him things or cutting things, or mostly cleaning up things.
I'm happy to be his assistant in creating works of art. Like...
What you'll need:
What you'll need:
An old blanket or bed sheet
Safety scissors
Tape
Television set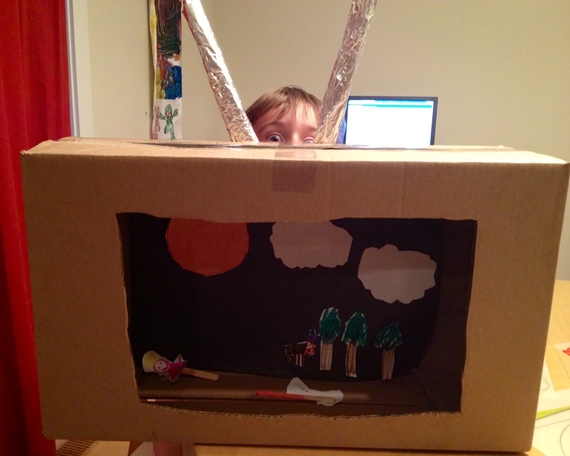 What you'll need:
Cardboard box
Construction paper
Popsicle sticks
Tape
Scissors
So fun, so easy, and the true definition of recycling. And as low-key as these little projects are, some are even... well... lower.
For example, check out "Wheat Thin Box Head" as seen tonight in my living room: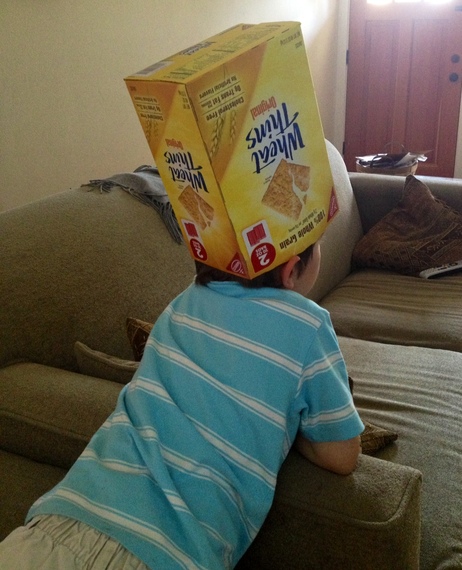 What you'll need:
One Costco sized box of Wheat Thins
One head
So see? It's easy and pretty fun once you get into it. And I have to say, his television show is better than half the stuff that's on. And there's nothing like coming upstairs and seeing your kid fast asleep in an empty IKEA box.
Lori and Sam have a website where they get creative, Drawn to the 80s, where Sam draws the greatest hit music of the 1980's. Lori also writes a blog, Once Upon a Product where she writes about the 80s, beauty products and Mick Jagger.