The battle between eating healthy and eating what you love is real. Your body might crave the sugary decadence of cookies and ice cream, but everyone knows the more you indulge, the further you get from your health and fitness goals.
But what if you could have your cake and some toned abs, too? We've partnered with Sensodyne® True White® toothpaste to help you with this struggle. Because when it comes to dessert, you don't have to choose between flavor and health. With the help of some of the best chefs, food bloggers and nutritionists in the game, we rounded up five healthy versions of your favorite tasty treats.
After all, what's life without a little sweet?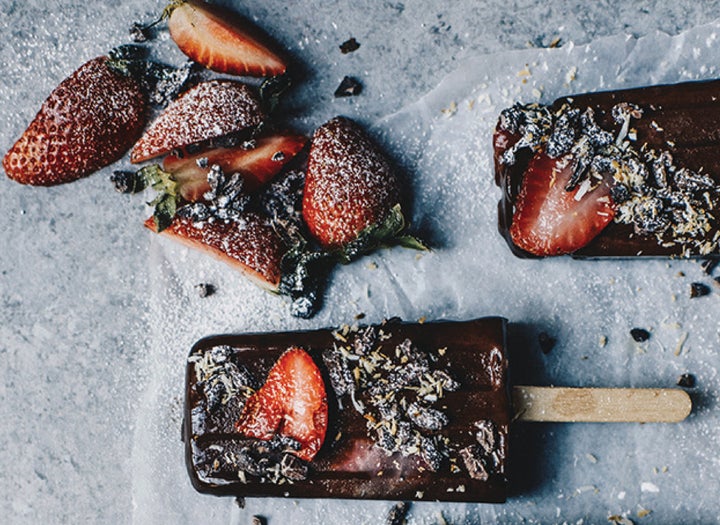 Strawberry Hazelnut Fudgepops
There's nothing like a creamy fudge pop to turn a hot summer day into a cool summer dream, so food blogger Jodi Moreno gave us her favorite way to celebrate the sun — without a major sugar crash.
In a recipe from her latest cookbook, More With Less, Moreno combines hazelnut milk with sweet, succulent strawberries for an icy treat that even the pickiest kids will love.
Ice pop molds (2 molds that hold 6 pops)

1 cup cocoa powder

1 cup coconut palm sugar

2 tablespoons tapioca starch

2 teaspoons vanilla extract

4 teaspoons sea salt

3 cups hazelnut milk

2 cup thinly sliced strawberries, fresh or frozen
Put the cocoa powder, sugar, tapioca starch, vanilla and salt into a medium saucepan, and slowly pour in the hazelnut milk while whisking constantly to keep the starch from clumping.

Heat the mixture over medium-low heat and bring to a simmer, whisking continuously, until the mixture begins to bubble.

Stir in the strawberries, then remove the pan from the heat.

Transfer the mixture to a container with a pourer, and pour the mixture into the ice pop mold.

Follow the instructions for your individual mold for the sticks, as well as for removing the ice pops once they are frozen.

Freeze the pops for a minimum of 5 hours, or overnight.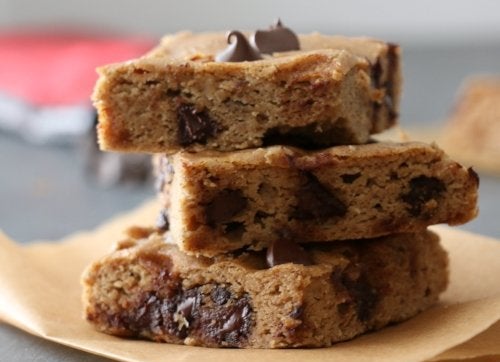 Dark Chocolate Chickpea Blondies
Is there ANYTHING more delicious than a soft, chewy blondie? While you might think a blondie's gooey goodness has to come from its super-rich ingredients (you know, butter, sugar and more butter), Edwina Clark, a registered dietitian and health food blogger, says there's a way to enjoy a classic blondie without all the fat and carbs.
"My favorite healthier dessert is my flourless chickpea blondie recipe," said Clark. "I've made it dozens of times, and no one ever suspects that it's legume-based."
Clark's recipe ditches traditional white flour in favor of chickpeas, and uses nut butter instead of regular butter.
"Chickpeas are packed with protein and fiber, which aid with digestive health, satiety and muscle building," she said. "In addition, nut butter reduces the saturated fat content and adds an extra dose of protein and fiber, as well as a variety of micronutrients."
1 (15 ounces/425 grams) can chickpeas, rinsed and drained

1/3 cup almond butter

1/3 cup maple syrup

1/4 teaspoon baking soda

1/4 teaspoon baking powder

1/4 teaspoon cinnamon

2 teaspoon vanilla

1 egg

1/3 cup dark chocolate chips + 2 tablespoon for the top

Coarse salt
Preheat the oven to 350 F/180 C.

Line an 8-inch by 8-inch (20-centimeter by 20-centimeter) tin with parchment paper.

Add the chickpeas, almond butter, maple syrup, baking soda, baking powder, cinnamon, vanilla and egg to a food processor container or a high-powered blender. Pulse 5 to 10 times to break down the chickpeas, and then process on high until smooth.

Gently mix the dark chocolate chips into the batter with a spatula.

Pour the batter into the lined baking tin. Spread the batter with a spatula so you have 1 even layer covering the bottom of the tin.

Sprinkle the batter with the remaining chocolate chips and a pinch of coarse salt.

Insert the tin into the oven, and bake for 20 to 25 minutes until the batter no longer jiggles. Your blondies should be golden brown around the edges of the tin.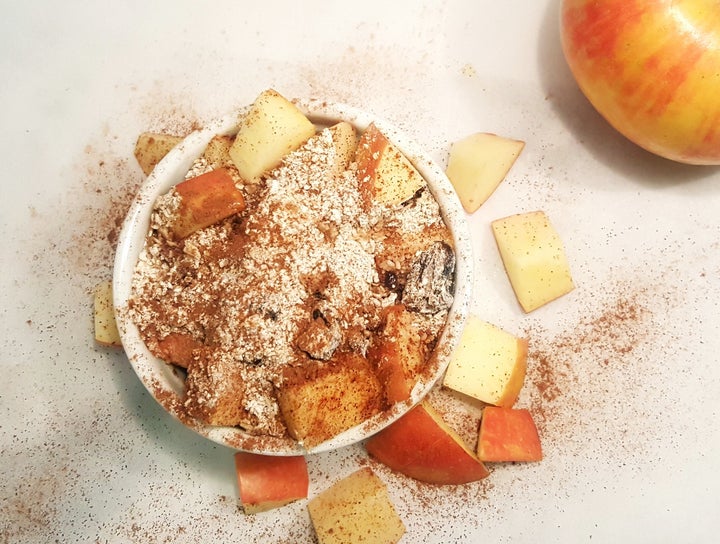 Healthy (No, Really!) Apple Pie for Two
Apple pie is a classic American treat, one that typically packs a hefty calorie punch. But Susan Schenck, author of The Live Food Factor, says having a slice of pie doesn't need to hurt your waistline. Her secret? Using raw oats, dates and honey.
"Raw is best," said Schenck. "It contains all the enzymes and nutrients, plus the taste is stronger and the dessert is MOIST!"
Schenck's recipe makes two servings, at just 225 calories each. But if you can't stop with just one portion, Schenck says it's OK to indulge: "Better double the recipe and call it 'apple pie for four!'"
1/2 cup raw oats (if gluten sensitive, use 1/4 cup chopped walnuts instead)

1/2 teaspoon cinnamon

4 pitted dates
2 medium apples, chopped (Red Delicious are tastiest)

3 tablespoons honey or yacon syrup

1/2 tablespoons vanilla extract
Blend crust materials in a food processor using the "S" blade.

Marinate chopped apples in syrup and extract mixture.

Put half the crust crumbles in a bowl, and place the filling over it.

Pour the rest of the crust over the apple filling.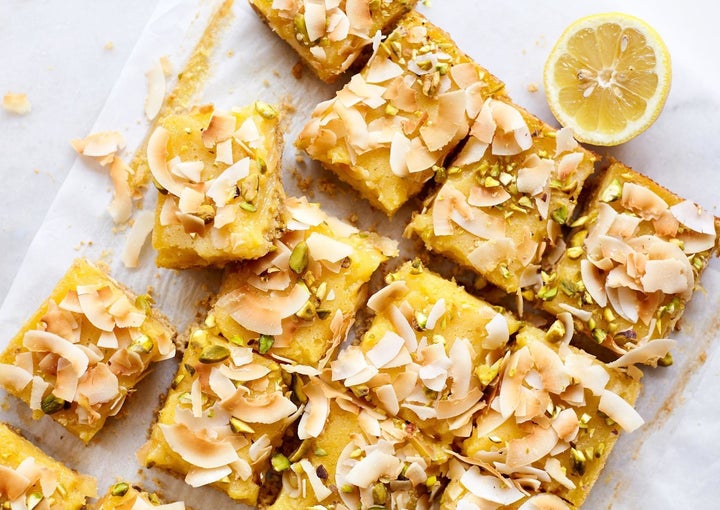 Pistachio Coconut Lemon Squares
Serving: 12 to 16 squares
Sure, these lemon bars look far from healthy. But looks can be deceiving. Swap out half the sugar for stevia, and most of the butter for olive oil, and you're looking at a dinner party classic that boasts half the calories. Whip up a batch using this recipe from In The Raw, and your party guests won't have to feel bad about coming back for seconds (or thirds!).
1/4 cup shelled pistachios

1/4 cup unsweetened coconut flakes

1/4 cup stevia

1/4 cup sugar

3/4 cup spelt or whole-wheat flour

1 1/2 cups all-purpose flour

1/2 teaspoon kosher salt

1/2 cup extra-virgin olive oil

1/3 cup unsalted butter, chopped into cubes
6 large eggs

1 1/2 cups freshly squeezed lemon juice

1 1/2 cups stevia

1 1/2 cups sugar

3/4 cup all-purpose flour

2 tablespoons lemon zest (from about 5 lemons)
1/4 cup shelled pistachios, chopped

1/2 cup unsweetened coconut flakes, toasted
Preheat the oven to 350 F.

Coat a 9 by 13 by 2 baking dish with cooking spray, and line with parchment paper allowing ends to overhang.

Make the crust: In a food processor, combine the pistachios and coconut flakes and process until a finely ground flour forms, about 20 seconds.

Add stevia, sugar, flours and salt, and pulse to combine.

Add the olive oil and butter and pulse until the mixture just comes together to form a wet dough.

Press the dough firmly into the prepared baking dish to form the crust.

Bake the crust for 15 minutes, until lightly browned.

Remove from oven and let cool while making the filling, keeping the oven on. In a large mixing bowl, whisk the eggs lightly.

To the eggs, add the lemon juice, stevia, sugar, flour and lemon zest.

Pour the mixture over the crust and bake for 30 minutes, until the filling is set.

Remove from oven and immediately top with chopped pistachios and coconut flakes, pressing gently into place. Let cool for 2 to 3 hours.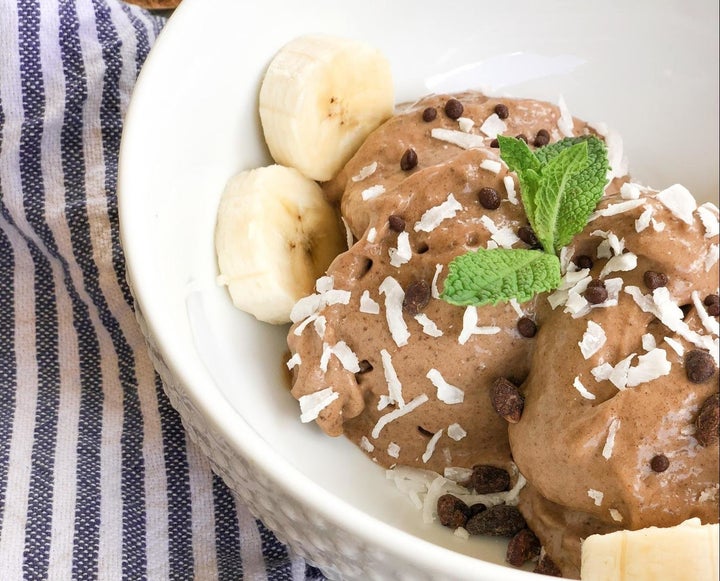 Banana Chocolate Ice Cream
This vegan recipe from registered dietitian and food blogger Mariana Dineen will have you snubbing the real stuff in no time.
"For [me], summer and ice cream go hand in hand," said Dineen. "Frozen bananas are the secret to these fun, healthy and decadent summer treats that are loaded with antioxidants and pack a [nutritious] punch!"
Peel bananas, slice them and place them in a freezer bag for 6 hours.

Remove bananas and place them in a food processor with the NuttZo Chocolate Power Fuel, maple syrup and cacao powder.

Blend until smooth.

Scoop into a bowl and top with coconut flakes and cacao nibs or chocolate chips.
If you have sensitive teeth, some of these recipes may cause a jolt of pain, but there's an easy way to enjoy your favorite desserts without thinking twice. With Sensodyne® True White®, you don't have to compromise. You can have lasting sensitivity relief as well as whiter teeth with twice daily brushing. Sensodyne® True White® has a low abrasive whitening formula that gently lifts stains while building protection around the nerves inside your teeth so you can restore the natural whiteness. Now that's something to smile about!