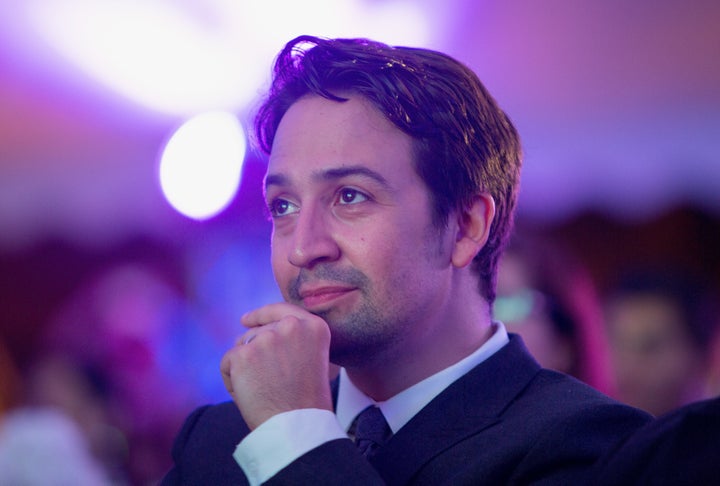 You can be highbrow. You can be lowbrow. But can you ever just be brow? Welcome to Middlebrow, a weekly examination of pop culture.
How does a New York City–born, Puerto Rican, theater-geek Wesleyan grad grow up to be one of the hottest names in show biz (and a dad)? 
We tried really hard to make that rhyme — we're guessing that Lin-Manuel Miranda would have done a better job with the subject matter. It's his life, after all.
Who could have predicted the smash success of "Hamilton: An American Musical," penned by Miranda, or that it would spark nationwide interest in Founding Fathers, old-school hip-hop, and the status of Daveed Diggs' hair? Perhaps Miranda could have, seeing as he graciously accepted the chuckles thrown his way when he announced at a 2009 White House Poetry Jam that he was working on "a concept album about the life of someone I think embodies hip-hop: Secretary of the Treasury Alexander Hamilton." Just you wait, chuckling White House crowd.
Seven years later, and after about a year of wearing his hair long in order to convincingly portray ol' Hamilton, Lin keeps popping up on our pop culture radar. First, we hear that he will have a hand in the upcoming "Mary Poppins" remake. Then the upcoming live-action version of "The Little Mermaid." His first musical, "In the Heights," is being adapted into a film. Oh — and he's also done stuff for "Moana"! And now he's hosting "SNL"! Look around, look around: There he is on the cover of G-freaking-Q. 
It's raining Lin, and we couldn't be more pleased.
The unusual thing about Miranda is that every ounce of hype that comes his way is duly deserved. He's worked hard, put in the hours, and is coming out on top. He's a celebrity you can fawn over without feeling sheepish about our fawning celebrity culture.
Beyond his talent and smarts, Miranda also comes off in public appearances and on social media as incredibly kind. His Twitter page is a chronicle of daily (and nightly) encouragements to 814,000 followers, and he's been outspoken about Puerto Rico's debt crisis and the importance of arts education. He married high school friend Vanessa Nadal and still gushes about her like they've just met (and vice versa). He's totally down with his image being used for a hilarious anti-Trump meme. Miranda is living proof that the American dream — the U.S. as a land of opportunity, not one lying in disrepair and needing to be made "great again" by some alt-right faction ― can come true for some.
And he made Broadway ― a cultural Mecca that still can feel niche, where the crossover from getting covered in Playbill to getting covered in, um, GQ is rare ― cool again. As Gordon Cox writes for Variety, Miranda and "Hamilton" "not only accomplished the seemingly impossible task of making musical theater hip again, but [they] also lifted Broadway into the cultural conversation of celebrities, politicians, and academics around the country."
Based on recent interviews, it's clear Miranda is aware of this unprecedented level of fame he's experiencing. He told Cox, "I'm someone who really believes fame is what you make of it. I want to wear it lightly." Meanwhile, in his GQ story, he said, "You think of artists who had that big thing, and then they go back to that well again and again with diminishing returns, but the world has moved on ... I am acutely aware of the fact I could spend seven years on a project that opens and closes in a night."
To Miranda, success is "the gravy" of what he does, meaning that while it adds a nice flavor to everything, you can't make a whole meal out of it. (We'd love to sit down with him and talk more food metaphors.)
As Miranda fans, we're happy to keep riding this train of success with him. But if the "SNL" hosting opportunities and magazine covers go away, we'll still follow along — mostly because he just seems to be really, really cool, regardless of who's watching.
CORRECTION: An earlier version of this article misidentified Miranda as the son of an immigrant. We regret the error.
Calling all HuffPost superfans!
Sign up for membership to become a founding member and help shape HuffPost's next chapter
BEFORE YOU GO
PHOTO GALLERY
Peeps Re-create Hamilton Because We'll Never Get Tickets