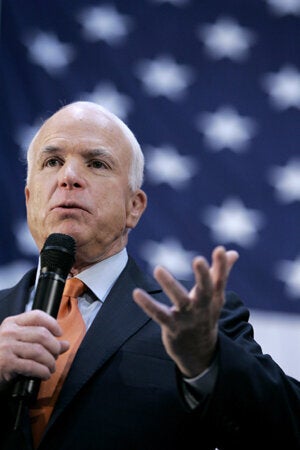 They are the loyal troops of the conservative revolution, at least 2,824 of them, almost all of them elderly, their 65th birthdays an increasingly distant memory -- men and women who were middle-aged when Ronald Reagan was first elected California Governor in 1966.
Recently these Americans reached for their checkbooks in response to an undated letter signed by Michael Reagan, the son of the former president, who sent the following message on 'The Republican Presidential Elections Committee' letterhead:
Do you believe in a strong national defense?

Do you believe in smaller government and lower taxes, instead of a massive overblown federal bureaucracy that endlessly gobbles your tax dollars?

Do you believe in strong, honorable, courageous leadership in the War on Terror?

I think I know your answer -- but these are the critical issues that are at stake in Election 2008.

This is what separates John McCain from the Democrats....

Your contribution will help me and the R.P.E.C. be more effective at disseminating the Republican message and supporting John McCain for President.
This letter was in fact from the Legacy Committee Political Action Committee and similar to solicitations from its sister organization, the National Campaign Fund. Together the two PACs have raised at least $1.66 million (in contributions ranging from $1 to $5,000) -- not a bad chunk of change for an independent expenditure drive.
In a fundraising mailing from the National Campaign Fund sent shortly before July 4, prospective donors were told:
For months now, Obama and his pals in the liberal media have been attacking John McCain. They've been attacking his policies. They've been impugning his conservative record. And the pundits are eating it up! They are predicting a sweep for Obama!

We can't allow this to happen, my friend. We can't let the Democrats destroy a man who has spent a lifetime honoring our country. We can't let them defeat a man who spent five Independence Days in captivity, being tortured and starved. John McCain knows the meaning and importance of freedom....

Please help me honor our country today by doing three things: 1. Proudly display your American flag in a place of honor in your home; 2. Sign the Independence Day Certificate of Commitment, promising to help me work to elect John McCain to the White House this year; 3. Rush your signed certificate back to me along with your maximum contribution to the National Campaign Fund.
The PACs are the work of two men, Floyd Brown -- whose Willie Horton ads won fame 20 years ago helping defeat Michael S. Dukakis; and James V. Lacy, one of the co-founders of Howard Jarvis' Taxpayer Association, the driving force behind California's 1978 Proposition 13, and a board member of such groups as the American Conservative Union and the Young America Foundation.
Most of the direct mail fundraising for the two PACs has been performed by a collection of five companies run by Ron Kanfer, who, two decades ago, helped raise money to pay for the 1988 Willie Horton ads.
The ExposeObama site hosts four videos produced by Floyd Brown.
One video, titled "They Died In Chicago," shows footage of an urban slum while the announcer describes a series of gang killings. Then the voiceover declares, "A Chicago state senator named Barack Obama voted against the death penalty for gang-related murders. When the time came to get tough, Obama chose to be weak. So the question is: Can a man so weak in the war on gangs be trusted in the war on terror?"
Another web video titled "Was Obama a Muslim," suggests that Obama was a Muslim as a child and is now lying about it. "It does matter if he is not telling the truth now," the announcer says at the end.
None of these four videos has received significant media attention - the key to going from the minors to the majors -- and fundraising by the two PACS appears to have stalled.
As of the most recent filing with the Federal Election Commission last June, the two PACS had a combined total of $56,906.50 left in the bank, along with debts of $15,060, for a net of $41,846.50.
Lacy, the treasurer of both committees, contended that there has been little spending on actual electioneering activities for a number of reasons.
First and foremost, he said, "Neither of these two committees has gotten to the so called 'tipping point' where it actually has a profit. They haven't got to that point yet."
In addition, he said, "The entire effort of these two groups is focused on the general election in November, not earlier....Even if revenue was ten times what it is -- or more -- right now, these groups would not be spending any serious funds on advertising, as we are good managers and correctly conclude it would be a complete waste of the donors contributions to do so."
Finally, according to Lacy, "The economy is in recession and as other parts of the economy have been affected, so has political giving through direct-mail. Because of the typically smaller margins on direct-mail fundraising, unless response rates and dollar amounts are high, the program can lose money. The economy has depressed both response rates and dollar amounts of contributions, at least from what we were hoping for."
The two committees have paid the $1.12 million to five Kanfer companies, all operating from the same Vienna, Va., address: Mid-America Printing; Response Dynamics, Inc.; Fulfillment Management Services; The Best List, Inc.; and Direct Response Data Management.
Kanfer won fame by helping raise money to put the 1988 Willie Horton ad on television. Since then he and his firms have been the subject of adverse publicity.
In 2005, the College Republicans terminated a contract with Kanfer's companies after newspaper disclosures in the Seattle Times and Durham Herald-Sun of fundraising practices using front organizations that collected huge sums, including contributions from elderly people with dementia, some of whom gave away all their savings.
"I don't have any more money," Cecilia Barbier, 90, a retired church worker in New York who made more than 300 donations totaling nearly $100,000, told the Seattle Times. "That was all the savings. . . . Now I'm scrounging." Monda Jo Millsap, 68, of Van Buren, Ark., told the Times that she emptied a savings account, then got a $5,000 bank loan to give a total of $59,000.
Kanfer, in a brief interview with the Huffington Post, sought to deflect all questions to Lacy and others involved in the management of Legacy and National Campaign. "We are just one of several direct mail vendors," Kanfer said. "They [Lacy and others] would have all the information."
The Legacy and National Campaign committees are governed by federal campaign law and can only accept a maximum of $5,000 from any single donor.
Almost all the contributors to the two committees are listed as "retired." Of the first 50 donors who listed occupations on the most recent Legacy filing with the FEC, 44 identified themselves as retired.
The Huffington Post contacted a dozen of the donors, and four were willing to give their ages: 92, 91, 80 and 78. None immediately recognized the name of the committee they had contributed to, although all said they give regularly to Republican and conservative causes.
One 80-year-old woman who is listed as giving a total of $240 in amounts of $50 or less said "I think I did (give) at one time. I really don't know. I maybe just gave once."
A 91-year-old retired homemaker in North Carolina also listed as giving numerous relatively small amounts totaling $273 said she only gave "once and it was a long time ago. I stopped when I found out I wasn't getting what I expected."
In fact, the organizers of Legacy and the National Campaign Fund may have set themselves up for a fall by choosing to become federally regulated PACs prohibited by law from taking contributions in excess of $5,000, instead of becoming tax-exempt groups known as 501c4s and 527s for sections of the Internal Revenue tax code which govern them.
Tax exempt groups can accept unlimited contributions, and the success of one of the most famous of these, the 2004 Swift Boat Veterans For Truth, was crucially dependent on mega-contributions from three angels, oilman-corporate raider T. Boone Pickens, who early on gave $500,000; Houston homebuilder Bob Perry, who gave $200,000; and Aubrey McClendon, founder, chair and CEO of Chesapeake Energy Corporation who gave $250,000.
This cash, in turn, allowed the Swift Boat Veterans for Truth to make a relatively modest $546,587 buy to run its first anti-John Kerry ad on five cable channels -- a buy that produced what many believe to have been a record amounts of free coverage (so called 'earned media') on news shows.
Chris LaCivita, the senior adviser to the Swift Boat Veterans, said during a Harvard Institute of Politics conference looking back on the 2004 election:
In June [2004] about ten of those guys [veterans opposed to Kerry] came to me and said, 'Hey we held a press conference in May and no one bothered to give us any attention. . . .How do we get attention?' I said, 'the only way you can essentially get attention is if you raise enough money and put it on TV'. . . . The pure intention of that first ad was to generate earned media [free media] about the message we were conveying. And yes, it was in your face. There was no other way to communicate it.
At the moment, Legacy and the National Campaign Fund are in no position to replicate the Swift Boat Vets, and, with just over 80 days until November 4, the prospects do not look good.
"We have to raise a lot of dollars. Voters need a concrete message that is hammered and hammered again and again," Lacy said. Because of their weak fundraising this cycle, "We can't put together a viable budget," he said, adding almost wistfully, "If a theme catches, then we can roll with that."
Calling all HuffPost superfans!
Sign up for membership to become a founding member and help shape HuffPost's next chapter