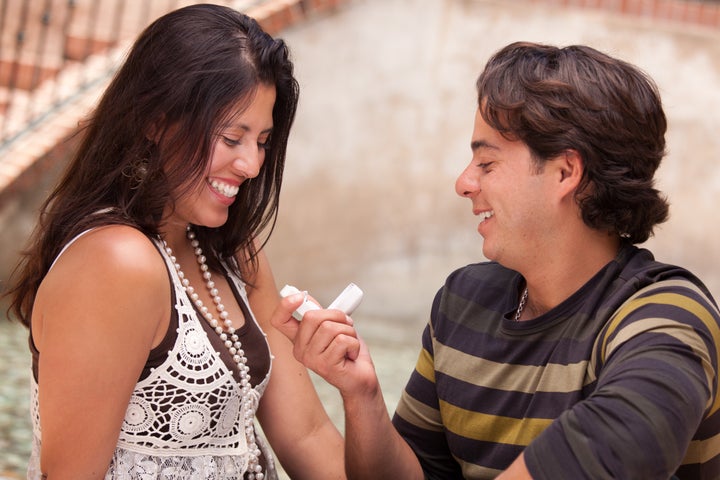 I've been working in the wedding industry for the past six years, and I've worked one-on-one with a lot of creative brides. In that time, I've seen some amazing ways to bring meaning to a wedding -- and if I were going to plan another wedding (which, as a divorcée, I may very well, at some point), I'd do several things a little differently.
Here are the top three things I'd change for my wedding:
The cost for a wedding can escalate quickly, and one of the first things I did as an excited bride was buy my wedding gown -- totally clueless about how much the rest of the wedding would cost.
If I had it to do again, I'd buy my gown used.
I know, I know: you're envisioning some of the 1980s monstrosities you saw at Goodwill while shopping for a Halloween costume a couple of months ago. But did you know that you can actually buy a beautiful, modern, and often designer wedding gown used -- getting an upscale look at a budget-friendly price? It's true! After my wedding, I donated my gown to Brides for a Cause and found myself wondering why I didn't get my dress used in the first place.
There are used wedding gown stores across the country (if you live in San Francisco like I do, check out Glamour Closet). Even better, you can buy your dress from a place like Brides for a Cause, which donates its proceeds to charity (I asked, and apparently a very happy DC bride bought my gorgeous dress). They're based in Portland and have started to do road shows. Another great option is Brides Against Breast Cancer, which has events all over the United States.
Choose more conscious vendors
When I was searching for a caterer, I immediately called the local organic caterers I found online. My eyeballs almost popped out of my head when I received my first quote: $300 per plate. And the other two quotes weren't much better, making me realize that I could afford to invite approximately 10 people to the wedding, or I'd have to give up my dreams of an organic menu.
I know now, though, that choosing an environmentally-conscious vendor does not necessarily mean "organic" (which in my experience was obviously synonymous with "ridiculously expensive"). If you can't afford a full-on organic caterer, there are small ways to be more socially and environmentally conscious -- so don't throw in the towel completely.
Instead, choose a vendor who doesn't advertise as organic, but understands your values and is willing to make conscious choices in every way they can. This also goes for florists, who usually have access to the exact same flower mart that an "organic" florist does -- he or she just may not advertise as organic. I Do Foundation's Conscious Vendor Checklist is helpful for this: it's full of ready-to-ask questions for each vendor. This way, you can get more of what you want, and not worry about whether you've thought of every possible way to conserve.
I love chocolate, which I chose as our wedding favors. Everyone likes chocolate, I thought. Well, apparently not everyone, judging from the number of Cadbury mini eggs left on the tables at the end of the night. It was a bit of a waste (and -- ahem--added to my post-wedding waistline).
Now that I've seen charity favors, I'd go that route instead. I'd create a fun "choose a charity" game, so guests can pick one of three charities for us to donate money to (here are a few of my favorite setups). It's a fun and interactive way to give back to favorite causes. Plus, no favors -- or money -- go to waste.
My favorite parts of weddings are the unique details that show the personalities and values of the couple. What better way to do this than through charity favors? I wish I'd thought of it before -- charity favors make a wonderful statement about what the couple thinks is most important in life.
So there you have it, folks: the three things I'd do differently if I were planning a wedding today. Are you are recently engaged? If so, congratulations -- and happy planning!