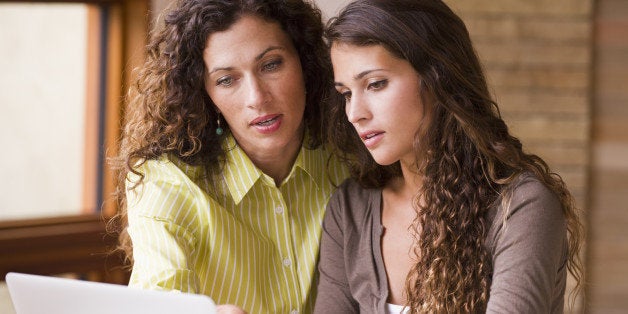 Congratulations! After months of agonizing over applications, essays and SAT scores, you have received an acceptance letter from the college of your choice. Now, as an officially college bound student (or parent of a student) you may be feeling a new sense of anxiety over how to cover the cost of your investment in higher education. The answer is financial aid. The process of applying for financial aid starts now.
Financial aid is offered through the federal government, the state where you live, the college you choose to attend, and by a diverse array of nonprofit or private organizations. There are two primary types of aid: "free" money -- grants and scholarships that do not have to be paid back after graduation, and "not-so-free" money -- interest-bearing loans that are repaid over a period of time after graduation or if and when you are no longer enrolled in school, as well as work study programs.
Grant money is "free" money that usually is need-based. Federal grants include Federal Pell Grants, among others that can be used at any school in the country. Most states also offer grants to their residents. For example, New Jersey offers grants to NJ residents attending a NJ school. (State programs are listed here.) Grants may stipulate that you pay back all or a portion of the grant if you withdraw from school before completing an enrollment period (e.g. a semester).
Scholarships are "free" money that comes from a variety of public and private sources including schools, employers, individuals, companies, and nonprofit organizations/foundations. Scholarships are usually merit-based.
Centenary College, for example, awarded over $15M in grants and scholarships to over 1100 students last year, some for as much as 100% of tuition.
A second type of financial aid that is offered through the federal government is in the form of interest-bearing loans. Student loans are repaid over a period of time after you graduate or stop going to school and are subject to a variety of terms and limitations.
There are two types of federal loans: the Ford Federal Direct Loan (Direct Subsidized and Direct Unsubsidized Loans) Program and Perkins Loans. The primary difference between the Direct Subsidized and Perkins Loans and Direct Unsubsidized Loans is that the former offer marginally better terms to students who can demonstrate financial need.
Direct subsidized loans are available to undergraduate students with financial need. Your school will determine the amount you can borrow. The U.S. Department of Education pays the interest on these loans while you're in school at least half-time, and for the first six months after you leave school and during any period of deferment.
Direct unsubsidized loans are available to undergraduate and graduate students; there is no requirement to demonstrate financial need. There are special considerations, such as when to pay the interest on the loan, which can be discussed with your school's financial aid office.
Federal Perkins Loans are a school-based loan program for students with exceptional need. Not all schools participate in the Perkins Loan Program. The U.S. Department of Education pays the interest on these loans while you are in school at least half-time, and for the first nine months after you leave school and during a period of deferment.
There are also a variety of private educational loans available to students who need additional borrowing assistance. If you plan to borrow a private educational loan, you will need to select a lender. All lenders are not the same. It pays to make an informed decision when selecting a lender. You will be entering into a long-term relationship with the institution.
A third form of student financial aid is through work-study programs, which offer part-time employment while you are enrolled in school to help pay your education expenses. Work-study programs can be institutional, i.e., sponsored by the college, or federal.
FAFSA: The Critical First Step
The FAFSA is used to determine eligibility for scholarships, grants, work-study awards and loans. It offers access to the largest source of financial aid for college: the federal government provides more than $150 billion in grants, loans, and work-study funds each year. But the FAFSA must be completed first.
Many states and colleges use FAFSA data to determine eligibility for state and school aid, and some private financial aid providers may use your FAFSA information to determine whether you qualify for their aid.
Don't Miss the FAFSA Deadlines
While the federal deadline for submitting the FAFSA for 2015-2016 assistance is June 30, 2016, states and specific colleges have earlier deadlines. For example, in New Jersey, where Centenary College is located, applications must be submitted by June 1, 2015 to be considered for state aid, while in neighboring Connecticut the cut-off date is February 15, 2015. Also, ask your college about its definition of an application deadline--whether it is the date the college receives your FAFSA, or the date your FAFSA is processed. For example, Centenary's priority deadline this year is February 15, even though the state's is much later. The FAFSA form is available online at www.fafsa.gov. A paper form can be downloaded from the Federal Student Aid website: https://studentaid.ed.gov/fafsa#how-fill-out-fafsa.
More information about the types of financial aid programs available in 2015 can be found in Centenary's free downloadable eBook, Navigating the World of College Student Financial Aid at Centenarycollege.edu.
Calling all HuffPost superfans!
Sign up for membership to become a founding member and help shape HuffPost's next chapter