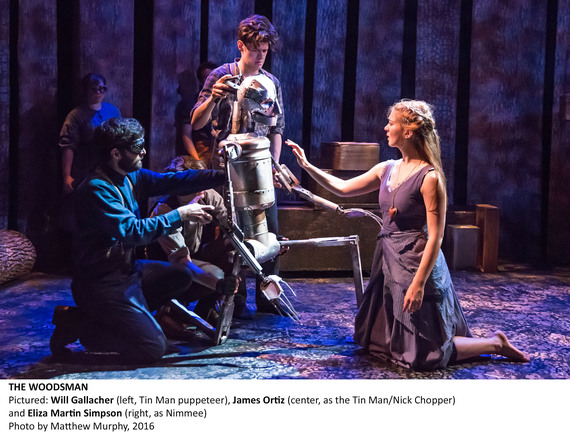 Every time I cry during the first half hour of Up--and let's be clear, that's every time I watch that movie--I marvel at how much beautiful design and excellent storytelling can affect me so greatly. The Woodsman is basically the theatrical version of that same concept. Broadway shows shock and awe with impressive budgets and showstopping numbers, but Strangemen & Co.'s The Woodsman is theatre at its most basic and beautifully creative. With few moments of text, the talented creative team of The Woodsman tells us another hidden backstory from the land of Oz. Over the 75 minutes of the show, we learn the story of the Tin Man's early years through movement, gesture, vocalizations, and a series of brilliantly simple, yet complexly expressive puppets.
Playing just west of arguably the most famous Wizard of Oz associated story, Wicked, The Woodsman's new home at New World Stages is the latest stage of the show's own interesting origin story. Winner of a Jim Henson foundation Grant in 2014, the show premiered at Brooklyn's Standard ToyKraft in 2012, then went to Ars Nova ANT Fest in 2013, and most recently at 59E59 Theatres in 2014 and 2015. The show's popularity was what led it to return for another limited engagement at 59E59 in 2015.
Obviously, there has been something about this show that has captured audiences imaginations here. L. Frank Baum's stories have certainly been food for creative thought across a variety of mediums, geographies, and generations, but The Woodsman's success isn't simply a result of good source material. I have often said in various articles in the past that a medium change (book to movie, movie to musical, play to movie) is welcome as long as the creative team motivates that choice. In other words, I want to see why you brought this story to this form.
It is here that The Woodsman soars. I think it's notable that creator James Ortiz also serves as the Set and Puppet Designer and Co-Director (along with Claire Karpen) as well as one of the main actors for this production. The entirety of the design is beautiful and unified. It seems very much like a homemade space for storytelling, which I mean in the best possible way. It's clear that the production had the budget for flashier or fancier design, but they chose to stay with the main flexible elements of wood and light, which is aesthetically both clean and strong.
But I will be very honest that though the actors are all excellent storytellers, and the ensemble work is excellently executed, the stars of this show are three puppets that come into the story at various times. For this kind of puppeteering, being able to see the actor(s) behind the puppets somehow makes them more magical. It is truly astonishing what movement can make us believe about the life force of these puppets. I am going to refrain from describing those puppets exactly, as I think descriptions would never do them justice.
As I sat there in the dark, I smiled like a kid in a candy shop as these puppets and their operators practiced their craft. And let me be clear: this is not a happy story. Most of us know what the Tin Man's eventual like will be, as we have Technicolor filmic images in our heads, but the story itself is quite sad. Not that production is a sad one, but I will say that if you are bringing children, know that it's not a light show. The Woodsman is recommended for children eight years of age and older, and I think the theatrical magic of The Woodsman is for both those children and everyone else's inner child, but there are some scary and sad moments.
Some of my favorite moments in the theatre involve a moment that comes alongside the often-discussed "willful suspension of disbelief." It's a kind of pleasure that to me is a kind of deep connection to years of humanity, a pleasure in shared storytelling that has existed for thousands of years. I felt that during The Woodsman. So go see this piece which has a great deal of heart, even before the Tin Man loses and finds his. Buy your tickets here through May 29th.
Calling all HuffPost superfans!
Sign up for membership to become a founding member and help shape HuffPost's next chapter