Veni, vidi....DUD. Hurricane Joaquin came, it saw and it fled back to sea. All in all, an unpredictable failure -- just like the Joaquin Phoenix rising in Hollywood then eventually winding up on The David Letterman Show leaving everyone confused, dazed and wondering what the heck just happened.
The hurricane was initially expected to pummel the United States hard. Although a direct hit was avoided, much of the east coast has experienced rain and heavy flooding. Some states may still be flooded, but all in all, the direct hit to the United States that was initially predicted is the brunt of numerous jokes and memes on the internet. Numerous comparisons have been made between the hurricane and the career of Joaquin Phoenix. Some memes tracked the start to the finish of the hurricane using the faces of Joaquin Phoenix beginning with his early success in The Gladiator and ending with a shot from his 2010 movie I'm Still Here. Other memes just stuck with the I'm Still Here head shot and made GIFs of it swirling through the Atlantic Ocean. When hurricane Joaquin was initially announced as a threat, many people (rightfully so) flocked to the stores to purchase all of the milk, eggs and bread they could grab. While 'It's always better to be safe than sorry' still holds true, some tweeters have also poked fun at of the lack of major damage from hurricane Jaoquin. My personal favorite is shown here. ;)
To be fair, Joaquin Phoenix did apologize for his 'stunt' on The David Letterman Show and he claimed it was a hoax to promote his then forthcoming movie I'm Still Here. None can be too sure however, whether he was using his extremely amazing acting skills or if he was exhibiting some extremely amazing substance abuse skills-the world may never know. Joaquin Phoenix has had several other movie roles since his wild and crazy stunt on The David Letterman Show. Most of his recent roles have gone unnoticed by the average person, and he maintains what seems to be instability by recently dropping out of a new M. Night Shyamalan film. Love him or not, his career has been up and down, and he has at times exhibited some downright irrational behavior.
The World Meteorological Organization is actually the group that names Atlantic tropical storms, and yes-they're planned in alphabetical order in advance and reset every year. According to Geology.com, it seems the next few storm names for this year will be: Kate, Larry, Mindy then Nicholas. If we get to Nicholas, I bet we can expect some Santa Claus or some Nic Cage memes-either way, the internet will have a hay day with it. Who knows, maybe the World Meteorological Organization will start naming all terrible storms after actors whose careers seemed to have fizzled? How about we name the next one Randy Quaid or Macaulay Culkin? I think that's a more optimistic approach for a storm anyway-besides, no one wants a storm named after someone who actually does any real damage.
I loved the internet banter and the fact the storm didn't cause a lot of major damage even so, if I got the chance to say anything to both the hurricane and actor Joaquin it would probably be 'You're drunk Joaquin, go home!'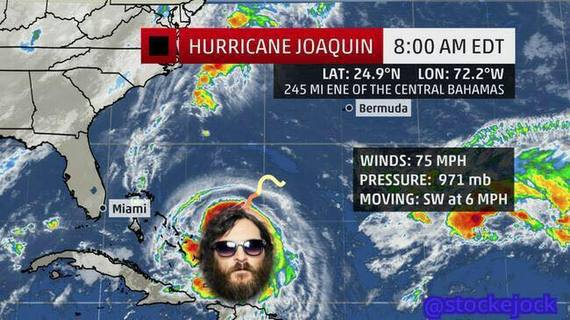 Calling all HuffPost superfans!
Sign up for membership to become a founding member and help shape HuffPost's next chapter