I was discussing an upcoming New Orleans trip with friend and fellow foodie Jessica Collins. She said "When I took my first bite of turtle soup at Commander's Palace, I knew there was no other city I could be in than New Orleans." Truer words have never been spoken. Suddenly I became obsessed with cities whose cuisine defines them. A great meal can make a trip worthwhile, and when the dishes carry history as well as flavor then the meal becomes memorable.
Chefs around the world hunt for authenticity to bring home flavors from abroad. Nancy Silverton and Mario Batali brought back Asian-style chicken wings to Mozza and David Chang brought Japanese ramen to Momofuku. Yet there is no substitute for experiencing these plates in their city of origin. So hop on a plane, train or automobile to these three cities where the vibe raises the food to unparalleled status.

Santa Fe, New Mexico
Open a menu in Santa Fe and you will see drastically different choices: blue corn tortillas, Hatch chiles rellenos, carne adovada, calabacitas, green chile cheeseburgers, breakfast burritos and my favorite, blue corn pancakes. Chiles are revered and arguments ensue over red vs. green. For the best of both, locals just ask for "Christmas". Provenance is also important; New Mexicans treat the fruit like the French treat grapes. I know chefs from Santa Fe who travel with local chiles when leaving the state for fear of not finding them elsewhere.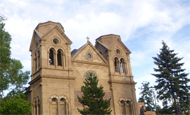 While biting into a green chile cheeseburger or sipping on a Smoked Sage Margarita, the cleanest air in the country keeps the nose and palate clean to absorb maximum flavor. Beyond the multi-hued adobe buildings, crystal blue skies with billowing clouds float by. The shifting light that inspires artists like Mateo Romero also sets the mood for meals that are art themselves. "Everyone looks better next to an adobe building," a friend said. I think every dish tastes better in one.
Santa Fe invented the breakfast burrito. After getting off your knees in praise head to the place where it all began: Tia Sophia's. For blue corn pancakes go to Chocolate Maven. For stellar views of the plaza enjoy a microbrew on the Draft Station patio. Secreto bar in the Hotel St. Francis mixes the perfect Smoked Sage Margarita and Santa Fe Bite makes the quintessential green chile cheeseburger. For fancier dining, The Compound is a must after gallery shopping, and when perusing the O'Keefe Museum, refresh at Georgia. To learn from the best take a class at the Santa Fe School of Cooking.
Thai food is among the most exciting and beloved cuisines in the world and yet, while that corner takeout of pad Thai might sate your wanderlust briefly, nothing compares to the Thai-food-on-crack experience of eating your way through the Bangkok streets. Thai cuisine is notable for yes, its spices and curries, but also for the freshness and complexity of its parts. Any dish you eat may feature noodles, fish, coconut milk, meat, papaya, lemon grass, basil, or all of the above.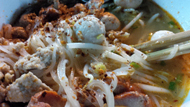 Endless skyscrapers and a gleaming new Skytrain surround you. Tuk tuk smoke blasts, ladyboys vamp and massage girls call out from the shadows as you leap over cracks in the sidewalk. Your stomach starts to rumble when the scent of kua gai calls out like a siren in the night. You follow and indulge. There's no other experience quite like Bangkok street food.
The street is the best place to eat Thai food. Start with breakfast at Tha Tien pier seafood market by Wat Pho, snack your way through Yaowarat (Chinatown) and finish off with mango and sticky rice at Soi 38 off Sukhumvit Road. Food courts are legit in Asia. Load your cash card with baht, then load up your plate. In Siam Square eat at Food Republic or MBK. Nahm boasts chef David Thompson, first to earn a Michelin star for Thai food. Finally: Skybar Sirocco for cocktails and a spectacular, surreal view of the Bangkok sprawl.
Anyone who arrives in New Orleans on a diet should just turn around and go home. It is said that the difference between Creole (city food) and Cajun (country food) is that Creole cooking uses tomatoes and Cajun cooking does not, a Southern European influence. The list of must-eats in New Orleans is daunting: beignets, etouffe, gumbo, alligator anything, jambalaya, crawfish, andouille, oysters and po' boys--just for starters.
French and Spanish architecture combine for wrought-iron balconies and intimate alleys, the perfect backdrop for al fresco dining. Boats and barges on the Mississippi cruise by as jazz serenades the French Quarter. Is that a ghost behind you as you sip a Sazerac? There are certainly enough of them to make you wonder. Voodoo priestesses and hip mixologists mingle while second line bands play. A man sitting on an overturned plastic bucket shucks fresh oysters to go, complete with hot sauce. Buy one to complement your Go Cup and keep smiling. You can only be in New Orleans.
For fine dining and turtle soup make a reservation at Commander's Palace. If fish is your dish there's no better place than Peche on Julia Street. Locals love gastropub Sylvain and the always packed alleyway lunch spot, Green Goddess. Breakfast at Ruby Slipper will cure any hangover, as will happy hour at Luke. The Columns Hotel and Coop's could not be more different, but we recommend both, for the Ramos Gin Fizz and the rabbit and sausage jambalaya respectively.
Have another city with unique cuisine? Please suggest in the comments!