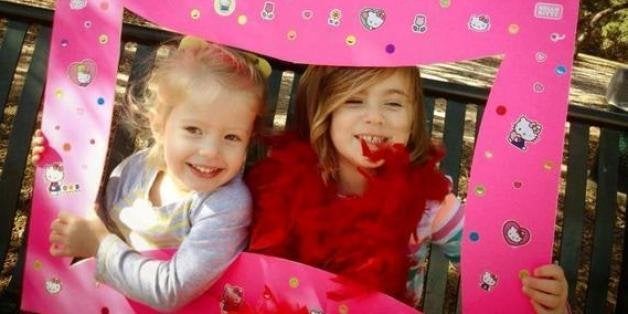 Do you have a hard time staying awake past 10 p.m.?
Have you ever re-watched your favorite teen drama only to realize that you now identify more with the PARENTS than with the kids? (Wow, Jim and Cindy Walsh really did have some good advice... Brenda WAS being selfish, Brandon really DID need to loosen up...)
When you're driving in a special anniversary/birthday/wedding party limo, instead of enjoying the ride, do you think, OMG! This doesn't have seat belts?!!
If you can relate to any these, you're probably a parent.
I polled some of my mom and dad friends on Facebook, and here are their hilariously honest responses to You Know You're a Parent When....
1. You Are TIRED. ALL. OF. THE. TIME:
You don't party all night anymore... due to the dreaded hangover/child waking up at 6 a.m./basic sleep-deprivation (which let's be honest, feels pretty much like a hangover anyway, right?)
You don't need an eye mask, white noise, lights off, room at a perfect temp, etc. to fall asleep anymore. (You've mastered the art of napping on the couch/rocking chair/kid's floor/at a stoplight/under your desk à la George Costanza.)
You say "Mmm-hmmm, sweetie," and have no idea what you just agreed to... (Let's hope it wasn't Taylor Swift tickets.)
Yawning, you've excused yourself from a business meeting, accidentally saying, "I have to go to the potty now." (Face, Palm.)
2. Cleanliness Is on a Sliding Scale:
You willingly catch your child's vomit in your hands -- or on your own body -- so that it doesn't land on the couch, carpet, bed, etc.
You've scurried out of Pottery Barn with two screaming kids and a lollipop stuck in your hair.
These phrases come out of your mouth like a broken record... "We don't eat our [fill in the blank with: boogers, poop, dirt, food off the floor, crayons, markers, paint, cardboard, race cars, chalk, sissy's fingers].
Your toddler spits food in your hand and, well, you just eat it.... because it's more convenient than finding a trash can. (Eww!)

3. Their Likes and Wins Become Your Likes and Wins:
You get excited about (and therefore post about) your child's bodily functions... even though you swore you wouldn't.
You find yourself jamming in the car to Disney/Raffi/"Wheels on the Bus" long after dropping the kids off at school.
Possessions or hobbies that you COULD NOT live without before kids are now a distant memory -- yet totally worth the sacrifice." (Besides, you secretly like being able to play with Teenage Mutant Ninja Turtles/Care Bears/Barbies again.)
At any given time, your purse includes a toy airplane, matchbox cars, three juice boxes, hair ties, goldfish crumbs and broken crayons.
You can cook an entire meal with the use of only one arm.
You drink wine EVERY night. And, yes, some of us are still breastfeeding. (Don't judge!)
You've mastered the art of crouching under other people's cars not for nefarious reasons (i.e. theft or tracking devices), but merely to fetch your kid's favorite leak-proof sippy cup/Hot Wheels car/ball that has just rolled OUT. OF. ARM'S. REACH.
5. You are Fully Devoted to Their Happiness/ Education/Well-Being:
You point out the horsey/building/cow/tree as you're driving. And then realize that you're in the car by yourself.
You spend $50(!) overseas to order specific Minnie Mouse red napkins -- for your little girl's first birthday party -- so that everything will match perfectly. (And yes, you realize that she'll never notice... but YOU will, and sometimes that's all that counts, right? Your heart's in the right place after all.)
You research the difference between Nikola Tesla and Thomas Edison, because dammit, you'll teach your kids the real truth!
You've been caught picking something off someone else's shirt, you always have something on your OWN shirt and you'd give the shirt off your back to this person who looks strangely like you.
6. And Lastly, You Know You're a Parent When...
You're able to heal most boo-boo's with just a kiss.
You finally understand how much your parents love(d) you and realize how big your heart can actually be.
Hearing your child say, "I love you, mommy/daddy," can make the toughest days totally worth it.
What else would you add to, "You Know You're a Parent When...?" Sound off below!
Thanks so much to the following contributors! Lindsay Davis Mittelholzer, Katie Strauss Prosperi, Shana Merlin, Meghan Moore, Sarah Luther Ryan, Guy Lenk, Allison Klare, Sybil Beck Wright, Elizabeth Salan, Tom McMurran, Beth Jacobson Humphreys, Chad Ludwig, Deanna Quigg Brown, Karla Durren Hill, Maria Anderson, Rachel Lee, S Lou Leelyn, Ellen Herrick Lyons, Stacey Goodwin, Carrie Gaffney Myers, Gina Henry Jerram, Katie Geluso, Becky Ophoff, Mercedes De Leon Arellano, Amy Harris, Dana Zarzycki, Allison Mills, Patty Racco, Liz Oppewal
Jennie lives in Austin, Texas, with her husband and their two young daughters. For more satire please follow her on Twitter (@JennieSuth). Also check out this post: Why I'm Still on Facebook.
Photo: My daughter's 3rd birthday