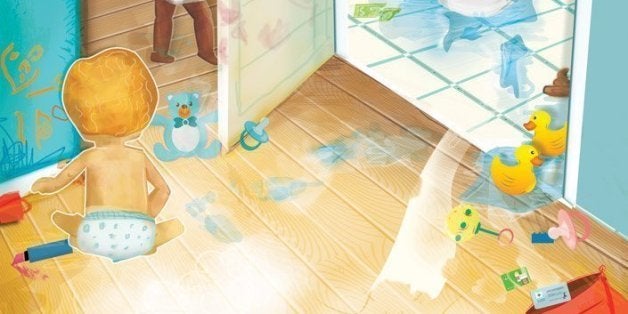 You Know You Have A Toddler When...
1. You know you have a toddler when you hate your spouse a little. Toddlers can destroy your marriage if you let them. The stress of living in an insane asylum with a child who makes you want to fall on your own sword will take a toll on your personal relationship. People without a toddler of their own will not understand how someone so cute will make you want to be single and living in a studio apartment with only a bottle of Jose Cuervo to keep you company, but this is the truth. Do your best to not let your little cock block tear your love life apart. You don't actually hate your spouse, it just feels like it because you hate life. Remember: You're in a warzone. You need back up.
2. You no longer fantasize about being rich, famous, beautiful, talented, or any of the above. Your fantasies center around sleep. You dream about being rested and floating away on a California King bed that you can lay in starfish formation in. Most people of think of sleep deprivation in terms of infants but toddlers have the potential to steal just as many Zs as their infant brethren. It's a hard truth to swallow, but with a toddler you will be more physically and emotionally tired than you have ever been, while also dealing with levels of twilight shenanigans that will astonish you on a nightly basis. Infants don't scream in your face. Infants don't run in to traffic.
3. You have become a shut in. Hopefully you have a backyard because other than work, you're going to lose your will to leave the house. It just won't be worth it anymore. Why deal with getting a toddler dressed, carseat drama, and a potential meltdown in public when you can just become a recluse? Groceries are available for purchase online.
4. You've ever had to drag a kid out of a store under your arm like a bundle of firewood in front of a crowd of gawking strangers. Good for you. Angry whispering can only get you so far. Sometimes you have to show a kid that you mean business and abandon that cart of groceries. Don't abandon the wine, though. That's crazy. Pay for the wine.
5. You regularly open packages of food in stores to keep your baboon quiet while you shop. Don't worry; it's not shoplifting until you forget to pay for it.
6. You've ever had to alert a store employee to the fact that your kid has urinated on their floor. Hey, better a linoleum floor than a stack of neatly folded sweaters. Bonus points if your toddler has ever thrown up in public. On you. When you don't have a change of clothes.
7. You sometimes wish you had a time machine and a condom.
8. You have stress-induced heart palpitations. No, your child is not trying to kill you but they might by accident.
9. You've seriously considered starting a new life, alone, in a new city. If you do this, be sure to cut up your credit cards. They can track you.
10. You have more gates up in your home that the local zoo.
11. You know that sometimes "My phone is charging" is code for "I need you to lay off my shit and play with your own toys."
12. Your sex life has come to a standstill. Toddlers are natural birth control. Their antics will cause your sex organs to shrivel into your body and seal off.
13. You've seriously researched sleep-away preschools and boarding school for two year-olds.
14. You know more about the cast of Jake And The Never Land Pirates than your mom.
15. Every one of your cabinets has some kind of lock on it.
16. Bath time in your house looks like an episode of Wipeout.
17. All four food groups can be found between your couch cushions.
18. You've had to say "Stop eating out of the trash" in the last 24 hours.
19. A small child has recently blown his or her nose into your shirt.
20. You would give your molars for a free, reliable babysitter. Who needs to chew meat when you can go out for drinks anytime?
Before You Go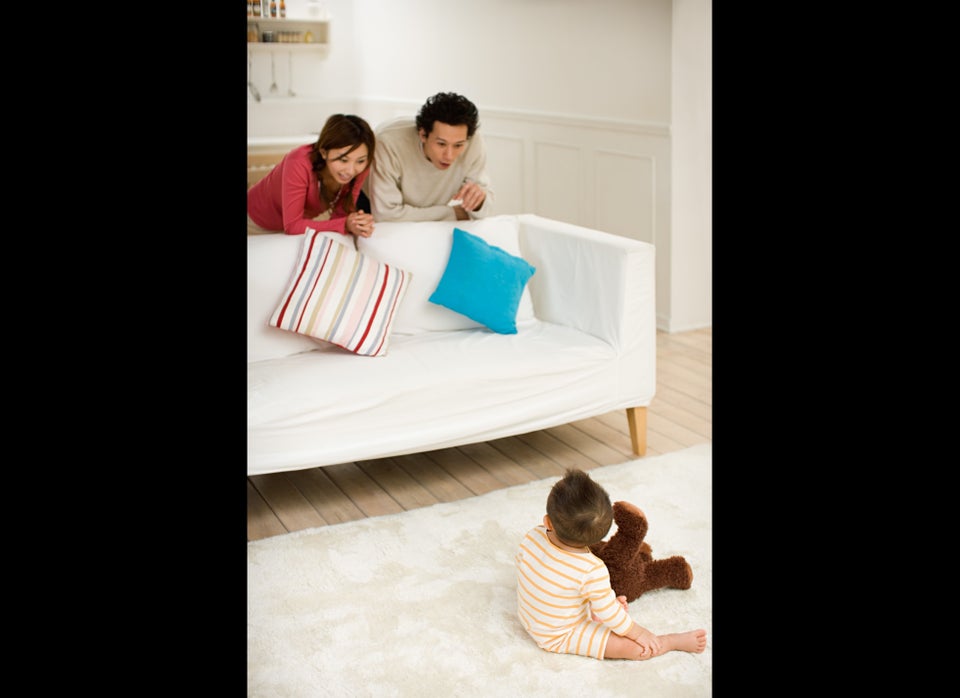 7 Things You Didn't Know About Toddlers