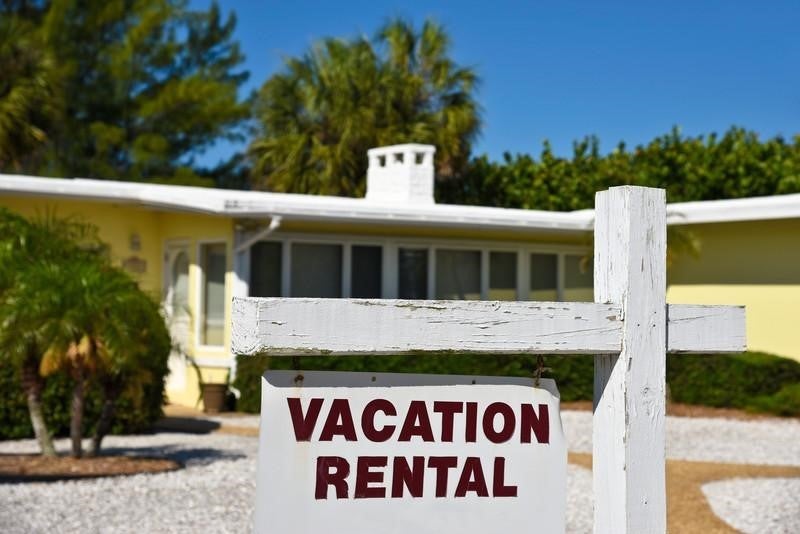 Before you dismiss this article because you do not own a vacation rental property, follow along for a moment to find out that you may. Many people who never thought about it before are finding that they are in a position to list a short-term rental on sites like Airbnb.com and realize a nice annual income.
It's interesting to read about the Boomer generation who aren't selling their homes, many owning large homes with children who have moved out on their own. After you read this, if you're in this group, you may want to nudge the darlings out on their own. Do you have a room and a bath that are not being used? Even better, much better, do you have a space with a separate entrance and kitchen facilities?
If you have a large home and you've considered real estate investing, perhaps you're already set up to get started. A mother-in-law suite or garage apartment that are not occupied are perfect for short-term rental through sites like Airbnb, the biggest player in this space. If you do have a suitable space or can do some modifications or renovations to create one, can it be your new cash flow generator? Maybe.
Some research is necessary, as not every city, location, or property type is going to make a successful short-term rental. It's worth the effort to find out, as you're already in possession and can get this ball rolling at little or usually no cost. The main criteria for maintaining a high booking rate is that the location be one where short-term rentals are in demand.
Beachfront or beach view communities popular with tourists.
Snow skiing areas that are also popular with summer tourists.
Cities with frequent short-term business visitors.
Virtually any area or city that is a tourism destination.
If your home is in an area that fits into one of these categories, you should definitely do more research to see if there is potential for short-term rental income. A few simple facts that have come to light in studies of popular rentals on Airbnb include:
Whole houses generate the highest bookings and income.
Next to whole houses, separate apartment type spaces, mother-in-law suites, or garage apartments with private entrances and kitchen facilities are next.
Single rooms with private baths do far better than any bath sharing situations.
From the website rentyourplace.com, here is their data about Airbnb booking rates for properties that are in year-round destinations:
The site makes one more statement about booking rates. They say that if you have more than 25% of your nights booked three months out, you should be raising your price. What price are we talking about? That's a very wide open question and range of numbers. It depends on the city or area, popularity with tourists/business people, as well as the size and type of property.
In doing searches on Airbnb, you'll find nightly rates as low as around $30 for single rooms to hundreds for whole houses. However, for example, let's say that you have a garage apartment or mother-in-law space with private entry and kitchen and bath facilities, it's common to get $50 to $75 per night easily. Even using the low end, if you can book 80% of nights or around 24 nights per month, that's $1,200.
What about costs? Many listings pass along a cleaning charge, so you can recoup that cost if you want. Airbnb takes a small percentage, but for that, the site handles the reservation and credit card charges for you. You can play with these numbers any way you want, but it's easy to see that it can be a much better real estate investment than buying a rental property and cash flowing $300 to $500 or so per month.
The point is to evaluate your home for short-term rental potential, including adding a separate entrance if it will enhance its value for this purpose. If you see potential both for the property type and the location, you just may find that taking some photos and listing it can be your first real estate investment and a profitable one at that.
Enjoy this wisdom and have a great week!
Calling all HuffPost superfans!
Sign up for membership to become a founding member and help shape HuffPost's next chapter
This post was published on the now-closed HuffPost Contributor platform. Contributors control their own work and posted freely to our site. If you need to flag this entry as abusive,
send us an email
.