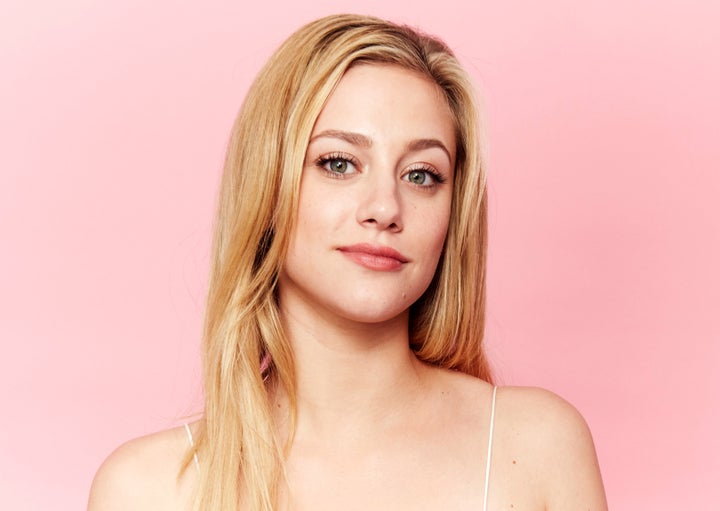 How do you measure a year in the life of Lili Reinhart?
If it's by Teen Choice Awards, she just nabbed four at the ceremony earlier this month. The amount of hairbands used to keep her signature ponytail on point for "Riverdale"? Way too many to count. Maybe it's easiest to consider her online following, which has sky rocketed to nearly four million across social media in a matter of months.
No matter which way you slice it, the past year has been unlike any other for the 20-year-old actress, who scored her big break playing Betty Cooper on the CW's reimagining of the Archie Comics universe. You've probably heard a lot about #HotArchie or Cole Sprouse's big return to TV, but it's Reinhart's Betty who's at the heart of the series. Here is the cookie-cutter blonde like we'd never seen her before, with an alter-ego all her own (more on Dark Betty later) and some serious edge.
And she's also won the fan's favor offscreen by being outspoken online about everything from mental health struggles and eating habits to politics and back again. However, her personal life remains off limits, despite reports that she and co-star Sprouse, who plays her love interest Jughead on the show, are dating.
Before the "darker" Season 2 premieres in October ― that's the word the cast keeps using to describe it― we caught up with Reinhart at the St. Ives Mixing Bar in New York City to recap the year, tease what's to come on "Riverdale" and find out how she managed to stay grounded along the way.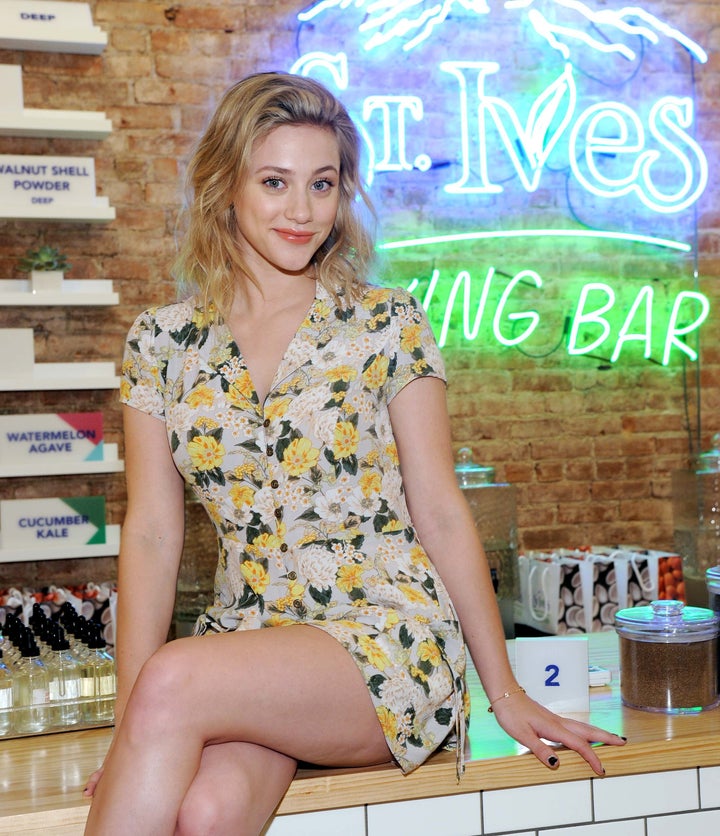 "Riverdale" has only been around for one season, but swept the Teen Choice Awards. What was it like to get this recognition so early on?
We weren't expecting it at all. When we actually won, it was like, Holy crap! People took time out of their day to vote for us. The fans care so much about our show and are invested in these characters. I'm honestly so grateful. It still amazes me how passionate they are. Some people have even watched our season twice. That's amazing.
[Editor's Note: This interviewer has watched Season 1 of "Riverdale" not once, not twice, but three times. Please continue.]
This past year must have been crazier for you than Cheryl Blossom on a bad day. We first met right before the pilot of "Riverdale" aired. How has your life changed since then?
It feels like the longest year of my life, but also the shortest. It's been a whirlwind. My life is pretty much just "Riverdale" right now, and that's totally fine. I'm young, I'm 20 and I have nothing else, because it's my career and my job. I just so happen to work with my best friends, which makes everything so much easier, because I get social time with them while I'm at work. We all have a lot of fun together.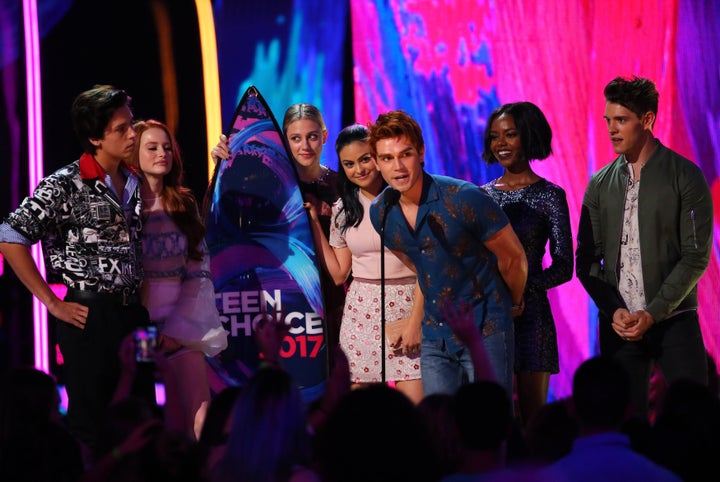 It must have been a major transition for you, though, with both high and low points. What's something that's been hard to adjust to since the show became a hit?
At the start of the year, it was a big smack in the face when I realized very quickly that what I say in interviews can be taken out of context and in a very wrong way. I never mean to insult anyone or make people feel like you're devaluing them or their beliefs, so I think I learned the importance of watching what I say and make sure what I say is clarified. Knowing that I have a lot of people from every background listening to me, I want be sure that I explain myself. And if I don't get the chance to in an interview, I can just go online and do it myself.
You've won a lot fans over with your candor on social media, but where do you draw the line? What does sharing too much look like to you in the age of over-sharing?
Sometimes people will approach me on the street and ask me very personal questions about my dating life. Fans talk to me like they know me, and it's like, you don't know me. You know my character, but you really don't know me. You would never walk up to a random stranger and ask them personal questions, so you shouldn't feel like you can do that to me. I want to be relatable. I want people to know who I am, but that doesn't mean you get to know everything about me and my life. I think that there's a fine line. I'm still figuring out what that is and what that looks like. It's kind of just being aware of it.
There's a lot of attention being paid to celebrities using their platform for politics. Do you feel pressured to speak out about politics? Or is it a damned-if-you-do, damned-if-you-don't situation.
I've spoken out about certain things that piss me off and I'm passionate about. I've definitely tweeted about [President Donald] Trump and the military transgender ban. I'm not going to let the fact that some people [are] upset deter me from speaking my mind. Same goes for mental health and what I've said about depression, anxiety and my diet ― like how I don't give a shit about what I eat sometimes, and I don't care if I have cellulite. I don't care. People are going to criticize you no matter what, so I'm going to say whatever the hell I want to say.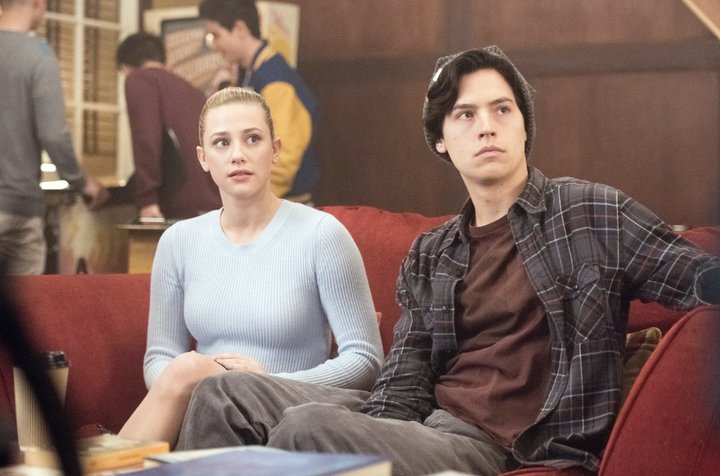 Why do think Bughead [one of the portmanteaus used to refer to Jughead and Betty] has elicited such an intense reaction from fans? At this point, it's, bar none, the most beloved ship in the game.
The ship love has gotten bigger since way after we premiered, even more intense after the show was released on Netflix. It's very sweet and flattering to know that people genuinely care about these two people that I have the honor to play one half and Cole play the other half of the ship. We love our characters and we really love them being together, because they're happy. As long as that stays true, then we want Bughead to work out. With any teen show there's going to be drama and heartache. If the show progresses to a point where the relationship doesn't work anymore, then it doesn't work, but I'm just so happy that people are so responsive to these two young little lovebirds.
What can you tell us about "Riverdale" Season 2. We know it's going to be "darker," but does that mean Betty-in-a-wig kind of dark or just some straight up CW noir realness.
You're going to see "Dark Betty," but in the sense that you're not going to see her in the campy alter-ego wig sort of way. It's more of a tortured soul Betty. Her internal darkness is coming to a head and this buried anxiety that she has comes out. You basically see the root of her depression and self-harm. She's very much the center of the mystery of Season 2, and it kind of leaves her in a pit of emotional despair and a little bit distraught. It's exciting for me to play a different side of Betty, but it's going to really tug at the fan's heartstrings. Be prepared. Have your tissues.
Before You Go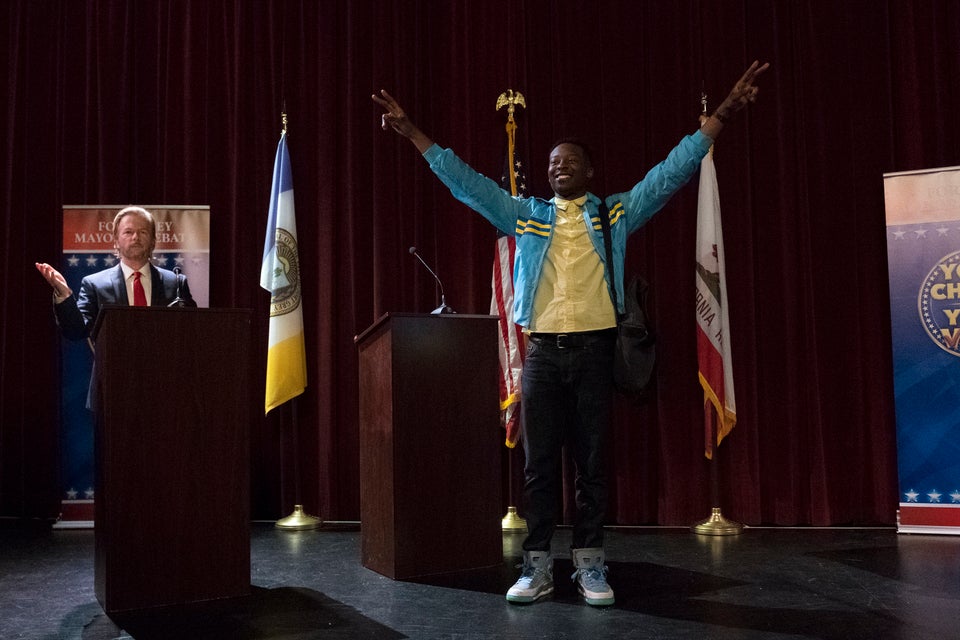 Fall TV Preview
Popular in the Community