We live on a razor's edge. From one instant to another, any of us can regress to yesterday's mindset or connect with an emerging future possibility. In all countries and civilizations around the globe, we face the same challenge: crossing the threshold to this other side, to the field of the future that is waiting to emerge. Rilke referred to crossing this threshold as a shift of perspective and consciousness:
... for here there is no place
that does not see you. You must change your life.
("Archaic Torso of Apollo," Rainer Maria Rilke)
This shift might also be referred to as bridging the ecological, social, and spiritual divides that disconnect us -- as individuals and societies -- from the sources of our wellbeing. Do we see these divides in the same way that Rilke did? It depends. Doing so requires us to see in them the mirror image of our own behavior. What does that image tell us?
Looking into that mirror we see food systems that make us unhealthy, destroy the planet, and leave many farmers hungry. We see educational systems that kill real learning. We see health systems that make too many people sick. We see major governmental agencies turning against their citizens, as has happened one way in Syria and in other ways elsewhere, as the case of Edward Snowden and more recently Eric Garner ("I can't breathe") tragically demonstrated.
The mirror tells us that we are collectively creating results that nobody wants. We are deepening the ecological divide (disconnecting self from nature), the social divide (disconnecting self from "the other"), and the spiritual divide (disconnecting self from self). And yet no one gets up in the morning and says, "Today I really want to destroy the planet, harm others, and damage myself." Still, that's what we are doing collectively. It's that gap between our individual consciousness and our collective impact that makes Rilke's words relevant today: we must change our lives.
Okay, but how? By joining the movement. The movement already exists. We see it in the Millennial generation: teenagers who are finding their political voices in the emerging new civil rights movement in America (since the elevation of racial tension in Ferguson, Missouri). Over the past few weeks, I have seen similar awakenings in other places:
• In Copenhagen, at a forum that brought together hundreds of activists and change makers to share their experiences and innovations that relate to acupuncture points for transforming capitalism.
• In Sao Paulo, where a diverse group forms a platform called Novos Urbanos that focuses on making the food system more inclusive and sustainable (pict below).
• In Indonesia, where over the past seven years I have worked with hundreds of change makers -- in business, government, civil society, media, and academia -- to create joint platforms with a collective impact on society and the environment.
• In China, where I am seeing (and in part co-enabling) the formation of cross-sector platforms that bring together government, business, and civil society in entirely new ways.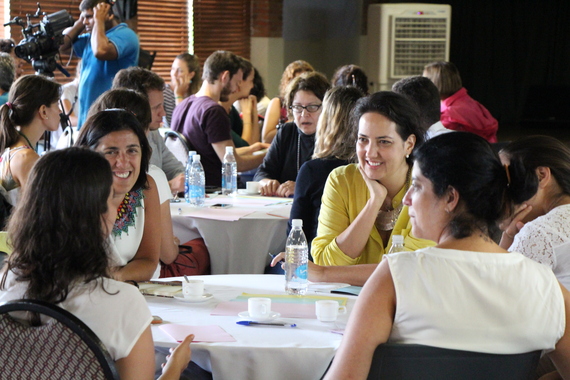 None of these things is in the news. The news is filled with stories about fundamentalists who are trying -- using drones and suicide attacks -- to bomb us back into a mindset that cuts us off from the deeper levels of our humanity, from who we really are as evolving human beings.
All of these negative things are happening around us, it is true. And the positive changes and efforts I mentioned above are all very small in comparison with the damage that is being created by our collective negative impact. So how do we take the positive changes to a level that is equal to the challenges we see in our collective mirror? Here is one way how:
Over the past months we have seen the awakening of a new awareness across the planet, fueled by the intentional use of new technologies, that, among others, disrupt the old institutions of education as we know them. I believe the time has come to create massive and entirely new platforms for awareness-based collective change. To co-pioneer and advance these changes, over the past nine months a small group of collaborators and I have been working on an inspiring project: the "U.Lab," a Massive Open Online Course (MOOC).
We are launching it today, January 7, 2015, through MITx on the edX platform. With 23,000 enrolled participants from 187 countries, the U.Lab uses an awareness-based action methodology that will allow change makers from all sectors and countries to collaborate on their respective change initiatives -- and to enhance their collective innovation capacity -- at a price point of zero. The U.Lab combines the positive side of online learning -- equal access to higher education at no cost to the learner -- with features that have been largely missing from online offerings: local hubs, mindfulness practices, and deep-listening-based small-group coaching circles that allow individuals and groups to co-sense and co-create their highest future possibility.
If you want to join as an individual participant: click here. If you also want to form a local hub that allows you to link up with collaborators and friends to co-shape this emerging global platform, click here and make it happen. Hundreds of hubs are already taking shape over the past few hours and days including in Beijing, Shanghai, Singapore, Jakarta, Mumbai, Cape Town, Addis Ababa, Berlin, Brussels, Dublin, Copenhagen, London, Sao Paulo, Rio, Caracas, Bolivia, Mexico City, L.A., New York, and the list goes on, covering cultures and sectors (see pict from today's U.Lab pre-meeting in Brussels).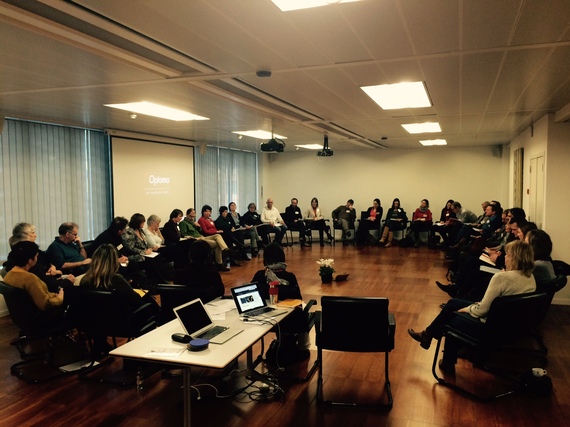 The U.Lab prototype will run for the next six weeks. Week 0 (orientation) starts today. The global launch of the Lab will happen in a live session next Wednesday, January 14, at 9 a.m. Boston (EST) time. Each Wednesday we will post new methods and tools.
In the final live session of the Lab we will hear from hubs around the world about the change initiatives and prototypes they have co-created. Join us in this exciting educational experiment, which blends learning and mindfulness with the opportunity to co-create a new image in the mirror: a world that works for everyone... for here there is no place that does not see us. We must change our life.
Popular in the Community