WASHINGTON – Daniel Rooney died at 84 last Thursday during Holy Week in his hometown of Pittsburgh. He will be buried there on Tuesday after what will surely be one of the most crowded, loving and civic funeral masses ever held in St. Paul Cathedral, the mother church of the city diocese.
The day before the mass there will be a public viewing in the Champions Club at Heinz Field, where the Steelers play. Thousands are expected. It's the Steel City equivalent of lying in state.
If Pittsburgh, founded as a military outpost by the French in 1754, had had a king, it would have been this wiry little man who turned the Pittsburgh Steelers football team from a hapless local laughing stock into one of the most inspiring and unifying sports franchises in the world. In the process, he helped turn the NFL into a centerpiece of American culture.
Rooney and his family are the kind of public leaders that Donald Trump – who once owned a small-time football team – could not in his most egotistical dreams match.
Except for Pittsburgh and its suburbs, Trump last year won most of "Steeler Country": western Pennsylvania, Ohio, West Virginia and western Maryland. How can Democrats get those voters back? They could start by finding candidates who embody and express Rooney values.
It is not an exaggeration to say that Dan Rooney was instrumental in saving the spirit of a failing city, easing racial tensions nationally, giving crucial aid to his family's ancestral home of Ireland, offering a timely boost to a politician named Barack Obama, and demonstrating that American Catholicism could – and does – encompass both ritual and the social gospel. And he was, for most of his life, a Republican.
He did all of this without ever unnecessarily seeking the limelight, rarely giving speeches. Even when he was U.S. ambassador to Ireland, listening to others at town halls was his preferred form of politics. He didn't tweet. He didn't really want his name in the paper. The Steelers PR department rarely had much to say about him, which is how he wanted it.
Of course he was not a choir boy. Between the chalk lines, the Steelers were as rough, if not more so, than the other teams. He could and did play tough in business. His manner could be tart to people that he did not know or did not care to know.
But, all in all, his public life was superb, and worth contemplating as Christians and Jews, on Easter and Passover, give thanks for the blessing of freedom and of spiritual rebirth in a time of doubt about the future of our America.
The political lesson of Dan Rooney's life shows that it is within all of us to do good, and it is logical to start within our own lives and world – and not the more distant one that we complain about. Start with your family, your town, your work, and build out from there. It's "resistance" one step at a time.
Reared in a racially mixed neighborhood on the city's North Side, where his father was a saloon keeper-turned-new team owner, Dan attended the local Holy Ghost Fathers' Duquesne University – just at the time when the school was featuring one of the first superstar black college basketball players, Sihugo Green. Catholic colleges overall were early in breaking the color line, but Duquesne became one of most famous and successful.
He wasn't so much colorblind as eager to break through annoyingly outdated racial lines that stood in the way of the team's success.
When he took over operation of the Steelers, Rooney had the novel idea of hiring the top sportswriter from the local black newspaper, The Pittsburgh Courier, to scout historically black colleges and other universities that were willing to play African Americans. A parade of those draft picks became NFL all-stars.
Rooney led the way for the NFL to change its hiring rules to ensure that African Americans were considered for opening in any team's leadership. "The Rooney Rule" worked – and has been emulated by corporate America.
He put his own money where his heart apparently was, hiring Mike Tomlin as the Steeler's first African-American head coach.
The NFL is rife with problems, to be sure, but its share-and-share-alike business structure is in good measure due to Rooney's influence. He led the way to guarantee revenue sharing and salary caps. There was financial self-interest, of course: He owned a small market team. But it was also consistent with his ethos, which began with family, analogizing this to the rest of his life.
During the 2008 presidential elections, the Clintons were hoping that Rooney, who generally stayed out of politics would endorse former Sen. Hillary Clinton for the Democratic nomination. Instead, he chose Obama – at a key moment in which Pennsylvania, always pivotal, made the difference in the election.
Newly elected President Obama later chose Rooney to be ambassador to Ireland. Twenty years earlier, Rooney and Ireland-born Anthony O'Reilly, former CEO of Heinz at the time, launched the Irish-American Fund. It has since poured millions into helping the poor and other social projects in Ireland. Rooney and his wife bankrolled a prestigious literary prize for young Irish writers.
At the core of all of these endeavors was family and faith. If there is a royal family in Pittsburgh today, it is not named Heinz or Mellon or Carnegie – it is Rooney.
While he surely did not intend to serve as civic cheerleader, he in effect led Pittsburgh through tough times after he took over in 1969. The steel industry was dying; only sports – in the form of the Steelers, as well as the Pirates baseball and Pitt football teams – was thriving. The town became the self-styled "City of Champions," encouraging the locals to think like winners.
"When you play the Steelers," the grandiloquent ABC sportscaster Howard Cosell later said, "you were playing the whole city."
The functional leader of that city was the slight but incredibly willful, shrewd man who lived all his life within walking distance of the stadium.
In all of this, the church was at the center. He attended mass daily, gave liberally, and was friends with bishops and cardinals, one of whom, Cardinal Donald Wuerl, had special vestments made of the Steelers black and gold colors.
But faith mixed alchemically with football. Rooney had started with the team as a water boy when he was 5, taking every job that had anything to do with supporting the team on the field and its reputation off it.
In their 1970s heyday, and sporadically since, the Steelers play like the terrifying Hounds of the Lord. You dare not get in their way. The Steelers have had only three head coaches since 1969 – Chuck Noll (nicknamed "The Pope" for his belief in his own infallibility); Bill Cowher (nicknamed "The Face" for his jut-jawed visage); and Tomlin, who is too fierce and tightly wrapped to have a nickname, but who, in press conferences, barks out answers in the manner of a drill sergeant.
But while the late Dan Rooney wanted to win as much – if not more –than anyone else in the NFL, his real idea of victory was spiritual, social, civic, racially just, and familial. It is the way to lead, and a lesson for every prominent public figure.
A month ago I attended the annual dinner of the Irish-American Fund in Pittsburgh, held at the stadium club at Heinz Field. A gentle snow had covered the turf with a dusting of white.
Inside the club, the hundreds in attendance were talking about Rooney, who was absent for the first time since he'd started the organization. He was in the hospital, suffering from an accumulation of ailments that would soon claim his life.
I sat at the Rooneys table with Arthur Rooney II, Dan's eldest son and the current president of team, and his wife, Greta.
Also at the table was a young man with a player's frame and a quiet demeanor. We talked. He'd played high school ball in Pittsburgh, then was the starting quarterback at Dartmouth. He was thinking of heading to business school after a few years of working low-level jobs with the Steelers, starting as a young novitiate water boy.
Of course, he was Dan Rooney III. His grandfather and namesake was dying, but the young man seemed quite confident that he knew just how he should live his own life, carrying that name.
Before You Go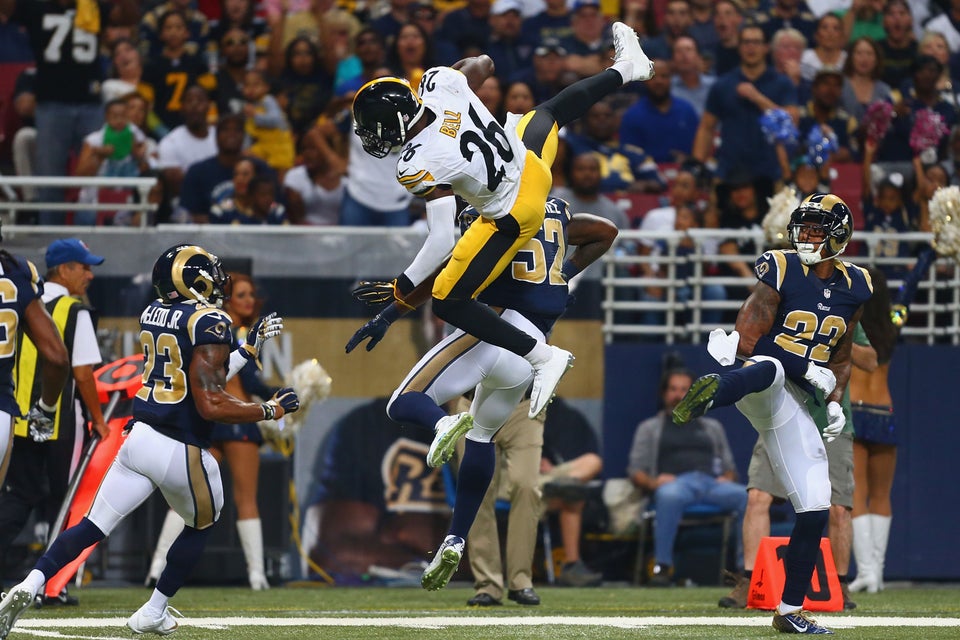 Pittsburgh Steelers' Le'Veon Bell
Popular in the Community