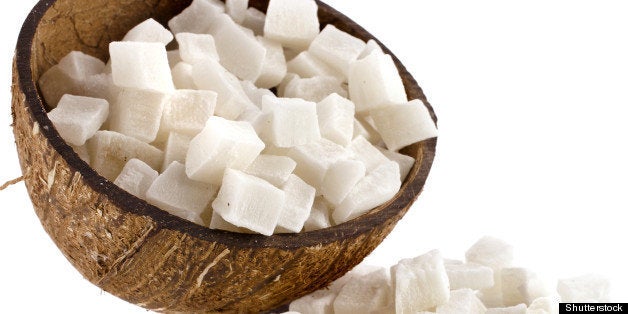 Growing up, Jell-O was one of my favorite things about summer. Until, that is, I got a little older (and wiser) and realized I was basically eating a mouthful of chemicals.
After living in Southeast Asia for a while, I discovered the perfect tasty alternative, which I want to share with you. It's an ideal summer treat, loved by kids, cheap, healthy, and insanely easy to make. With only four ingredients (and seriously, one of them is water), you'll be wondering why you ever ate Jell-O in the first place!
This dessert contains agar-agar (also called kanten), a type of red sea algae that is used in many Asian desserts as a healthy alternative to gelatin. Agar-agar is 80 percent fiber and, once ingested it triples to three times its size in your stomach and absorbs water, which in turn, makes you feel full. In fact, eating large amounts of agar-agar is a popular diet in Japan right now. Just think of this as the ultimate diet dessert!
2 1/2 cups of water
2 1/4 tsp of agar-agar powder (I like to use Telephone brand -- you can find this at Asian markets or online at Amazon)
1/4 cup of sugar
1 can coconut milk or cream (Trader Joe's makes a great one!)
1. Combine the water, agar-agar and sugar in a saucepan and let it sit for a few minutes.
2. Heat the saucepan on medium heat, bringing ingredients to a boil.
3. Pour in the coconut milk or cream, stir, and turn off the heat.
4. Pour the mixture into a square or rectangular pan or Pyrex dish.
5. Allow the mixture to cool at room temperature for an hour, then put it in the refrigerator.
6. Cut it into squares or diamond shapes and enjoy!
Side note: If you want to get creative, try pouring the mixture into fun ice cube molds.