[This post first appeared in Luna Luna Magazine, a diary of culture, lifestyle, art, sex, and magic.]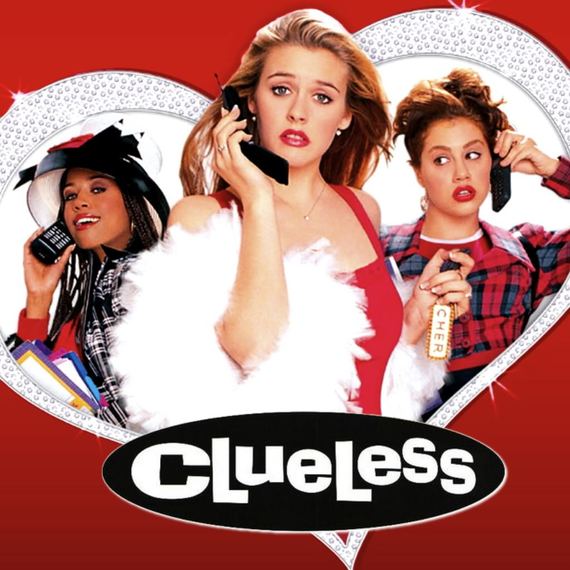 An hour or two before learning it was the 20th anniversary of the '90s classic, "Clueless" on July 19th, I started reading Sheryl Sandberg's Lean In: Women, Work, and the Will to Lead. I made the mistake of reading about Lean In in The Atlantic when the book was first released instead of judging the book myself. Now that I've read Lean In, I have mixed feelings about Sandberg's assortment of do's and don'ts, particularly her chapter on mentorship. It's true that nobody owes you their time, expertise, and nurturing, but the emphasis should be reversed. Sandberg and society should stress the value of mentoring other women, not only in finding a true mentor.
Once you get to mid-level management, you, as a woman, should seek a mentee as aggressively as Cher (Alicia Silverstone) pursues Tai (Brittany Murphy) when she first arrives at Bronson Alcott High School. Just maybe with a little less eyeshadow and a little more humility. Why? For the sake of sisterhood. There's an Old Boys' Network. Let's cultivate an Old Girls' Network. If, as Sandberg points out, men are more likely to meaningfully mentor other men, let's make sure women go out of their way to meaningfully mentor other women.
When I think of the mentors who've influenced me most, I think of the women. While I greatly appreciate the male professors, editors, and curators who've believed in me, I don't see myself in them. I see myself in the photo editor who managed a newsroom full of men. I see myself in the magazine editor who worked full-time while raising three kids. I see myself in the television producer who was always the only woman on a shoot. I see myself in the music photographer who never let misogynist musicians tell her what to do.
Sandberg explains that a true mentorship benefits both the mentor and the mentee. Mentors often recognize talent and work ethic and actively choose those they wish to take under their wing. As a hopeful mentee, sending a vaguely worded email to a woman whose career you admire but don't really know only shows your abilities as an ass-kisser. As a hopeful mentor, simply liking someone as a person isn't good enough. You have to sincerely believe this young woman has what it takes to thrive in your industry. The fact that she's a woman shouldn't be the only reason you decide to mentor her. As Sandberg says, we have to be selective about whom we mentor. We have to mentor the ones we know have the potential, but need that extra boost to truly flourish, especially with sexism rampant in the workplace.
Though I am still young, I've mentored a couple (even younger) women already, not because I'm a saint but because I'm a feminist. Mentoring other women allows women to get ahead and bring more equality to this unequal world. One of my mentees is the woman now in my previous position at a regional magazine. As an assistant editor, I managed almost a dozen interns, most of them young women. Yet this particular woman stood out because of her writing, research skills, and overall diligence. I could've mentored any of her competitors for the mere fact that they were women, but their potential didn't match hers.
When I needed an editorial assistant, I recalled her hard work and poise and asked my editor to hire her. When it came time to leave my job, I recommended that this same young women be promoted to fill my position. Throughout my time at the magazine and after, she and I have kept in touch, formally and informally. She never specifically asked if I would mentor her. Instead, she paid attention from Day One and asked me thoughtful questions that not only helped her but occasionally helped me, too. Our relationship grew from there.
One day, I expect her to mentor another young woman, though I suspect she may have started already. She's just paying it forward in the Old Girls' Network, as we all should.
REAL LIFE. REAL NEWS. REAL VOICES.
Help us tell more of the stories that matter from voices that too often remain unheard.