Would you like to make a real living without leaving home? Writers can work full or part time, and earn a supplemental income to help cover the bills or generate a lucrative primary income. If you have the skills and the motivation, you get to define your own career.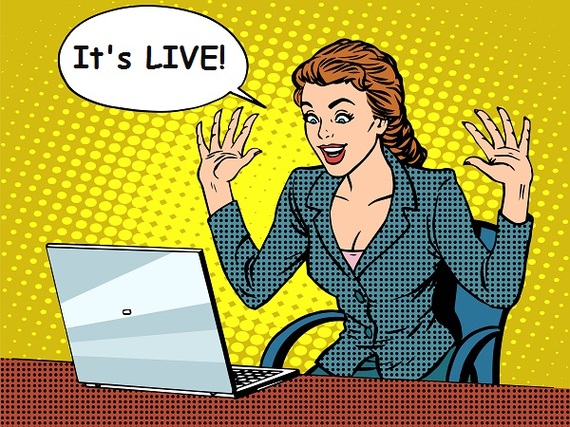 My office is an easy chair in my bedroom and a little rolling desk with a laptop on it. I can take my work anywhere, and often do. If that sounds like a career you might like, read on.
Living the Dream!
Well, not exactly. The dream is one heck of a lot different than the reality.
I thought I'd be Stephen King. I'd write two epic novels a year, and every one would be a best-seller. There would be book signings, and the late-night Jimmys - Kimmel and Fallon - would fight it out to see who could interview me first.
My books would be so profound they would change the reader's life in some way. Words that would stick with you throughout your life...or haunt your dreams, whatever. Steven Spielberg would ask for the movie rights.
In reality, I spent the first few years of my career writing about everything from how to choose wood flooring to "Cajun Themed Party Ideas" - seriously, I wrote that. You can still read it here.
If you want the dream, to be a poet, a screenwriter, or a best-selling author, quit reading. This is not the right blog post.
What I Really Do
Primarily, I am a freelance content writer. I have a number of business clients and I write blog posts, ebooks, newsletters, emails, page copy, white papers...ok, you get the idea. I also manage social media for a couple clients and write for my own byline. I don't have my own website, but it's in the works.
The topics I write about are relevant to my clients' business. I research what my clients customer base is most interested in, and write topics to answer those questions, pique their interest, or solve their problems.
The Demand for Good Content Writers
The demand is endless. Good writers are hard to find, especially for specialized niches. In my last post, I talked about the need for content writers in the legal field (because there are so many lawyers and so many of them have websites with no content). But make no mistake, every business and every industry needs writers.
Content is the most effective modern marketing tool. Before people buy, they surf. They look for information, insight, and answers that will inspire them to buy. When a customer poses a question, the business that supplies the best answer is most likely to get the sale.
Great content also helps businesses land on top of web searches. Most of the clicks go to first-page results. While content can't guarantee search results, the better the content on a company site is, the more likely they are to grab one of those few top spots.
How Much Can a Content Writer Make?
I'd really like to answer that, but it depends on too many variables. A lot of writers are content with low-paying gigs and anonymity. They choose write fairly simple things for very little money, to satisfy their needs without stress. Some writers land contracts with huge brands and make money most of us only dream of. I work full time and make a very comfortable living.
What you make will depend on how good you are, what you choose to write, and how much you are willing to work. There's also a social factor. Networking often opens doors locked tight to other means. Many writers prefer anonymity.
Last year, Freelancer's Union & Upwork conducted a survey, and 60% of freelancers reported they earn more than they did at their traditional jobs, and most said they started earning more within a year of leaving their old jobs.
Education and Demographics
This is my favorite part. Anyone can be a writer. Unless you're trying to be published in The New York Times, nobody really cares if you have a Masters in journalism. They also don't care how old (or young) you are, what color you are, or what country you live in. It's a great career for students, moms, nomads, retirees...ok, everybody. It's a great career for everybody. (Did I mention how much I love my job?)
They care about one thing: whether you can write great content. You do need writing and research skills, along with a real thirst for knowledge. Good content writing is straightforward, actionable, and dynamic. The best content writers make boring stuff interesting and complex stuff simple. If you can do that, you can be a content writer.
How to Get Started
There are a lot of paths to a writing career. I started in a content writing service, which helped me learn the ropes. Even though I have been writing for as long as I can remember, I had a lot to learn. You can't get upset when an editor criticizes your work. A thin skin does not work out well for a writer. Here are a few tips to get started:
1. Show your work. You'll need a portfolio of published works. You might choose to put up a simple website, write some samples, and hang your shingle (oldschool for advertising that you're a writer). Or you could publish on a platform with a lot of readers, like Medium or Inbound.org.
2. Applying for gigs. Once you have some samples to show potential customers, you can start looking for gigs. Every editor advertising for writers is inundated with applications and pitches every week. Winning gigs depends on your ability to craft the perfect pitch for each website. A generic email won't work.
For each potential writing job or publishing platform, take time to poke around and read what they publish. Learn what is most popular with their readers, which will tell you a lot about the readership. With an understanding of the publisher and the audience, you'll be able to communicate your value to the editor.
3. Develop a byline. The most useful advice I can offer is to write in your own name on a high traffic site (like this one). You'll develop fans, and people who like your work will offer you jobs. Frankly, that part is pretty awesome.
4. Understand your audience. Knowing who you're writing for is critical to success. The goal is to establish a meaningful connection with your readers.
5. Avoid scams. Listen, every writer gets burned now and then. It happens. As you gain exposure and experience, it will happen less often. Until then, don't fall for these common scams. My general rule of thumb: If alarm bells go off in your head, pay attention.
6. Learn to negotiate. Look for gigs with real offers, such as "we will pay you real money for your writing." Then nail it down. Ask for a deposit or invoice for the full amount upon receipt. If they argue about payment, walk away. Employers who won't commit to a payment schedule are going to be overly picky, try to renegotiate price after you write the thing, and/or pay you whenever they feel like it (or never). I don't work for people who won't be straightorward and timely about payment, and neither should you. It's not worth the hassle. Make sure payment terms are defined and acceptable before you put the first word on paper.
7. Pick a niche. Your career will be more satisfying if you write what's most important to you, or what you know most about. You might be passionate about health and beauty, business, technology, gaming, or auto repair. Wherever your expertise lies, there's a market, publishing platforms, and an audience.
Infographic reposted with permission
Related
Popular in the Community