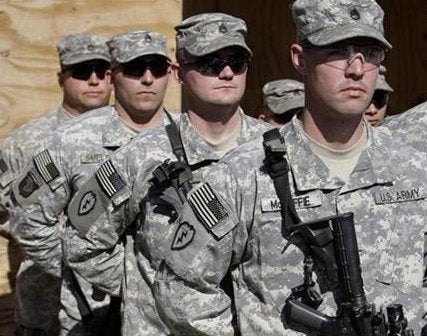 After six years of war in Iraq, it is easy to get exhausted and depressed -- to think that all your repeated exposures to the trauma of war are for nothing, that you are screwing yourself up for next to no money for no reason -- then something happens that suddenly gives all your work meaning, that gives you the strength to continue.
Such an experience happened Tuesday night, when one of the veterans I've covered hugged me and told me I saved his life.
Two years ago, got a call from James Eggemeyer, a homeless Iraq war veteran on Florida's Atlantic Coast. Eggemeyer had back and shoulder injuries from his service in the Army as well as Post Traumatic Stress Disorder but he had been waiting for months for his VA disability check. While he was waiting on the VA, James lost his home. He lost contact with his son. He had to start sleeping out of his truck. Because he was popping so many pain pills, he crashed his truck. He was in the downward spiral that has become all too familiar to for our Iraq war veterans -- one that all too often ends in suicide...
Apparently, someone who read the story called Democratic US Senator Ben Nelson of Florida, who was so irate about the disgrace of a homeless Iraq war veteran in Stuart, Florida that he personally called both the Veteran Service Officer who was helping Eggemeyer and the VA itself, demanding his claim be settled. Shortly thereafter, James received a 100 percent disability rating from the VA and a retroactive benefits check giving him money back to the date when he first made his claim.
On Tuesday, I met James for the first time since my story ran. He is living on the outside of Atlanta now, and I was town on my book tour doing a speaking gig at the Jimmy Carter Presidential Library.
James told me he is now stable, living in a small home he can afford with his modest disability check. More importantly, he told me, his monthly disability check has caused his depression and the symptoms of his PTSD to ease because he now can sleep safely at night. He has been able to buy back the prized possessions he was forced to pawn. He has reconnected with his son, and while he is still not as whole he was before he went to Iraq he is stable, on the road to both physical and mental recovery.
When I met James before my speaking engagement at the Carter Center, he hugged me and told me my coverage literally saved his life. And he said the same to me in his truck on our way to grab coffee after my talk, and again when we said goodbye to each other.
Back at my hotel room Tuesday night, I began to cry -- though I couldn't figure out exactly why -- I think the tears were partially tears of joy in recognition of the power of journalism to change and even save lives. But behind the tears was another feeling too, one that's more complicated. Why does it take a news story and a US Senator to get a wounded veteran the support he needs to step back from homelessness and suicide?
I also know that while one life has been saved, there are so many more.
Popular in the Community