Companies everywhere, take note: turns out it's not impossible after all. Businesses can thrive and do right by their workers.
Who knew?
For one, Eurofresh, the country's leading producer and marketer of pesticide-free greenhouse tomatoes and cucumbers. For the past decade, the company's tomatoes have been named "America's Best Tasting Tomato" by the American Culinary Institute. But what's even more impressive is that Eurofresh managers respect workers' rights, health and their union - and not just in theory, but every working day.
This year, Eurofresh was featured in American Rights at Work Education Fund's annual report, The Labor Day List: Partnerships that Work. The report highlights employers who understand that going green, building a successful business, and respecting workers' rights go hand in hand.
Eurofresh workers receive full family healthcare coverage with no premium costs, and earn approximately 65 percent more than non-union agricultural workers. Their union leads orientation and training programs for raising safety standards, to make sure the produce we buy in our supermarkets is not only delicious and refreshing, but entirely safe to eat as well.
You know what else is refreshing? Seeing a company that knows that treating workers right is also great for business.
The Arizona company grows tomatoes and cucumbers using state of the art greenhouse technology, so workers don't have to toil in the hot sun, and are at less risk for ergonomic injuries. Eurofresh's pesticide-free policy keeps workers and consumers safe from toxic chemicals.
Growing produce in a greenhouse also reduces land and water use - making the process efficient, economical, and environmentally friendly.
"Thanks to our employees and the union we have a good quality product that is safe," said Robert Pulido, vice president for human resources at the company. "It's a group effort."
A "group effort"? In an industry that is characterized by low wages, that all-too-often values quantity over quality, Eurofresh is the kind of company we don't see enough of. And we couldn't be more impressed.
So take a second and click here to sign a card thanking Eurofresh and its workers for providing good, green jobs and making consumer safety a priority. American Rights at Work will deliver your comments to the company's management and its union.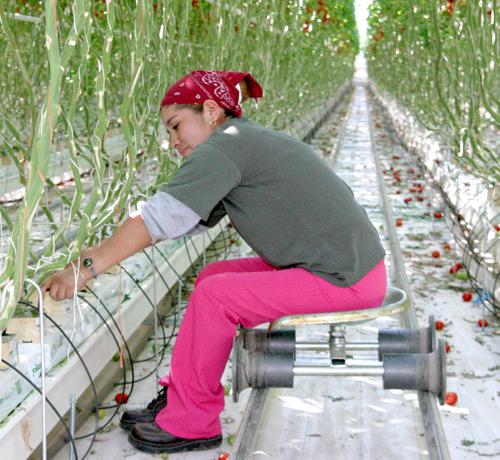 Calling all HuffPost superfans!
Sign up for membership to become a founding member and help shape HuffPost's next chapter