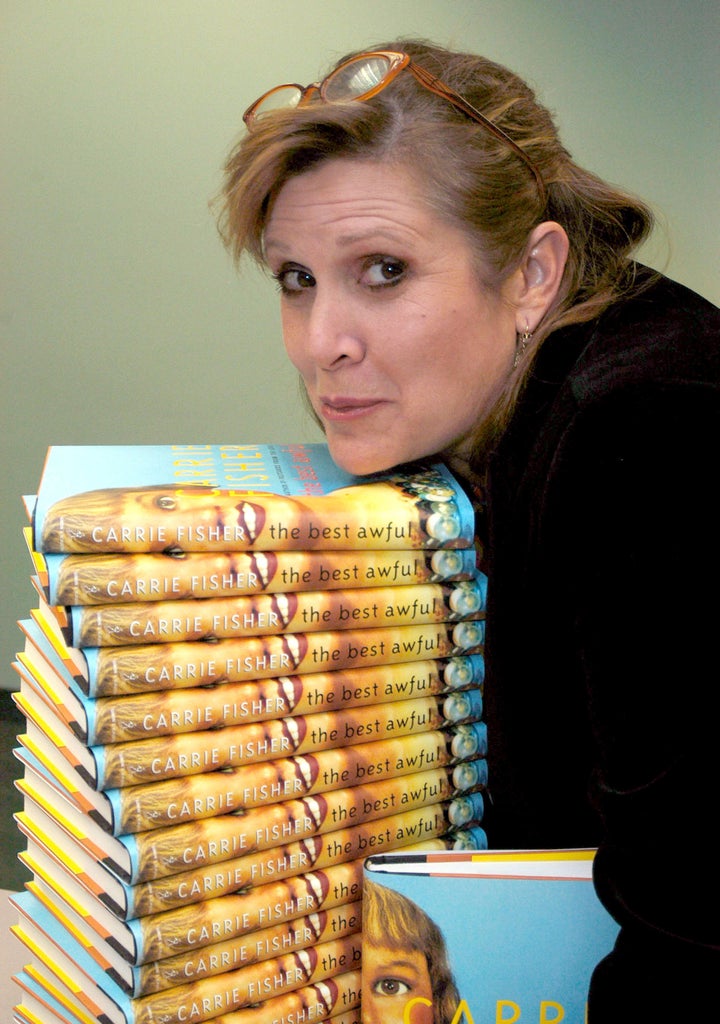 Immortalized as a fierce and lovely space princess in the classic film saga "Star Wars," Carrie Fisher could easily have gone the way of many one-time it girls ― forgotten by a fickle Hollywood, with its insufficient roles for women over 30, and only remembered as a young Princess Leia. Instead, she carved out a unique path for herself, including a successful and acclaimed career as a novelist and memoirist.
Fisher, who died on Tuesday following a heart attack and hospitalization, leaves behind a body of fiction, memoir, and even scriptwriting that stood entirely on its own. Her writing is, understandably, often overshadowed by the familiar image of her face surrounded by Leia's signature gigantic side buns; her last book, The Princess Diarist, chronicles her complicated, decades-long relationship with the famous role. She, perhaps more than anyone, was aware that the glories of novel-writing couldn't compare with the fame of "Star Wars," once telling WebMD, "If I were trying to get a good table, I wouldn't say I wrote Postcards [from the Edge, her best-selling first novel]."
Her years in Tinseltown also fed her writing, however ― and not just her memoirs, which engaged readers in part for her frankness about the sordid side of the film world.
In 1987, Fisher published Postcards from the Edge, which drew heavily on her own life. The book, in shifting narrative forms and points of view, tells the story of a young actress who's struggling to make it out of rehab for a spiraling drug addiction, and to figure out her acting career now that she's sober. It won the Los Angeles Pen Award for Best First Novel, and Fisher worked on a film adaptation that starred Meryl Streep and Shirley MacLaine.
Her first book might have been her most influential, for its vivid, unflinching, and forward-thinking depiction of addiction recovery and mental health problems. "It's like I've got a visa for happiness, but for sadness I've got a lifetime pass," her young heroine muses. "I shot through my twenties like a luminous thread through a dark needle, blazing toward my destination: Nowhere."
Her scorching novel-from-life still resonates with many passionate readers:
Fisher went on to publish four more novels, in addition to her three memoirs (including the darkly titled Wishful Drinking), and several plays and screenplays. As an in-demand script doctor for some years, she lent those screenwriter chops to the cause of polishing and punching up a few well-known scripts before they were filmed, including "Hook," "Sister Act" and "The Wedding Singer." 
Calling all HuffPost superfans!
Sign up for membership to become a founding member and help shape HuffPost's next chapter
BEFORE YOU GO
PHOTO GALLERY
Carrie Fisher's Best Quotes About 'Star Wars'