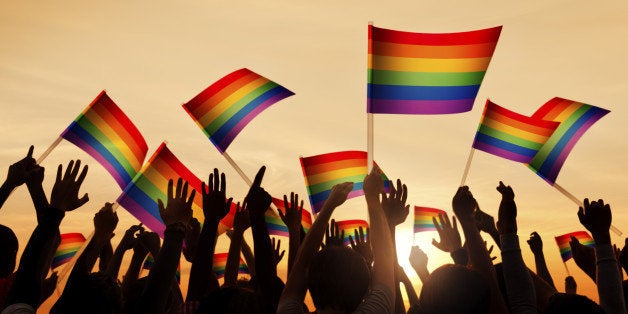 By all American standards, my family was pretty was normal. Dad was a Master Sergeant in the US Army and Ma was the obedient wife, cook, keeper of the home, and caretaker of my older sister and me; we even had a dog. My father and I did all the stereotypical masculine activities expected with society's male bonding rituals; fishing, playing sports together, and I was often gifted with military themed toys. One of these toys was a huge oversized dark green wooden tank with US Army painted on the sides of the hull. This was my favorite toy and I would spend hours crouched down on my hands and knees pushing it across our shag rug pretending it were on foreign terrain!
I've known that I was gay from a very early age; I just didn't know what to call it. I can't explain it, but it was a feeling I've always had. Maybe the feeling stemmed from my expulsion from nursery school for biting? This wasn't my finest of pre-scholastic moments, but it's true! Or perhaps this was a warning sign of Odaxelagnia and my future journey into homo-dome? Probably not, but I did have an issue with biting. I chewed on everything from my headboard and footboard of my bed, to the aluminum blinds in my bedroom. Hell, if the family dog wouldn't play with me, I'd bite him. If my mother didn't give me what I wanted, I bit her. This however was a HUGE mistake and it only happened once. She bit me back forever curing me from any future behavioral nibbling...as a child. Personally, I think it was likely just a case of "I-was-a-brat-i-tis".
Even in grade school I knew that I was different. Not outer worldly different like Star Trek's Mr. Spock, with his pointed ears and amazing intellect, just different. From all outward appearances, I looked like any other African American boy my age at John Tyler Elementary School in Hampton Roads, Virginia. Around certain of my male classmates though, I would get tingly, anxious, and strangely giddy. Movie time was my favorite part of class because it gave me a chance to sit next to my favorite male classmate, and with the lights out, I felt free. I don't ever remember the films. What I do remember, is holding hands with my special friend!

Shit happens, and my mother now twice divorced, set her sights on a new life in San Diego, California. I was a teenager (13) and my feelings around other guys remained the same. This wasn't "just a phase" as some people did and still might suggest. I attempted to conform to the "norms" of the hetero world and even had a girlfriend. Kim thought I was cuter than her ex-boyfriend Earl, who actually lived upstairs from me. But my relationship with Kim felt awkward, and it only made me more aware of my (homo) sexuality. I was also now old enough to be aware of the cruelties, and horrific names that were being psychologically branded on guys like me. Being a young black male was difficult enough and in our new and conservative suburban North County -- Rancho Penãsquitos -- neighborhood, this "queer" nuance was something I had to keep to myself; at least for the time being.
My mother was and still is a very social person. She loved to go dancing. In relocating to San Diego, California, she would occasionally frequent a gay disco called Dillion's. Here she met and made friends with several gay men and women; many would later become family friends. One such friend Mark B., was in his early 20s, and was just adorable. He had blonde hair, dimples, blue eyes, and a big moustache (think 80s Magnum PI). Mark was always invited over to celebrate our birthdays and attend holiday meals. I don't think he had any family of his own in town so my mother sort of adopted him into our family. He was a sweetheart and my sisters and I secretly had a crush on him. I think my mother knew it too but then one day Mark stopped coming around. We later found out he moved to San Francisco and sadly we never saw him again.
At sixteen I decided it was time to come out! I didn't think it would be an issue considering the number of gay and lesbian friends my mother had. It was early in the evening and my mother was in the kitchen doing dishes. I slowly approached her and quietly told her that I thought that I might be gay. In my mind, time stopped and I could hear my heart literally pounding in my chest. She continued to wash dishes and without missing a beat, asked me to explain why I thought I was gay. I think my words to her were something like,' because I really, really, like guys. I didn't say attracted because my life at that time was more mental than physical. That answer wasn't sufficient enough to validate my admission though. So she asked me to write her a paper entitled, "Why I Think I'm Gay". In my writing, I explained to her that I had been aware of my sexuality since I was in grade school and though I had had a girlfriend, it just didn't feel right and I remained infatuated with guys.
I was the only male in our household. My mother thought that it was perhaps due to the all female-only influence at home or maybe her friends. She suggested I speak to her friend Wayne. This was a great idea. Wayne was gay and about 15 years older than I. I could finally speak to someone, another gay male, who could completely understand my situation. Wayne was a good listener and allowed me to speak freely and in more depth about my awareness and the occasional physical confirmations that my dreams would produce. I didn't feel comfortable talking to my mother about such personal details. Wayne confirmed my admission to my mother and the rest is history. Wayne became a good friend I could talk to about life until he and his partner moved away.
Recently, I asked my mother why she questioned my coming out. She said that she had always known that I was gay. As a young boy, she said, I was somewhat effeminate and would often walk around the house with my wrists draped. She wanted me to be aware of the potential challenges, disappointments, and heartache that could lie ahead for me.
I was fortunate to come out to someone that embraced me with love and compassion. I know that it isn't always that easy for everyone. Many young gay, lesbian, and trans-gendered children are sometimes abandoned for living or disclosing their difference. Luckily, the world has changed since I came out 36 years ago. In addition to the available resources in some churches and schools, there are also amazing LGBTQ role models such as Michael Sam, Lavern Cox, Ellen Degeneres, and George Takei that have broken down barriers of race, transphobia, and homophobia by living their truth.
Change doesn't happen alone. Together with our straight allies, we're setting the stage for a happier and more diverse society where eveyone can be themselves. Happy Pride Everyone!
REAL LIFE. REAL NEWS. REAL VOICES.
Help us tell more of the stories that matter from voices that too often remain unheard.