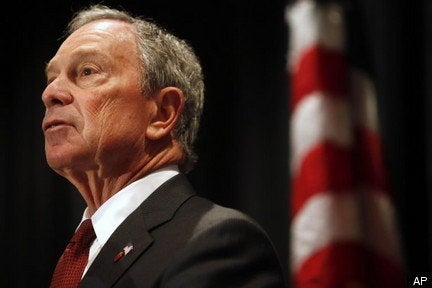 Last October, Mayor Mike Bloomberg told a crowd in London, "There's nobody that understands the private sector, I think, more than I do." That's quite a bold statement, but not really a surprising one. After all, the mayor's financial know-how is why he says we need him at the helm during the financial crisis.
How did Bloomberg earn that expertise? He got a Harvard MBA, worked his way up the ladder on Wall Street, was demoted, learned about computers, got canned, cashed a $10 million severance check, started his own business and became one of the richest people in the world.
If you're reading this, chances are you've done none of the things Bloomberg did (except maybe get canned). But maybe you want what Bloomberg's got: the NYPD guards, the keys to Gracie Mansion, the $1-a-year salary. Maybe you, too, want to be a business-savvy mayor.
Are you cut out for it? Take this quiz and find out.
Question 1: Cool Your Jets
You're helping to negotiate the transfer to the New York Jets of an incredibly valuable piece of Manhattan real estate owned by the MTA. Some pain-in-the-ass critics suggest that an open bidding process be used to decide whether the Jets or another buyer gets the land. As a business-savvy mayor, you:
A. Agree that the free market is likely to fetch the best price for this precious public asset.
B. Decide to buy the land yourself and plant a million very, very small trees on it.
C. Resist competitive bidding, get overruled, and watch the cash-strapped public agency accept a Jets bid that is $100 million higher than it would have if they'd listened to you.
(Answer: C. Hey, what's $100 million among friends?)
Question 2: Snap-ple Decision
The school system is seeking a single vendor for drink machines in all its facilities. It's a lucrative financial opportunity for the city with potential health consequences for a million students. As a business-savvy mayor, you:
A. Insist on a fair and transparent bidding process to get the best deal.
B. Opt to scrap the idea of drink machines at all and replace them with free cigarette dispensers.
C. Let the school system hire a marketing firm with ties to Snapple to conduct a bidding process that—oh yes—selects Snapple. Then you pooh-pooh complaints about the deal, belatedly admit that the revenues fell millions of dollars short and allow the schools to re-hire the same firm that botched the bidding process.
(Answer: C. Look, they said the best stuff was in there. We believed them.)
Question 3: Stuy Town? It's My Town!
Real estate big-shot Tishman Speyer and a consortium of investors are angling to buy one of the largest concentrations of affordable middle-class apartments in the city, some 11,250 units in 56 buildings, in what would be the biggest real estate deal in American history. Tenant advocates have been sounding alarms about overleveraged buyers. Tenants of the complex ask your administration to intervene and block the sale. As a business-savvy mayor, you:
A. Seek to halt, stall, investigate or have some meaningful role in the deal
B. Are distracted by planning your presidential cabinet. Nick Scoppetta for Defense, perhaps?
C. Turn down the tenants, let the sale go through, then watch as the complex spirals toward bankruptcy. Luckily, by the time the deal goes sour one of the lenders in the deal, Merrill Lynch, had already sold its stake in your Bloomberg LP—a company which, you belatedly reveal at around the same time as the Stuy Town deal, you are still involved in running.
(Answer: C. Listen, Tishman Speyer's CEO Jamie Speyer later became a leading backer of the term limits reversal. So how bad could the deal have been?)
Question 4: Play Your Yards Right
As a business-savvy mayor, what would you say is the best thing about Atlantic Yards, for which the city is investing $169 million in direct expenditures and foregoing $180 million in taxes?
A. "Over a 30-year period, the arena would cost the city nearly $40 million more in spending under current budget plans than it will generate in tax revenues."
B. "For the developer, Forest City Ratner Companies, the mix of special government benefits result in total savings of $726 million."
C. " When the facility is open there will be an average of 955 new jobs, many of them part time, and mostly in performing arts and spectator sports."
D. Up to 2,250 units of affordable housing—IF the project is built out to the original scale.
(Answer: D. One thing I've learned from watching the NBA? Always have faith in the Nets.)
Question 5: Yankees, Go Home?
Read the following paragraph and answer the question below.
New stadiums are wonderful and good. The new Yankee Stadium features fewer seats and more luxury boxes than the old stadium. Baseball is our national pastime. The new stadium was built on a public park in a dense, low-income neighborhood, against the wishes of the local community board. Alex Rodriguez is dreamy. The city is facing an increasing price-tag—up 67 percent to $195 million—for the replacement parks it has promised. The Yankees are enjoying $855 million in public subsidies for the project.
What is the main idea of the paragraph?
A. Alex Rodriguez is dreamy.
B. Baseball is our national pastime.
C. New stadiums are wonderful and good.
(Answer: C. It helps if you just skim.)
Question 6: Drawing a Blank
Complete this sentence that Mayor Bloomberg uttered in 2006, drawing upon his time in the private sector:
"My experience in business has been, whenever we've had somebody who was irreplaceable, their successor invariably ____________ . . . . So on balance, I've always been a believer in term limits."
A. kind of sucked.
B. smelled like tapioca.
C. did a better job.
(Answer: C. We all say strange things in our youth.)
Question 7: A Priceless Quote
Last year, Mayor Bloomberg appeared on NBC's Meet the Press to discuss the financial crisis. What was his take on how the Treasury Department should respond?
(Answer: C. So true ... I guess.)
Bonus Question: The Elephant In the Room
Mayor Bloomberg said this week that his exorbitant campaign spending ($225 million on his three races, and counting) has been necessary because he is a Republican running in a Democratic town. His predecessor Rudy Giuliani was also a Republican. How much did Giuliani spend on his three runs for mayor?
A. $85 million
B. $75 million
C. $27 million
(Answer: C. Shrewd, Rudy. Shrewd!)
YOUR SCORE:
7 or 8 correct … You're mayoral material. Start running ads!
5 or 6 correct … Deputy mayor (e.g., future Bloomberg LP president) ain't bad
3 or 4 correct … Ever consider becoming comptroller?
1 or 2 correct … Fuzzy math!
REAL LIFE. REAL NEWS. REAL VOICES.
Help us tell more of the stories that matter from voices that too often remain unheard.