"People complain about all sorts of things—it's human nature, we all do it. Some of these things will be your decisions and people will say directly to you that "they" did this. This feels like a loss of self but it's really the addition of a second persona- president- that makes people forget sometimes that you are a person no matter how "down to earth" you seem."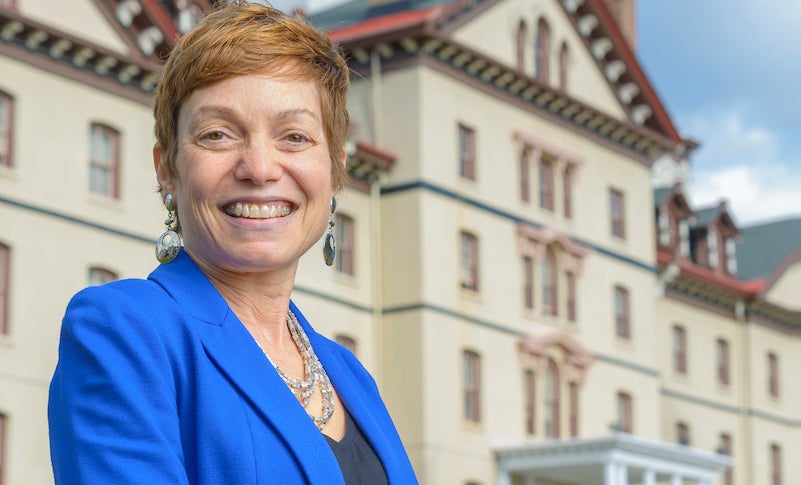 I had the pleasure of interviewing Julie Wollman, President of Widener University. For more than 25 years, Dr. Julie E. Wollman has been a passionate, fearless, and effective advocate for higher education. She is the 10th president of Widener University, a role she assumed in January of 2016.
Thank you so much for doing this with us! What is your "backstory"?
Immediately after graduating from Harvard, I began my career in education as an elementary school teacher, which was very unusual and frowned upon, but I was sufficiently rebellious to do it anyway. I wanted to be a better educator and started a master's program at the University of Pennsylvania during my first year of teaching. My next step was to become a college professor of education, after getting my Ph.D. at New York University, in order to have a broader impact on education. My love of research and writing as well as teaching, made the college faculty role very attractive. While a college professor I was asked several times to serve as an administrator, and finally agreed to try it. I really enjoyed that, too. From Associate Dean I moved up the ranks with encouragement from great mentors. As president I continue to write and to teach one class a year which is challenging and fun.
Can you share the funniest or most interesting story that happened to you since you began leading Widener University?
Each year I switch places with a student who becomes "President for a Day" while I go to the student's classes and activities. Two years ago the President for a Day happened to be the starting pitcher on our baseball team. I warmed up in the dugout and threw some decent pitches, but when I got out to the mound it seemed an awfully long way to the batter. My pitch—captured on social media, of course—traveled a pitiful ten feet before slowly rolling to a halt in the grass. We all had a good laugh, I made way for a real pitcher, and watched the rest of the game from the sidelines. The President for a Day proved to be more successful at my job than I was at his!
Does Widener University have a particular academic emphasis?
Widener University is committed to experiential learning-- students apply what they are learning in the classroom to the world outside of our campus. Widener experiential learning includes extensive opportunities for undergraduate and graduate research, internships, service learning, and international experiences. Leadership is a distinctive Widener focus. Every undergraduate is encouraged to earn a leadership certificate, evidencing the development of integrity, initiative, decision-making and collaboration, all important to courageous leadership at any level within an organization and highly valued by employers. Widener's best known programs are in engineering, the sciences, healthcare, management, and law.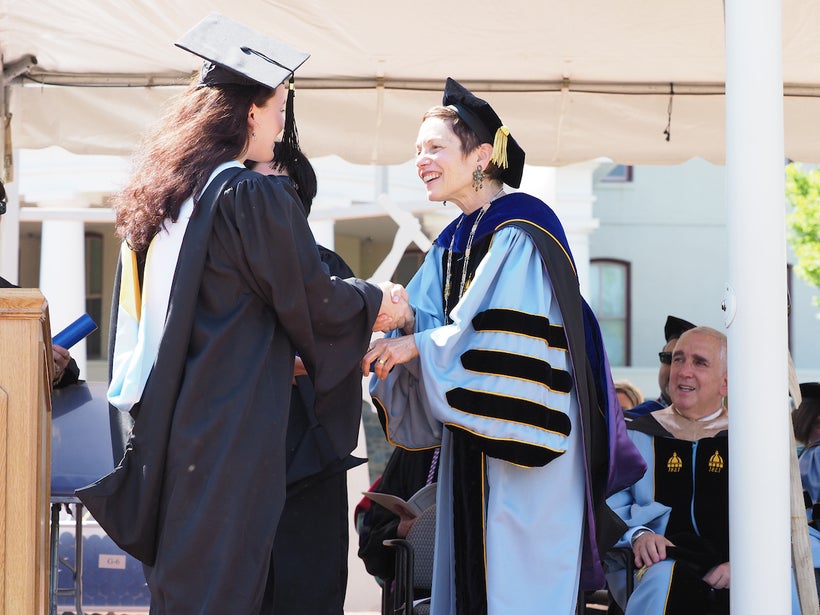 Has the role of a college education, or the value of a college education Changed over the past 30 years? Can you explain?
A college education develops the critical thinking, communication and analytical skills that are essential to career success. The earnings premium, positive social impact and wellbeing of college graduates today is well-documented.
Are there alumni of Widener University that you are most proud of?
So many Widener alumni have excelled academically and in their careers and are using their knowledge and skills to shape a better world. This is a tough question! I am very proud of recent graduate Samantha DeCapua ('17), ranked number four nationally among the many thousands of ROTC cadets in the country. Looking farther back, Dr. Steven Gillon ('78), also awarded an honorary degree recently, is typical of many students who are transformed by a Widener education. He came to the university to play baseball, discovered a love of history, went on the become a professor at Yale and Oxford Universities, was founding dean of the Honors College at the University of Oklahoma, and is a host and resident historian for The History Channel. He is generous with his time, welcoming interactions with current students.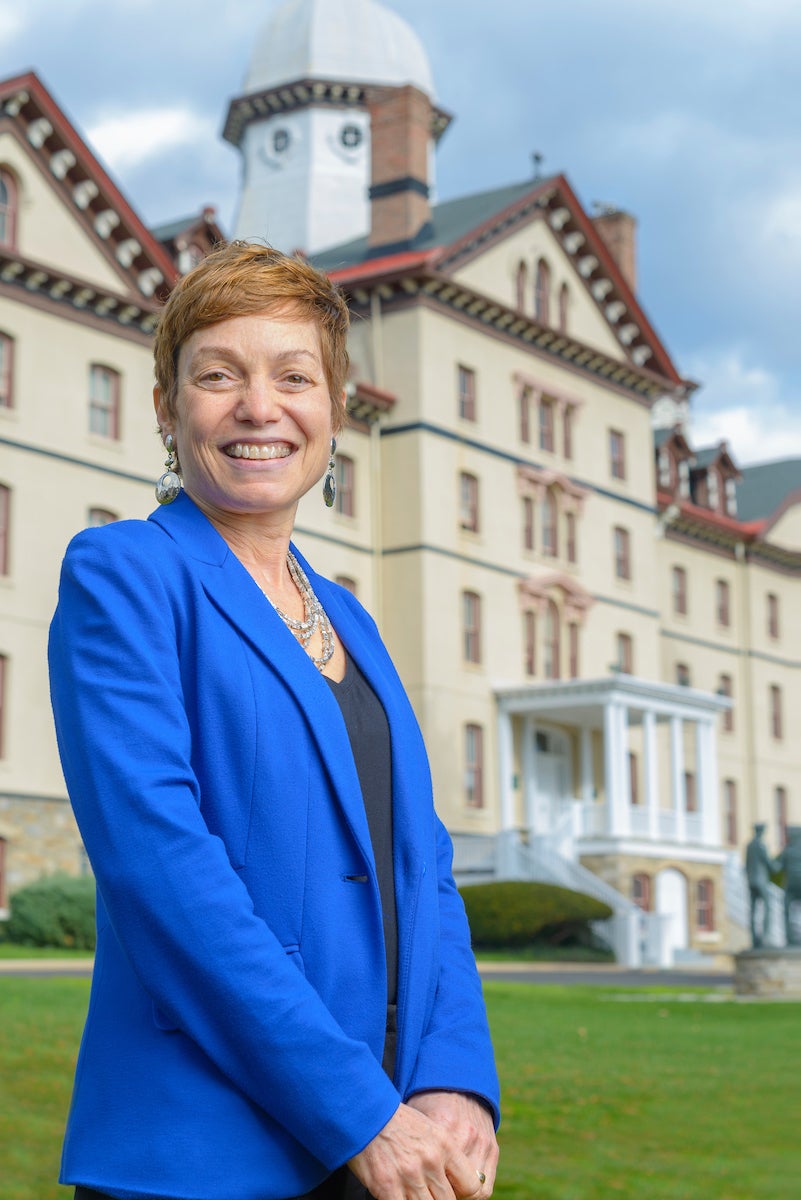 How have you used your success to bring goodness to the world?
I introduced a Common Ground initiative at Widener to create a model for challenging the polarization plaguing our society. Common Ground involves faculty, students and staff listening respectfully and engaging in reasoned civil discourse on challenging topics. This proactive approach reveals that we share similar concerns and our passion about issues is the beginning of finding common ground. I believe that our graduates will be better citizens of their local communities and of the world because they have learned to explore common ground as a part of their Widener education.
What are your "5 Things I Wish Someone Told Me Before I Became a College President" and why?
Although you're still the same person, people will watch everything you do. When you're an adolescent you think everyone is watching you and it's normal to be constantly worried about how you appear to others. But we grow out of this and develop comfort with being ourselves. When you become a president, by virtue of your role you will be closely observed and recognized anywhere—the grocery store, hotel elevators in another city, restaurants. You are always and everywhere the university president and people watch what you do, so you have to recapture some of that adolescent hyper-awareness.
It will be hard for every constituent group to understand that you must always do what's best for the university, even if that means taking a different stance on issues than you might take personally. Integrity as a leader entails that you do what is best for the institution.
You will become "They" with a capital T—don't take it personally. People complain about all sorts of things—it's human nature, we all do it. Some of these things will be your decisions and people will say directly to you that "they" did this. This feels like a loss of self but it's really the addition of a second persona- president- that makes people forget sometimes that you are a person no matter how "down to earth" you seem.
Campus morale supersedes any action or decision you make. Morale will be influenced by your decisions and actions but it takes time to create the trust necessary for these to add up to morale shift. No single good decision will improve morale; no single bad one will destroy it. Morale, like culture, is a powerful force that must be respected and nurtured.
It's all about interpersonal relationships. Spending time building relationships with faculty, staff, students, Trustees, and alumni will be the most important and rewarding use of your time. These people care as deeply as you do about the university and, in many cases, they have a much longer history with it. Honor that history and caring.
Is there a person in the world dead or alive that you would love to have a private breakfast or lunch with, and why?
I admire courage and I strive to be a courageous leader, just as we aim to develop courageous leadership in our students. I can think of a no more courageous leader than Martin Luther King, Jr. I would love to talk with him.
REAL LIFE. REAL NEWS. REAL VOICES.
Help us tell more of the stories that matter from voices that too often remain unheard.
This post was published on the now-closed HuffPost Contributor platform. Contributors control their own work and posted freely to our site. If you need to flag this entry as abusive,
send us an email
.