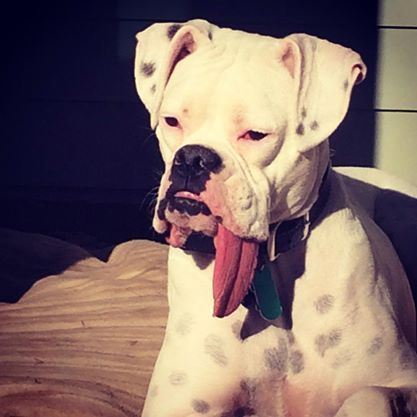 When Kiss, a 4-year-old boxer, was hiking Mount Sanitas in Boulder, Colo., with his owner, other hikers commented on how thirsty he looked. His lengthy pink tongue flopped out to one side.
But Kiss was not thirsty. That's just how he is.
Kiss was born with a rare neurological condition that makes him unable to pull his tongue into his mouth. The more relaxed and happy he is, the floppier the tongue. Think of it as his unique, silly smile.
I've always had a weakness for special critters. Six-toed cats are a given, but as a child, I had a kitten who was born with her legs facing backward. All four of them. She was never able to walk, but during her short life (her flipped hips came with other health problems), she taught me about the beauty in the unique and unusual.
So when I brought my own 4-year-old daughter to the Venice Beach Freakshow, I made sure she had a chance to pet the five-legged dog. She called it "weird," which is the highest compliment to give someone in my family.
Kiss the dog is "weird," too, in the best way. And for that, he's already is becoming known, says his owner Dawn "Drew" Korres. In fact, Kiss has his own Facebook, Twitter, Tumblr and Instagram accounts with a quickly growing number of followers around the world (1,300 on Instagram), and he recently was featured on the Dogs of Instagram collection.
Kiss is not the only viral pup with a funny tongue. Marnie the Dog, a senior Shih Tzu rescue, has "vestibular syndrome," which also makes her long tongue stick out. Marni has been featured everywhere from People Magazine to "Good Morning America."
Kiss has two rare nerve disorders, neither with a name, says his veterinarian, Nancy Bureau, of the Left Hand Animal Hospital in Niwot. Kiss' hypoglossal nerve, which controls the tongue's motion, doesn't work well, while the facial nerve on his right side is hyperactive; that's what makes his tongue hang out so far to the right.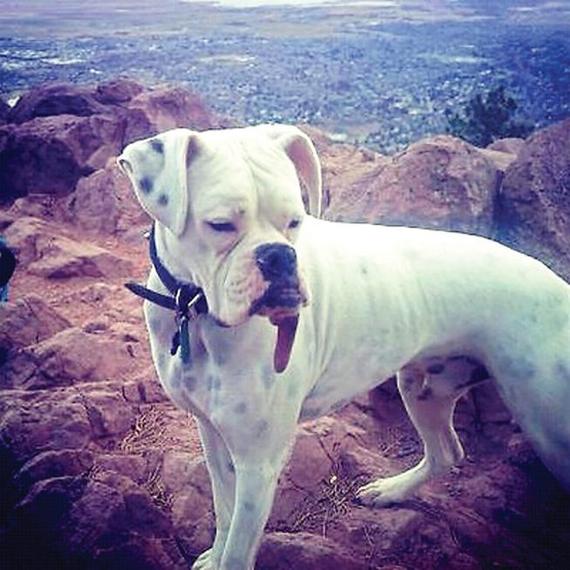 Korres had a history of adopting pets in need, including a deaf albino Australian shepherd, a dog with severe separation anxiety and senior animals.
Other than the tongue issue and occasional twitches while sleeping, Kiss is healthy and living a full life, his vet says. Kiss has no problem eating and drinking.
But the dog's life was nearly cut short. When Korres found him on Petfinder, she says, he was on the way to be euthanized.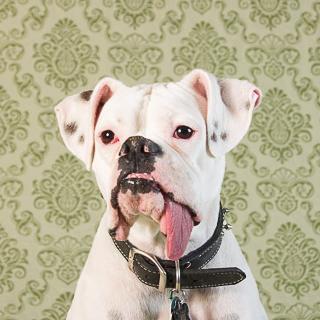 When people stop Kiss on the streets or trails to remark on his unusual tongue, Korres says she uses the opportunity to tell them that he was rescued from a "kill shelter." She says she hopes Kiss can raise awareness about adopting animals -- even ones that look a little different.
Photos courtesy of Kiss the Boxer.
Calling all HuffPost superfans!
Sign up for membership to become a founding member and help shape HuffPost's next chapter