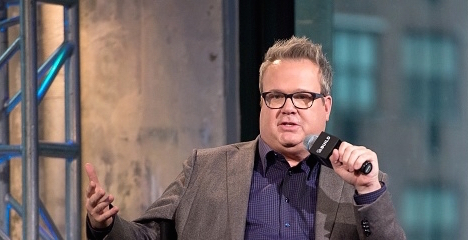 Playing Cam on ABC's widely successful series Modern Family has catapulted Eric Stonestreet into the spotlight. Known for his flamboyantly hysterical role, Eric's performance leaps through the screen and bear hugs our own families every single episode. The actor doesn't seem to take his success for granted, valiantly using the recognition to promote causes close to his heart.
Recently Mr. Stonestreet appeared on AOL BUILD to promote "Ready. Raise. Rise." - a campaign bent on raising awareness about cancer research while honoring the loved ones that have been affected by the disease. During the half hour taping, the entire studio cried an entire spectrum of tears. There were heartfelt cries while Eric spoke of the horrors of cancer and the loss of his dog, and then extreme tears of laughter for when he totally made one lucky audience member's life during the "Audience Q & A."
One cool aspect of BUILD is that viewers don't take a back seat, but are allowed to drive a portion of the interview by asking their own questions. Eric seemed to love this part of his time at the AOL headquarters in NYC. It was during the final audience question that things took an unbelievable turn.
Eric engaged in a dialogue with an audience member who wanted advice on getting a dog. You have to watch what transpired below (or here). All I can say is that it involves some twitter handle exchanging, loads of laughter and a promise that Eric will "fuck your world." The conversation starts around the "28:17" mark and goes until the end.
Calling all HuffPost superfans!
Sign up for membership to become a founding member and help shape HuffPost's next chapter