Do you know what happens when you make grand plans to take part in a boudoir photo shoot and share your photos with the world?
First, you have to migrate your website, and then ALL FOUR of your kids got sick, then you discover how much you like eating store-brand Nutella straight from the jar (no middleman!), then there is a major work event to prepare for...
Insert "wailing of shame," here.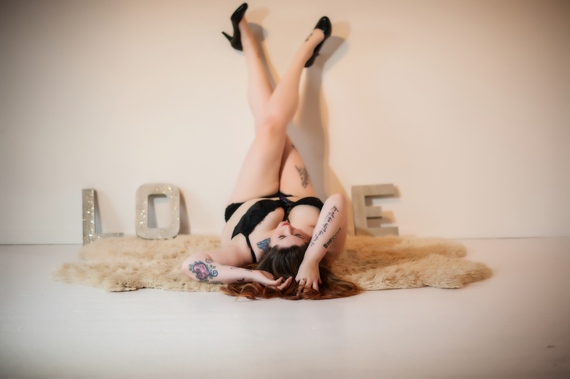 Oooh, a teaser!

BACKGROUND
A little while ago, I issued a challenge to my readers, family and friends, calling it the "Dare to BE" Challenge. In a nutshell: If you tell me what it is you feel you can't do, or are too scared / self-conscious to try, I will do it... but then you have to promise to do it, too.
DARE T0 BE: BOUDOIR -- THE CHALLENGE
After issuing the challenge, and following up with family and friends, I received this online submission:
"I've always seen photos from boudoir photo shoots and thought that if I had a better body or "got skinny" I would love to try one. For me it's more than just finding a photographer I'm comfortable with or being able to afford it. It's a matter of just NOT feeling like I'm sexy or the type of person who does that."
I got to work, and started researching local photographers. Since I wanted to make this as accessible for people as possible, I immediately decided that the $400 - $3,000 range that I was seeing just wasn't going to cut it.
Thank God for Living Social and Groupon!
I found my photographer!
Who: PS Photography
Amount: $29!
Included: 45-minute boudoir session with two 4×6 prints
Let's just say that I did juuuuuuuuust fine.
Again, I needed to keep this as real as possible. One of the biggest hurdles to treating yourself to something like this is 'financial', and that doesn't stop with just the booking fee of the photographer... so I did what any self-respecting Child of the 90's would do:
I hit my local mall.
Torrid for lingerie (75)
I cannot recommend Torrid enough. As this is a plus-size store with more funky, fashion-forward options than, say, Lane Bryant, you have staff that are excited to help you find the exact pieces you are looking for. What's even better? They're likely also plus-sized, so there's rarely ever a need to describe the evils of 'chub rub' - they already know, honey.
The Icing for a couple of necklaces (12)
Seriously, don't go in there expecting the jewelry to be something you can pass down for generations and you'll be fine. I got two necklaces for12, people!
Pedicure at the nail salon (35)
Pro Tip: Don't skip on your (toenail) tips! I decided to go with a pretty white for my toes and did my own fingernails (clear) to save on costs... but there's no scrimping when it comes to buffing off your "winter feet".
Blowout at a nearby Hair Masters (28)
I have the thickest hair known to mankind. I wish I were exaggerating, but it's what I hear every single time I get my hair done, at every single salon. That said, I knew I wanted my hair to be smooth and straight for the shoot... and there's no way I wanted to blow dry and flat iron my Jew'fro.
I SPENT $150 ON MY WARDROBE, ACCESSORIES, AND BODY/HAIR PREP... PLUS $29 FOR THE PHOTO SHOOT ITSELF... FOR AN ALL-IN TOTAL OF $179.
Remember the $400 - $3,000 range?
Yeah. I rock.
PREPARATION: THE WEEK BEFORE
One of the best things I did before this photo shoot was DRINK ALL THE WATER. I tend to have combination skin, where my forehead can be a little oily but my nose and cheeks are dry... and drinking water really balanced that out quite a bit.
And no, I don't normally drink a lot of water.
I know... I know.
Check out Modeling 101 for an insanely thorough list... but, basically, here's what I did:
Shaved / waxed two days prior (Why two days prior? Razor burn.)
Exfoliate the day before
Pedicure the day before
No alcohol that week, as I know it makes me puffy-in-the-face.
I woke up, made sure to eat breakfast, washed and moisturized my face, and went about my day. It felt really good to not have additional 'To-Do' items to stress about, as I was just starting to feel some nerves kicking in.
When I got to the studio, my photographer - Trina - was expecting me and ready to go. After showing me where I could change into each outfit, she waited for me to get ready and meet her in the studio.
You guys, I have to say that there is something so incredibly calming about working with someone who knows what they're doing. At first I thought that Trina's directions sounded pretty scripted - "I'll have you stand/lay/sit here", "Arch your back, point your toes, tilt your head", "Now let's try on your stomach/back/tip toes" - but as she led me through some poses at different spots around the studio (next to the window, on the sheepskin rug, on the bed, leaning over the vanity, etc.), I started to relax and let her do what she's good at - provide direction for the best shot possible.
I was having a lot of fun!
I loved sprawling out and being sexy.
I liked trying to imagine what each shot would look like.
That nagging, whispering soundtrack of my past:
"How badly is she trying not to laugh at me right now?"
"Did I honestly think I'd feel comfortable showing back-fat??"
"My arms aren't ready... MY ARMS AREN'T READY!"
Luckily, Trina needed to swap out her camera battery at that time, and I was able to breathe. Years of panic and shame are not easy to overcome, people, and just because I have learned to love and accept myself over the last few years does not mean I have a perfect relationship with my body, or am immune to feelings of doubt.
It just means I have learned how to acknowledge them and keep moving.
... and that's just what I did.
After the shoot was done, I went home and waited for an email from Trina to schedule time to view and choose my pictures for printing/downloading. It took her all of about, oh, three days to edit HUNDREDS of photos!
My husband and I, along with our 7-month old daughter, went back to the studio to view the pictures together. She explained the viewing process of how to narrow the images down to ones we loved, liked, or hated.
Suffice to say, the only one I 'hated' was one where she caught me mid-sneeze.
I think that might have been my favorite part of the experience - sitting there with my husband, who I had been thinking about (rawr) during the shoot, and hearing him gasp with each sexy pose. Talk about making it all worth it!
We chose our favorites (just about all of them), and walked away extremely happy. Which leads me to...

THE FINAL PRODUCT - MY SEXY SELF!
It's time! You've stuck with me through this journey, so you deserve a treat.
Click HERE to be taken to my blog, and scroll down for (free) access to my Flickr album.
Love and Really Brave Hugs,
Krystal
For more fat, fierce, in-your-face goings-on, be sure to check out Bigger Expectations on Facebook, Instagram, Twitter, and the Bigger Expectations website.
Calling all HuffPost superfans!
Sign up for membership to become a founding member and help shape HuffPost's next chapter