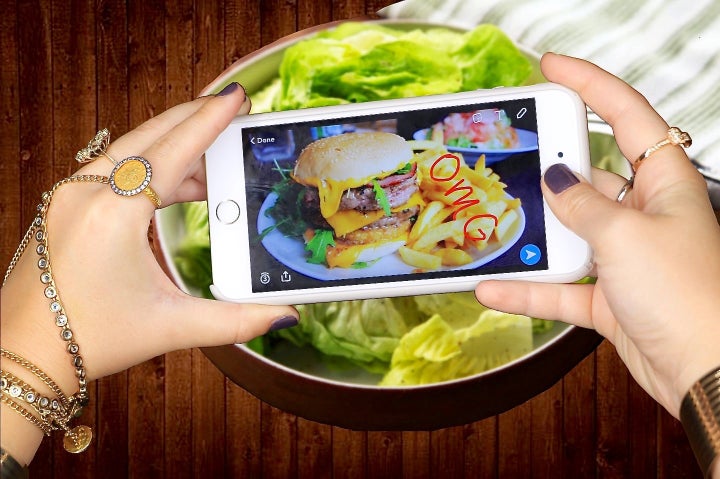 I live in Los Angeles where I pursue a PhD in Health Communication. Being drowned in academic journals and books in a city where almost everyone is in the entertainment industry certainly allows for fun study breaks—running into Bieber at my favorite coffee shop, dining next to JLo in Malibu, or shopping with Chiara Ferragni at the next door mall. But at times, the glitz and glamour crumble, leaving you with some ugly, ugly truth that makes you feel sick to your stomach.
Like many of my friends, I follow quite a few fashion and lifestyle bloggers who live in LA. I love to see what they do, where they eat, what they wear, where they go, as they keep me up-to-date with the city I live in and inspire me when I plan my weekends or my outfits. So you could imagine my excitement when one of my favorite fashion bloggers showed up to a cozy birthday dinner I was invited to in a Beverly Hills steakhouse.
She did not know I was a follower, but I pretty much knew everything about her. Where she got her facial that morning or who she was wearing that night. She is quite pretty and fit and you could tell she worked out, I mean she must be working out because she always posted pics of the ridiculously delicious meals she eats, including truffle pastas, gourmet pizzas, burgers the size of her face, dripping tacos, even Blue Star donuts. How could she indulge in all these delicacies yet stay so slim? "Portion control", I tell myself, something I have a hard time practicing, "she must have a fast metabolism or something".
When it came to ordering our food, I opted for a steak salad as it seemed quite manageable for a late night dinner. Now listen to what our blogger orders—fries, spinach dip, a charcuterie platter, a T BONE STEAK just for herself, a glass of red wine, and a Caesar's salad on the side, no croutons, no dressing. She then shared the entire meal, dish by dish, on Snapchat with her thousands of followers, accompanied by "Oh my God you guys, I am going to devour this meal."
Sadly, she did not even touch the food.
She ate her no dressing, no carb salad on the side. She took one bite of her steak, and told the other girls at the table "Please help yourselves! My dress is too tight, I can't possibly eat anymore." I was in utter shock. Why would someone order an entire meal that could feed 20 and not even touch it? Straight out lie to her followers? And then foot a $250 bill for a $12 salad?
It gets worse. When I went back home I watched her Snapchat, and my jaw dropped to the floor. "I ate that entire meal you guys", she was saying, lying in bed, "they had to wheel me out of that restaurant". "Oh God, I am so full I can't breathe", she continued, "Never again, but hahaha, I'll be back in two days who am I kidding?"
Us. You are kidding us. You are fooling the 100k that follows you on a daily basis, who believes you must be some sort of a genetically blessed superwoman.
What I witnessed was how social media could not only be biased, but also downright deceptive. I am aware of all the photoshopping, slimming, and filtering, but this level of misrepresentation even fooled the 26 year old me who made a career out of health. Can you imagine what thousands of teenage girls who follow her are faced with? They see a fit and attractive young woman who seems to be binging on In-N-Out every other day, never seems to be working out, and still manages to look like a 12/10 in her skinny jeans.
Young girls who are trying to make healthy choices, who are trying to eat well and stay active, who are already struggling with body issues, wonder where they go wrong when they are exposed to such misinformation. And the stakes are much higher than mere disappointment: research has shown over and over again that exposure to and pressure exerted by such media content increase serious eating disorders in young women. So why lie and pretend you eat all the mouth-watering food in the world, while you should be setting an example for the young minds that see you as an example?
Don't get me wrong, there are many public personas who do this right. Chrissy Teigen, who posts hearty cooking videos on the daily, also posts pictures of her stretch marks. Jasmine Sanders, the Golden Barbie, told her followers that she was cutting down on sweet and salty foods to shed a few pounds. Even Kourtney and Khloe Kardashian post one sweaty snap after another, sharing their gruesome workouts with their followers, and tell them that it takes hard work and dedication to actually see results.
I am not saying that every fashion blogger should start sharing their diet and workouts, but if you're not going to share the blood, sweat, and tears, along with your 2000 calorie fake-meals and six packs, please stick to only sharing outfit pictures. Social media influencers should aim to be honest role models, and use their power to empower women. Your content might get you likes and $$$, but remember, when used right, it can also drive some real, positive change among your followers, leading to a truly valuable impact on our society.
Popular in the Community