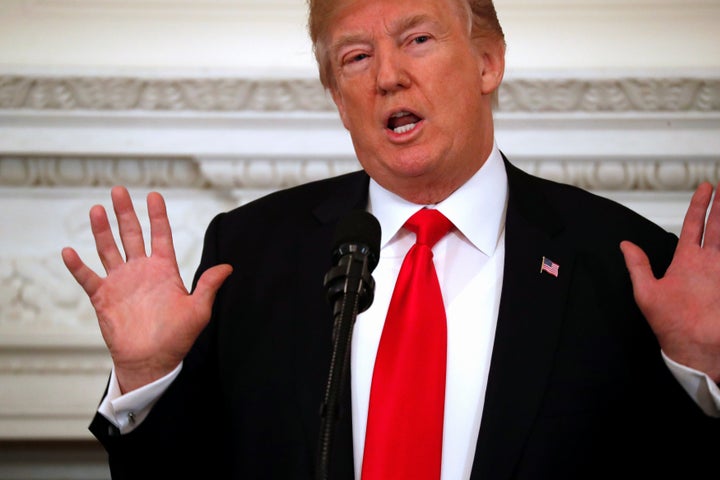 There's a stark racial and political divide in terms of who supports arming teachers with firearms.
A new HuffPost/YouGov poll on school safety found that 45 percent of respondents who identify as white expressed at least some support for arming teachers with firearms, compared to only about 30 percent of non-white respondents. Meanwhile, 50 percent of people of color said they somewhat or strongly opposed arming teachers, versus 44 percent of white respondents. Respondents who identify as black were especially opposed to the idea.
This divide is even more intense when comparing Democrats to Republicans. Nearly 70 percent of Republicans said they supported the idea of arming teachers, compared to 20 percent of Democrats.
Overall, 41 percent of respondents expressed at least partial support for the idea, compared to 46 percent who opposed it and 13 percent who were not sure. However, there appears to be an intensity gap on the issue. While only 20 percent of respondents overall said they strongly support arming teachers, 36 percent said they strongly oppose it.
But parents with children under the age of 18 showed some enthusiasm for the idea. Overall, 33 percent of parents said having armed educators would make them feel more safe, while 22 percent said it would make them feel less safe. One-quarter said it wouldn't make them feel more or less safe either way.
President Donald Trump has repeatedly said teachers should be armed to prevent school shootings like the one in Parkland, Florida, that left 17 people dead on Feb. 14. In the weeks since, a group of the school's surviving students have mobilized widespread resistance to pro-gun organizations like the National Rifle Association.
In the wake of the shooting, the president held a listening forum with survivors of gun violence and their families. Trump heard from attendees who want to increase the level of security in schools via police officers or armed educators. But some critics have expressed fear that this would only exacerbate the school-to-prison pipeline, a phenomenon in which biased or overly strict security and discipline processes help funnel students from school into the criminal justice system. Others posited that arming teachers could put the lives of black students in danger.
The president's words aren't being taken lightly. Nearly half of survey participants ― 44 percent ― called the idea of arming educators with firearms to prevent mass shootings a "serious policy proposal."
In the same vein, white respondents were more likely to say that they would support having armed police officers stationed at schools. As of 2014, 30 percent of schools employed a school-based police officer. Most poll respondents who identify as white ― 70 percent ― said they at least somewhat endorsed this idea, compared to 58 percent of non-white respondents. Overall, 66 percent of survey respondents said they supported this idea.
Overall, Republican respondents were significantly more likely to support the idea of armed police officers in schools than the general population, at 83 percent versus 66 percent. About 60 percent of Democrats said they backed the idea.
But at the same time, white and Republican respondents were less likely to think schools in the U.S. have safety problems, the poll found. Nearly 60 percent of white participants called schools at least somewhat safe, compared to about 40 percent of people of color. Republicans, too, generally called schools in the U.S. safe, at 65 percent, compared to about half of Democrats.
NASRO "recommends that no firearms be on a school campus except those carried by carefully selected, specially trained school resource officers who are career law enforcement officers with sworn authority," the group said in a statement last week.
Use the widget below to further explore the results of the HuffPost/YouGov survey, using the menu at the top to select survey questions and the buttons at the bottom to filter the data by subgroups:
The HuffPost/YouGov poll consisted of 1,000 completed interviews conducted Feb. 23-25 among U.S. adults, using a sample selected from YouGov's opt-in online panel to match the demographics and other characteristics of the adult U.S. population.
HuffPost has teamed up with YouGov to conduct daily opinion polls. You can learn more about this project and take part in YouGov's nationally representative opinion polling. More details on the polls' methodology are available here.
Most surveys report a margin of error that represents some, but not all, potential survey errors. YouGov's reports include a model-based margin of error, which rests on a specific set of statistical assumptions about the selected sample rather than the standard methodology for random probability sampling. If these assumptions are wrong, the model-based margin of error may also be inaccurate. Click here for a more detailed explanation of the model-based margin of error.
Popular in the Community