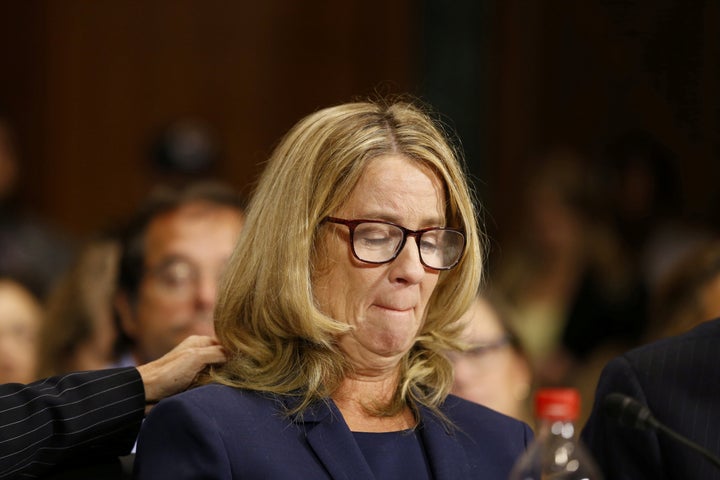 When Judge Brett Kavanaugh and Christine Blasey Ford testified before the Senate Judiciary Committee last week, their stories formed the center of a political maelstrom.
For a substantial share of the people watching, their words also had a much more personal impact.
In a new HuffPost/YouGov survey, nearly 4 in 10 Americans polled said they could identify with either Blasey or Kavanaugh. For some in the former camp, her testimony brought up painful memories of long-ago sexual assaults that they had kept quiet or of the disbelief they faced if they came forward. In the other group, some recalled their behavior in past years or expressed the fear of being accused of things they hadn't done.
Those who felt an affinity with the Supreme Court nominee or his accuser often expressed their sense of solidarity in terms of gender ― "I'm a woman," one Blasey backer wrote simply, while a man who backed Kavanaugh began by explaining, "Because I'm a white male ...." Although gender clearly played a role, the sharpest divides were along political lines.
On opposite ends of the spectrum, male Donald Trump voters and female Hillary Clinton voters stood out as unusually connected to the story: 56 percent of female Clinton voters said they felt a kinship with Blasey, while 59 percent of male Trump voters said they saw something of themselves in Kavanaugh. By contrast, most female Trump voters and male Clinton voters didn't report feeling similar ties.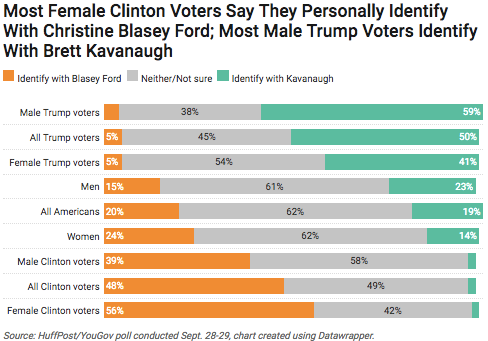 Comments from those who said they were personally affected speak clearly to the heightened emotions surrounding the hearings. Below, a sampling of responses to the survey ― some lightly edited for clarity.
Why People Identify With Christine Blasey Ford:
"Because I too was a victim, as a child and as an adult. I'm 58. I have never told anybody. I have never reported it." ― female Clinton voter
"I had a very similar experience when I was 15. I'm now 69 and only told someone about this last week. I told my sister. I have never spoken of it in all these years, but I can never forget it. I was also sexually attacked by two boys whom I knew." ― female Clinton voter
"I too am a victim of sexual assault." ― male Clinton voter
"I am also a woman, and I was sexually abused as a child. I know what it's like to be afraid to share something and to only share it because you feel you have to, in the face of outside disbelief and internal pain." ― female nonvoter
"I was assaulted when I was young and have only chosen to tell a select few because of potential professional and personal repercussions." ― male Clinton voter
"Because, like nearly all women, I too have been a victim of sexual assault and harassment. I have never told anyone nor reported any of the incidents. However, if one of the men who assaulted me were to attempt to run for an office or appointment at such a high level, I would certainly come forward in an effort to stop such a man from gaining such an influential position." ― female Clinton voter
"Female, been assaulted too. No one believed me." ― female Clinton voter
"I've watched this exact kind of thing happen a few times both in high school and college. I don't think there is a female out there who hasn't had to deal with guys who are drinking, drunk, rude or just pushy at the very least. Sometimes it turns into assault or rape." ― female Trump voter
"Because she is a person who is simply trying to do her duty as a citizen and she has been attacked, ridiculed, threatened and vilified. I identify with her because her experience is an amplified version of what every woman experiences throughout their entire lives." ― female Clinton voter
"I've been sexually assaulted, and no one took me seriously." ― female nonvoter
"Because so many women in this world don't come forward, and it takes a lot of guts to go forward. I didn't have the guts. I did confront one of my accusers, and I have to see him all the time in the small town where I lived. ... I have yet to confront [the other one], but one day I will." ― female Clinton voter
"I have been sexually assaulted and know how hard it is to come forward about such allegations when it is a person people look up to." ― female Trump voter
"I know many women that have been sexually assaulted." ― male Clinton voter
"I am a woman who attended parties in the '80s where I experienced many of the attitudes she described. I also am a victim of sexual assault." ― female Clinton voter
"I too was molested when I was a young woman, and I've never told anyone about it out of shame and embarrassment." ― female Clinton voter
"I understand the feeling of wanting to do something and being stonewalled by those in power with an agenda." ― male Clinton voter
"I was young once too but never would force myself on a girl." ― male Clinton voter
"I've been there." ― female Clinton voter
"I've been through what she went through." ― female Clinton voter
"I'm a woman." ― female Clinton voter
Why People Identify With Brett Kavanaugh:
"Because I'm a white male and so deemed to be guilty of racism, sexism, assault, destroying the planet and every other social ill. If you disqualified every man who embarrassed himself in high school, no man would be left to serve." ― male Trump voter
"I know how women will lie. I've had it happen to me." ― male Trump voter
"I've worked hard my entire life. I believe he has as well. I have made more mistakes than Brett has and have paid for them. These allegations on sexual misconduct are older than me. I've been given a second chance, if you will, and he has proved to be a good man — might I say even the best among us." ― male Trump voter
"I am a white male with some power who has done some boorish things in the past." ― male third-party voter
"He is a Christian man and a conservative. I am a Christian and conservative too. I believe he will hear issues at the Supreme Court on the basis of the Constitution and not try and make new laws. I do not fear he will end abortion or same-sex marriage. I am against both, but I still don't think he will make new laws banning them." ― female Trump voter
"He did nothing wrong. You can't defend yourself about something that never happened. Been in that position, and it's lonely and impossible." ― female Trump voter
"I've had someone put an order on me to keep me away from her and my daughter. Everything in the order was lies. They don't realize that when they don't tell the truth, it really messes someone up." ― male Trump voter
"I have seen too many men accused unfairly." ― female Trump voter
"Because I have witnessed someone falsely accusing someone of attempted rape. I know how malicious it can be." ― male Trump voter
"I don't think that he is guilty, and if he is, he was a minor, a child." ― male Trump voter
"Christian, family man, married, coaches his kids' sports, lawyer, all-around good guy — like me." ― male Trump voter
The HuffPost/YouGov poll consisted of 1,000 completed interviews conducted Sept. 28 and 29 among U.S. adults, using a sample selected from YouGov's opt-in online panel to match the demographics and other characteristics of the adult U.S. population.
HuffPost has teamed up with YouGov to conduct daily opinion polls. You can learn more about this project and take part in YouGov's nationally representative opinion polling. More details on the polls' methodology are available here.
Most surveys report a margin of error that represents some but not all potential survey errors. YouGov's reports include a model-based margin of error, which rests on a specific set of statistical assumptions about the selected sample rather than the standard methodology for random probability sampling. If these assumptions are wrong, the model-based margin of error may also be inaccurate. Click here for a more detailed explanation of the model-based margin of error.
Popular in the Community