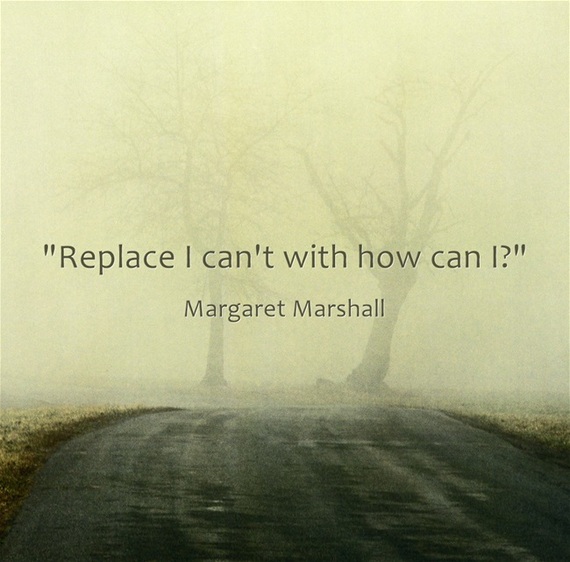 Anyone who believes eating healthy is no fun does not really understand how to eat healthy.
When I hear someone say, "I'll never lose this weight," I know they are correct... unless and until that belief is changed. This belief is based on what they consider their past failures. I don't see it as a failure because there are always lessons that they have chosen to ignore. If they can take an honest look at the lessons, they can change their belief system to one that will work for them. Sometime the belief system has nothing to do with the food they eat; it has to do with their belief in themselves.
In my childhood, my nickname was, "Margaret, Margaret, the big fat target!" Today I can laugh, but for many years I cried about it. What's interesting is, during all the years I cried about it, I also believed it. As long as I believed it, I lived it.
That's how I had defined my body image and my self-image through my childhood, adolescence, and most of my 20s: "Margaret, Margaret, the big fat target!" No wonder I spent my 20s yo-yo dieting! I still believed I was "Margaret, Margaret, the big fat target!" I believed I would always be heavy and that healthy eating meant boring and tasteless. It wasn't until I changed my belief about my image that an entire new world opened to me. I found I wanted to be healthy, eat healthy, exercise, and take an active role in my happiness. I discarded the belief I had become accustomed to living and chose to believe I am elegant, graceful, and feminine. This new image had nothing to do with dieting and everything to do with my belief system of who I am, and what I wanted in my life.
"Everything we do in life is based on our beliefs," says, international business/executive/life coach Robert Paulson, "Each one of us has a belief system that makes us unique and who we are today."

Our belief systems are as different as snowflakes, no two are alike. Siblings who live with the same set of parents can have different belief systems for many reasons, and their belief system can cause them to reach for different goals, or stop them from ever achieving their goals.
Could it be that you have not been able to lose excess weight solely because of your belief system? Try answering these questions honestly:
Are my family members overweight and I believed that is why I am too?
Do I believe I've failed at diets before?
Do I give up too easily and lack belief in my perseverance?
Do I believe others when they make uncalled-for comments?
Do I believe in the diet media's false claims?
Do I believe I do not have the time or energy to care for my needs?
Do I believe nobody cares?
Do I believe I am not worthy?
"Each belief is a representation of our reality. As easily as beliefs are learned, they can just as easily be unlearned. That means who you are today has very little to do with who you can be tomorrow," according to Paulson. He believes this is true whether you are starting a business or losing weight.
This is good news for you. If your beliefs do not allow you to succeed, change them. Rid yourself of outdated beliefs that stifle you; only then will you allow a new belief system to take hold and flourish. If you believe eating healthy is no fun, find the fun in it. You may find the fun is in your a newly formed perspective, outlook, and belief system, allowing the eating part to be easy.
I believe healthy eating is: Eating food that is enjoyable to you in the quantity that is good for you.