The very first piece I ever wrote for The Huffington Post back in 2011 was about a relatively new obsession for the New York theatre scene: immersive theatre. Sleep No More had just started to get some buzz, before it became so well-known that even TV shows like Gossip Girl got in on the action. As I stood outside of a completely nondescript door off of the Jefferson Street stop in Bushwick, I couldn't help but think back to how excited and unprepared I was for my first experience with immersive theatre back then. Now I stood outside of the door for The Grand Paradise as excited as I'd be if an old friend were on the other side of that door. You see, in order to tell you why I appreciate The Grand Paradise so much, I am going to have to tell you a bit about immersive theatre - and, yes, about Sleep No More too.
First of all, I have to start by saying that I really enjoy the immersive theatrical experience. This is categorized by a theatrical environment in which buying a ticket doesn't buy you a seat, but rather a sort of choose-your-own-adventure style experience in an environment customized to the performance's theme. This is one of the first brilliant things about the set up of The Grand Paradise, the latest offering from immersive theatre veterans Third Rail Projects, who also produced the acclaimed piece Then She Fell. In The Grand Paradise, a ticket brings you on a journey to a late 1970s resort that is home to the Fountain of Youth.
Like any journey through time and space, upon entrance to the venue, you first check all of your baggage and jackets. And, for those of you who have not experienced this kind of theatre before, you do want to avoid having any bags or purses with you. If you really want to take cash or an ID with you, you should wear clothes with pockets. I encourage you to check everything, including your phone. Like any other show, you can't use it during the performance, and who needs a phone in paradise anyway? While we're on the topic of clothing, you also want to wear shoes that will not only allow you to walk on uneven terrain, but also that you don't mind interacting with various outdoor substances. That sounds more ominous than it is, but with immersive theatre you just need to be comfortable and prepared.
Back to the journey: after going through a quick briefing that really reminded me of a 1970s version of the video before Disney's Soarin' ride, you are ready to enter the magically transformed space of The Grand Paradise resort. The spectacle here is quite well executed, and the attention to detail is part of what makes any good immersive theatre experience so much fun. Certainly a great deal of credit for this goes to co-artistic directors of Third Rail Projects: Zach Morris, Tom Pearson, and Jennine Willett, though the all around talented cast is part of what makes the experience go beyond simply good design.
In terms of performers, Sleep No More fans might recognize the original Lady Macbeth, Tori Sparks, now dressed in the '70s best fashion. But don't be fooled. For those of you used to Sleep No More, there are a few key differences here. You will not hide behind masks during your time here and you will definitely not be lost in the crowd. This also means that you will not be encouraged to go snooping or opening random doors to explore. Not that you cannot explore, but from my experience, I only did that in Sleep No More when there were no actors around, but that isn't a problem here.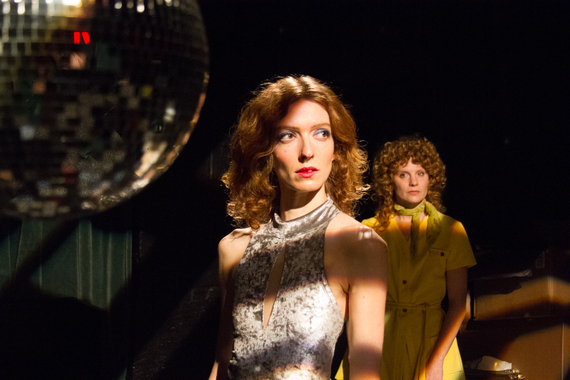 Elizabeth Carena and Tori Sparks.
Photograph by Third Rail Projects.

This was by far my favorite aspect of The Grand Paradise: the intimate scale of the performance, which allows for a deeper engagement and more communal experience. From the first minute of the performance, where Elizabeth Carena sings an ethereal song while dressed like Ziggy Stardust, you and all of the other audience will officially be on a journey together. You will begin and end the performance in this larger group, but do know that you will absolutely be separated from your group and have your own experiences in the middle. My time at the show consisted of a series of one-on-one and small group encounters with the performers, which I thoroughly enjoyed. However, this comes with a caveat: if you do not like to be interacted with, this show is not for you. But if you find one-on-one participation the carrot that dangles in front of you in an immersive theatre experience like I do, then this is one you absolutely cannot miss.
I would also like to stress that quantity of experience does not come with a sacrifice of quality. All of the performers are charming and mesmerizing, and I enjoyed all of my experiences with them. The Grand Paradise also doesn't rely on any adaptation of text, so all of the words are written specifically for this piece. I therefore found myself really listening and meditating on themes of time, youth, paradise, and the like.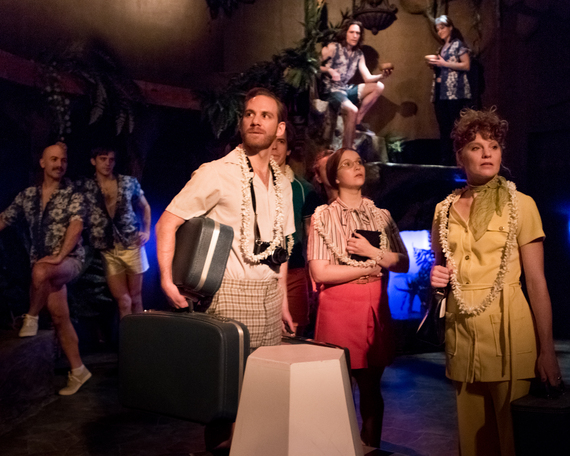 (Top) Jeff Lyon, Rebekah Morin
(Bottom) Alberto Denis, Sebastiani Romagnolo, Erik Abbott-Main, Ashley Handel, Tori Sparks.
Photograph by Adam Jason Photography.
The one aspect of The Grand Paradise that felt a bit uneven for me was paradoxically that as much as I love the structure of the piece, I felt at one particular point that I had seen enough of the textless dancing in one particular room. Now, this was perhaps due to my particular path through the space. I found all of the performers beautiful to watch, but the movement in this particular room consisted of a very repetitive and not so virtuosic type, and I wished at that one moment that I had been a bit freer to explore. Of course, this was a very short moment in the totality of my two-hour experience, and mostly it left me wanting to go back and choose a different path next time.
The Grand Paradise only plays through March 31st and it does a small audience number for each performance, so I highly suggest buying tickets now if you're interested. I know I'm likely to search for paradise again, and I can assure you that you'll have a grand time if you do the same. I also look forward to seeing what Third Rail Projects will do next, as it's high time someone took a more nuanced look at immersive theatre.
REAL LIFE. REAL NEWS. REAL VOICES.
Help us tell more of the stories that matter from voices that too often remain unheard.