Decorative doorknobs, cabinet pulls and hinges are the little touches that bring your home's décor to the next level. Hardware company SA Baxter opens the doors to its eco-friendly Hudson Valley foundry to show how, from conception to hand-finishing, their hardware pieces are made and why its worth investing in these decorative accents.

1. Great Design. The first step in making SA Baxter's bespoke hardware is the process of lost wax casting. Wax positives, produced from aluminum molds, of the hardware parts are created with details hand-carved into the wax. SA Baxter has partnered with top interior designers, architects and artisans to develop designs for their hardware collections. Above is a wax positive of a door lever (LV-5908) designed by architect Anthony P. Brown. In its finished state, this jewel-like door lever's graceful curves and intricate detailing project an understated elegance.

Wax positives are assembled onto a wax tree, a structure used to produce multiple hardware parts at once. Here is a wax tree for master architect Robert A.M. Stern's Meander Suite Hinge (BHC-5801). The repetitious archetypal Greek key pattern is perfectly symmetrical and adds a classic touch to a variety of interiors.

Wax trees are then encased in several layers of slurry material, a cement-like mixture that will create the mold for the metal hardware parts. After the slurry material has hardened, the wax parts and tree inside are melted away, creating a hollow cavity in the slurry material referred to as a 'shell.' This is the 'lost' part in the lost wax casting process.

2. Pure Materials. Bronze ingots, oblong blocks of metal suitable for further processing, will be melted and then poured into the newly-made shells.

3. Time-Tested Techniques. Similar to the ancient Egyptian jewelry making technique, molten metal is poured into the crust shell where it then cools and hardens, taking the shape and design of the earlier wax forms.

SA Baxter staff wear extensive protective gear when handling the molten metal. The metal can reach a temperature of up to 2,000 degrees Fahrenheit - that's as hot as volcanic lava!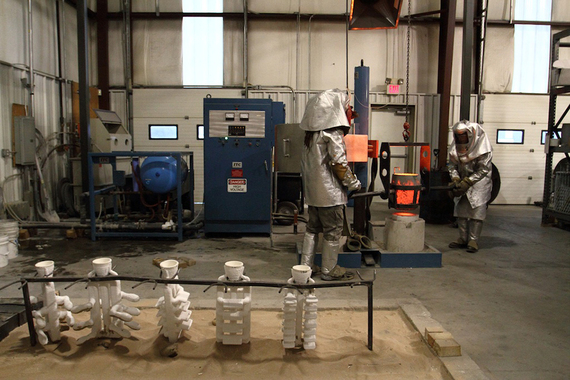 4. Commitment to the Environment. SA Baxter has incorporated several eco-friendly steps into its production process to reduce emissions during the casting stage and wastewater during plating. The acid-baths, part of the finishing process, are safe enough that owner and founder Scott Baxter has dipped his hand in them to prove the point!

After the metal parts have been extracted from the shells, they are ready for machining, which is part of the finishing process that ensures the hardware's flawless operation. Above is a tray of modern hinges with a square pillow design (BHC-4017A), which are ready to be tapped with mounting holes for installation.

5. Hand-Finishing. SA Baxter staff tap mounting holes on hinges with machinery for rosettes. SA Baxter hardware is hand-finished by local artisans guaranteeing their superior quality.

After machining, pieces are individually hand finished. These Ringed Cabinet Knobs (CK-2009) are cast in solid bronze and are on their way be finished. Regal and understated, they dance with light when used with a highly polished finish.

And finally the products are finished according to client specifications. These Ringed Cabinet Knobs (CK 2009) have been polished and are waiting to be packaged and shipped!
Popular in the Community