Young & Entrepreneurial is a series of articles where I've decided to interview and write about young individuals disrupting the world. By sharing the stories of these individuals, I hope to inspire youth from all over the world to follow their passions, to take the road less traveled and to disrupt the status quo. This is the 22nd post in the Young & Entrepreneurial Series. To read previous features and to stay up to date with future features, like our Facebook page here.

---
Glints, a career discovery platform, has gotten a lot of buzz in the last few months because of its three young and entrepreneurial founders Oswald Yeo, Ying Cong Seah and Looi Qin En. While a lot of people read the glamorous headlines about these 'Ivy League student dropouts turned entrepreneurs' (the trio spent one semester at the University of California Berkeley, the Wharton Business School and Stanford University respectively), not many people have written about the challenges that these three faced.
I first came across the Glints team when this article by the Straits Times was being shared by all my Singaporean friends on Facebook. This was followed by another feature article by the Daily Pennsylvanian on Ying Cong Seah, the Wharton student founder of Glints. These two articles piqued my interest and so when I found out that I would be interning for the Joyful Frog Digital Incubator (JFDI) Asia, the same accelerator the Glints Founders went through, I knew I just had to feature this trio of young entrepreneurs.
With the help of mutual friends and a few Facebook exchanges, I got the chance to sit down with Oswald Yeo and Ying Cong Seah and hear their story for myself.
The Glints founding team first met each other back in junior college, won a few business plan competitions, and realized that they wanted to do something beyond just having a written business plan. And they figured, the two years in National Service (a Singaporean requirement) would be the best time to start--this is where their first obstacle would come from.
Ying Cong shared, "We knew people were looking for internships and we knew startups that were looking for interns. That to us was a very clear sign that we had to do something about it, not necessarily as a business but something we could do to help our friends and the ecosystem."
Oswald added, "I've always wanted doing my own things. Entrepreneurship gives you a good sandbox for creating your own ideas and turning them into a reality."
The First Road Block: 'The Military Incident'

This entrepreneurial spirit wouldn't mesh too well with the rules of the Singapore military. While Glints started out as a social enterprise or movement type of thing, an intern at a Singaporean media outlet would cover the three young founders with a news article headline, "Full time national servicemen starting a business". While her intention was to promote youth entrepreneurship, the military didn't agree.
Luckily, the Glints team was able to slip out of this one, free of charge because Glints was not really making any revenue yet at that time.
In fact, the Glints team took a very lean startup type of approach to doing things. Ying Cong shared, "We started off very very simple. There wasn't even a website. It was only a Google form where we had people sign up for internship and on the other hand we got companies to sign up for interns. Then we would interview every single one of them and we would do the matching manually."
The Next Steps - The 100-Day Journey at JFDI Asia

After the army, the Glints team had around 8 months before university started. At this time, the Glints team would come across top Asia accelerator, Joyful Frog Digital Incubator (JFDI) Asia by a chance entrepreneurship event that the team had attended.
Ying Cong Shared, "We listened to a talk then we realized that JFDI wasn't an events space but an accelerator. To our good fortune, we got in and we began our 100 day journey."
Oswald shared, "Prior to JFDI, it was the three of us in a very small office and whenever we got stuck, we only had each other and the four walls. That was terrible. We had no one to talk to. We didn't know anything about the startup process."
But with JFDI, the team was able to find a community of mentors and like-minded individuals that they could rely on. Oswald said, " The biggest benefits were the mentors and having the community and bringing this sort of structured process to this chaos of entrepreneurship."
'Build something people want'

Oswald emphasized how JFDI really helped the team break down the process of starting a company into actionable steps. He shared, "During the market validation phase, they told us to get out of the building and ask customers what they wanted and that's what we did." Oswald recalled going to the National University of Singapore and spending the whole day just picking random strangers and asking them questions then gathering the data from the interviews.
This process led the team to pivot from being an internship agency to what it is today, a curated discovery and development platform. This pivot came from the realization that people don't really care about the internship itself but more about the value of the internship in terms of improving their skillset, gaining work experience and finding future job prospects.
Ying Cong shared, "Being able to understand these deeper motivations of why people come to these companies for internships helped us develop a more comprehensive suite of services." This suite includes the training program of Glints to help students prepare for their internships and jobs.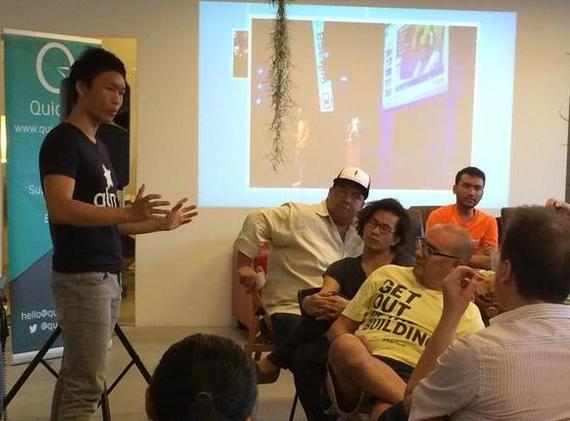 Glints CEO Oswald Yeo pitching to 500 Startups Founding Partner Dave McClure; Photo taken from Glints
'Ask for money and you will get advice; Ask for advice and you will get money'

One of the big challenges the Glints team faced was the fundraising process after they had finished the 100-Day JFDI Accelerate program. They only had one month left to do so before they had to start university. All the odds were stacked against them.
Ying Cong shared, "There was so much uncertainty in our lives, and there were only a few weeks left and what we heard from alumni was that it takes at least half a year to even close a round. We were very drained in running a startup for a year already. We wanted to continue seeing that vision through but at the same time, we wanted to balance school, our parents and having customers and investors."
Oswald added, "I took 40-50 investor meetings and most of them were rejections. But we were very lucky to have met the right people who believed in us."

All the hustling paid off, as right before school started, the Glints team was able to close a round of funding.
Oswald shared, "The best advice we got in terms of fundraising is, 'Ask for money and you will get advice. Ask for advice and you will get money.' Most of our investors were actually our mentors first. They got to know us through the 100-day program. We developed very personal relationship with them. We always asked for advice from them and we would execute upon them."
Dropping Out - 'You're living your own life'

The successful fundraising round of Glints would be followed by three months of school where nothing would really happen for the freshmen trio who started their first semester in Stanford, Wharton and Berkeley--something had to change.
Oswald shared, "Berkeley is a great school, and they have a good undergrad business school. But I took some business classes, and after one semester of business school, I didn't really learn anything about starting a business compared to what I learned in JFDI." He also added, "I was not paying anything for business education in JFDI, in fact I was getting paid for it."
For Ying Cong, once he had made the decision to drop out, what everyone else said didn't really matter anymore. He shared, "You realize that everyone has a different opinion and ultimately, you're living your own life."
'Just Frogging Do It (JFDI)'

When asked for advice for aspiring entrepreneurs, Oswald went straight to the point and said, "Just do it. Just (f**king) frogging do it!" He added, "I've always wanted to be an entrepreneur. My initial vision was I would graduate, take a job, have some savings and start a company. But at the end of the day, the best way to learn and to turn your idea into a reality is to just do it."
In the future Glints hopes to help anyone realize their career passion and ambitions, and help people do what they love. Oswald ended the interview with, "Eventually, we want to expand beyond Singapore as well. And we'll be looking at other markets, which will be much bigger as well."
Learn more about Glints by visiting their website here. You can also check out their JFDI profile page here and learn more about the JFDI Accelerator here.
This was the pitch of Glints at the JFDI Demo Day for Batch 2014A back in July 2014
David Ongchoco is a student entrepreneur and avid storyteller from the Philippines studying at the University of Pennsylvania majoring in what he likes to call, LIFE. He is currently working on expanding his nonprofit organization YouthHack. It's David's goal to make an impact in the lives of as many people possible while constantly learning new things every single day. David can be reached at david@youthhack.net.