This article is part of the Young & Entrepreneurial series that features young startup founders and entrepreneurs. You can see past features here. To stay up to date with future posts, sign-up here.

Not many people are willing to release their transcript online to the world. But Penn alumni and entrepreneur Vasu Kulkarni wanted to make a statement--you don't need to have good grades to succeed. Accompanied by a blog-post, Vasu opened the eyes of a lot of students from all over the world, with his blog-post receiving thousands of shares.

While Vasu wasn't the best student academically, Vasu has spent the last five years building a company that intersected with his passion for basketball--Krossover, which does video analytics for high school and collegiate sports teams.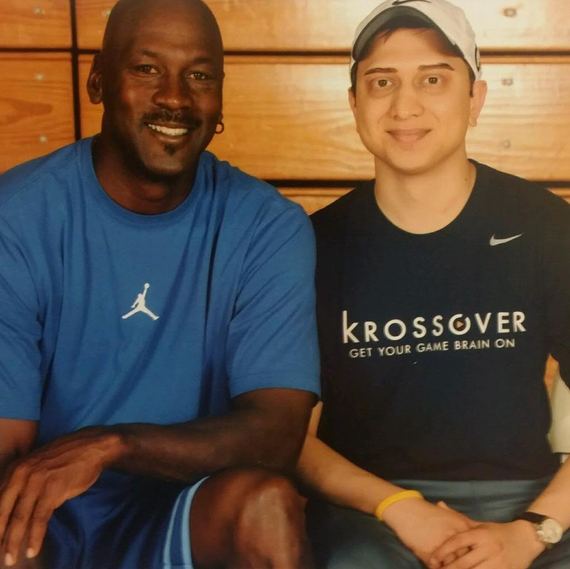 Krossover has given Vasu the opportunity to meet some of his childhood idols like Michael Jordan

After reading his blogpost, I reached out to Vasu and got to interview him during his visit at Penn and in a followup call. We covered his journey from Penn to New York to the birth of Krossover. Vasu also further explained his motivation for writing the blogpost.

The Viral Blogpost - "Grades don't really matter"

After reading a few articles about depression in Ivy League schools, Vasu wanted to try to make a difference in any small way that he could. He shared, "I'm not a psychologist but the one thing I can tell them is I'm only a few years older than them, I did really poorly in school but at the end of the day it didn't matter. If you're passionate about something, there's a million ways to be successful in life without doing well in school."

While the "grades don't really matter" advice has been around for the longest time, Vasu wanted to backup his words which led to him releasing his transcript publicly.

He added, "In an Ivy League, people won't talk about their grades if they didn't do well because they're embarrassed. So I said, maybe there's an opportunity here to back-up my words by releasing my transcript and proving to people that you can still be successful. At least people in college can see that this guy has done something and he isn't just a bum. I said what's the worst that can happen."

Over 100,000 views later and thousands of shares later and Vasu has received responses from Israel, China, India and people from all over the world saying how much it resonated with them.

Vasu added, "Most of them were in school. a lot of them were Ivy League kids and kids from Stanford who were having a really tough time and just wanted to say thank you for something that made a difference to them. There were people who disagree and people who tried to find something wrong with what I did but that's fine and you just ignore it and move on. There are people who tried to commit suicide. It was pretty wild. It's amazing the power of words. I didn't do anything else but sit on my ass and write for thirty minutes."
Early Days at the University of Pennsylvania - "Everything is a mindset"

Vasu then shared some of the early days and struggles he had early on at Penn. At that time, he started asking himself, "I struggled with academics--why is that so? I've always been a good student. Why is this? Is it because I'm stupid? Probably not. I assume if I managed to somehow sneak into Penn, I can't be that stupid. Am I working hard? No, I'm not working hard but I've always been a hard worker; I've always put in the time but my question is why am I not willing to put in the effort that I should be putting in?"

Finally, it dawned upon him that the problem was that he was just disinterested in what was going on. He added, "My thought process of this was going to be if I'm just not interested, I'm just going to focus on the things that will make a difference in my life. I really wanted to play in the Penn basketball team, working out and getting good enough to make the Penn Junior Varsity team. That was huge for me."

Aside from Vasu's huge passion for basketball, he also knew that he wanted to learn how to start a business. While Vasu was majoring in Computer Engineering, he started taking a bunch of classes at the Wharton Business School, ran an eBay store, entered business plan competitions and helped his friends their startup ideas. He explained, "I focused on basketball and running a business and everything else didn't matter anymore."

This focus would help Vasu as he decided to move to New York with a goal of starting a sports company.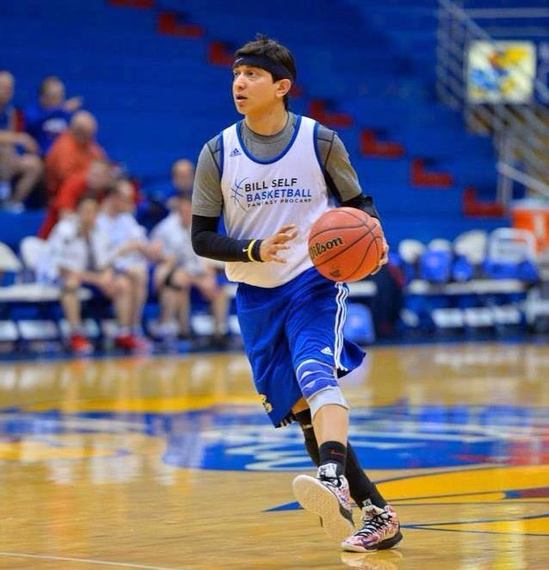 Vasu still spends a lot of time playing basketball

How Krossover was born

At the start, Vasu wasn't entirely sure what product to pursue. Initially, he had thought about building a product that would take in statistics and making it more available to customers. He shared, "I started with that and quickly realized that that's going to be really freaking hard. It would be hard to get the NBA involved and it would take us years to monetize this thing. Then we thought about building something for professional teams and building a tablet but there are only 30 NBA teams; how much money could we possibly make?"
With all these questions, Vasu decided to look into the amateur market where he saw the potential to provide video analytics; He just wasn't sure if teams would pay for the service. He shared, "We had a very shitty product and no marketing budget but we managed to convince 45 people to pay us. If we're able to convince 45 people, let's see next year if we can convince 200-300 teams."
During this first year, Vasu was balancing trying to get Krossover started and paying his bills through a consulting job he had taken. He shared, "I would come home at 6pm and I would work from 7pm to 2am in the morning then sleep and get back up at 7am and go to work. I needed this capital to get the company off the ground."

The following year, Vasu and his team would convince 300 teams to use the Krossover platform. Since then 4000 teams have joined the platform, and Vasu is hoping to on-board 10,000 teams by the end of next year. He shared, "Today, the track record definitely helps. Most basketball coaches have heard about us. But during our first year, it was all about your reputation. So you basically have to put yourself behind the product. I stood there and met with coaches."
Vasu would share his experiences as a junior varsity player at Penn to the coaches and put his name behind the product he was selling. Vasu emphasized the importance of the founder doing the sales early on especially for the first set of customers.
Vasu added, "I probably approached at least 300-400 teams minimum during the first year. I can't imagine it was less than that. It was a 10% hit rate."
After 5 years of operating, Krossover has built some brand recognition where teams are now the ones coming to them. Even NBA teams have approached Krossover for data on high school players. Vasu shared, "The amount of information available about these (high school) kids who are one and done in college and will be lottery picks are limited. So NBA teams come to us and ask for the information to prepare for the draft."
Dream come true -- Meeting Michael Jordan

Some of Vasu's most memorable moments in his entrepreneurship journey so far include closing their first customer back in 2010, moving to their first office and going to all these different NBA events that growing up as a kid he could only dream of going to.
He shared, "This year I got to go to 4 NBA Finals games with the owner of Cleveland Cavaliers. If you told me that I would be having dinner with Steph Curry and Draymond Green, I would tell you you're crazy. if you told me 10 years ago, I would get to party with the Warriors after they won the championship, I would tell you you're crazy."
However, Vasu made sure to point out that his most memorable moment was when he got the opportunity to meet Michael Jordan in person. He shared, "I met him once and I've crashed his Birthday party for the last two years in a row. If you really want something in this world, you will find a way to make it happen. For me, I looked up to Michael Jordan so getting to meet him and take a picture with him has always been my dream."
Vasu has no plans of changing his profile picture since it can't get better than the current profile picture he has.
'Even if you fail, it doesn't matter; just go do something'

Vasu's first advice is to find something you're passionate about. He shared, "It's not always easy but if you find something you're passionate about, it makes it a lot easier to stick with it. At some point, you also have to stop talking and just go do it. Even if you fail it doesn't matter. You just got to try. If you don't jump head first into this, you'll never start."
He added, "You'll learn more from failure than you will in all the time you spend talking about your idea and doing this and that. Just go out and try to do something. Half the time it will work, half the time it will fail but the lessons you will learn doing that, no Harvard Business School or textbook will come close to teaching you what you will learn to actually try starting a company."
Finally, Vasu strongly believes that everything is a mindset and that everything is relative. He shared, "If you have the right perspective on things, everything can seem completely different from a minute ago." Indeed, your biggest challenges may turn into your biggest opportunities, and your biggest struggles may just help you find what you truly want to do.
Like Vasu said at the end of his blogpost, "Life is already short--don't make it shorter by cutting your wrists or overdosing on pills. No matter how shitty you're doing in school, I promise you, there is something that you are great at out there that will allow you to make a successful career out of."
Learn more about Krossover by visiting their website here.
David Ongchoco is a student entrepreneur and avid storyteller from the Philippines studying at the University of Pennsylvania majoring in what he likes to call, LIFE. He is currently working on expanding his for-purpose organization YouthHack. It's David's goal to make an impact in the lives of as many people possible while constantly learning new things every single day. If you have any interesting startup stories, David can be reached via Twitter @DOitChoco. You can also email startupinsider.official@gmail.com.

Calling all HuffPost superfans!
Sign up for membership to become a founding member and help shape HuffPost's next chapter