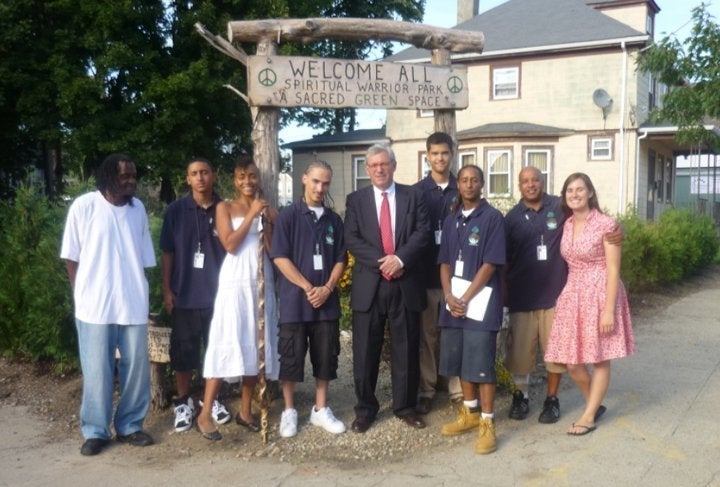 This post is the last of our month-long series featuring Greatest Women of the Day, in recognition of Women's History Month.
To nominate a Greatest Woman of the Day, e-mail Impact@huffingtonpost.com.
Growing up in Santa Cruz, CA, Kalia Lydgate's family often found themselves in financial straits. "I grew up in a poor neighborhood and things got rough for me. The Redwoods and the ocean--they became a kind of sanctuary."
Kalia's mother, an artist, introduced her to activism early on and she grew fascinated with the intersection of social justice and sustainability. "My mother worked with the Free Tibet movement," says Kalia, 24. "I remember meeting monks who had been tortured in Chinese prisons for decades, exposed to racism."
At the same time, she was also beginning to understand the problems facing our environment. "I wanted to understand how all these different forms of oppression were connected," she says.
While a student at Wesleyan University, Kalia discovered that her professors didn't always understand or support her intersecting interests. But she soon found an ally in Van Jones, the controversial environmental leader and activist.
Kalia made a few spirited comments at an event that Jones was moderating and afterwards, Kalia says, "He pulled me aside and said to me: 'People will say you're crazy and there's no path for the things you want to do, but stick with it."
Jones provided a framework for Kalia to understand the questions she'd had for so many years, and also helped her secure a job as youth coordinator for the Marion Institute in Marion, MA - a non-profit with similar sustainability goals and a mission to impact local economies.
But Kalia knew she needed to lead a grass roots effort if she wanted the idea of green jobs in low-income communities to catch on. "I didn't want this whole thing to be a segregated white industry," she says. "So I set out to do something about that."
At 24 years old, she founded the New Bedford Green Jobs, Green Economy Initiative (GJGEI) and began dedicating her life to creating jobs and inspiring unexpected community leaders. "I had so many allies in New Bedford - activists, hip hop artists, and educators," Kalia explains. "The initiative was this perfect intersection of everything I've been trying to do."
One of the first programs of its kind in the country, Kalia's GJGEI program aims to train those living in marginalized communities--people of color, veterans, those below the poverty line--to promote environmental awareness and prove that sustainability has the power to stimulate the local economy.
How did Kalia allocate the initial funds for her program? She and her collaborators discovered that a portion of her community's electric bill was going into a sustainability fund every month. "This fund has been around for thirty years," Kalia says, "There was quite a bit of money in it, but nobody really knew it existed."
With help from New Bedford's mayor, Scott W. Lang, her collaborator Khepe-ra Maat, and the utility companies themselves, this new initiative has already approached 3,000 households and local businesses about energy assessments and weatherization. The team of men and women leading these assessments are all local members of the New Bedford community.
Assembling and training this local team has been one of her proudest achievements. "This is true collaboration. We hired people who understand the local culture, to engage businesses to drive demand for efficiency," she says. "These people were not environmentalists by any means; they were just interested in the idea. Many of them have no high school diploma, they're low-income single parents, they come from all different backgrounds."
Kalia was recently named a Mayoral Fellow by New Bedford mayor, Scott W. Lang, who complimented her "tremendous energy, ideas, and idealism." The city's plan is to weatherize 5,000 homes and businesses in the city over the next five years.
Generally, Kalia just wants to continue thinking outside the box to increase local jobs and promote environmental awareness. "We have so many environmental and social problems going on right now," she says. "We have to keep asking: How does poverty impact our relationship to the environment? And how do we keep creating jobs in a unique way?"
Calling all HuffPost superfans!
Sign up for membership to become a founding member and help shape HuffPost's next chapter