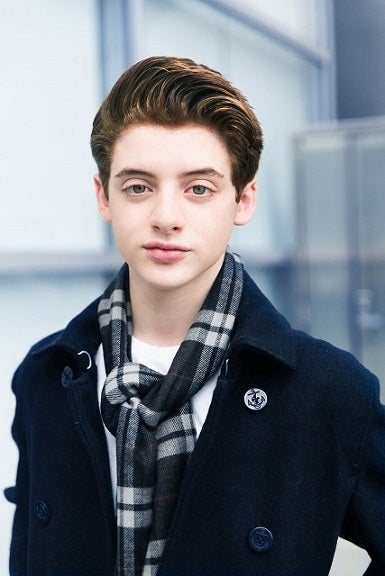 The minute I saw young performer Thomas Barbusca's face on my screen, I knew I had to interview him. It was like a magnet. Like... I don't even need to describe it because you get it. As a matter of fact, I could have deleted this entire sentence but it's already on the page and my "delete" finger is exhausted from playing Sonic Boom: Fire & Ice.
Actually, the original picture I saw of Thomas Barbusca – his hair was standing straight up with spikes (but not mohawk spikes), kind of like Sonic the Hedgehog's spikes.
Hold on. Oh yeah, so Thomas stars as Chip Pemberton, a supremely confident young teen with adult-like sensibilities on FOX's highly anticipated new comedy The Mick opposite Kaitlin Olson. It centers on a hard-living aunt that's forced to take care of her wealthy sister's spoiled kids after their mom fleas the country to avoid criminal charges. Special premiere Sunday, January 1, 2017. (have to get used to writing 2017!)
Spoiled kids? This I gotta see!
You play Leo in the film Middle School: The Worst Years of My Life. You've also had roles on several television series such as American Horror Story, Grey's Anatomy and Wet Hot American Summer: First Day of Camp which was on Netflix. What are the differences between working on film vs. network television vs. online sets?
Up until now I've had the ability to play someone different just about each week or every month. Guest star roles are limited engagements, so you're only shooting for so long, then you move on to the next project. Movies are longer and you really get to know the cast and crew. What makes movies so different from TV, is that TV moves at a quicker pace. Most of the time they have a week to make one episode, so time is super important where with a movie there's more time to play around with the role. Trailers and dressing rooms seem to vary project to project. Sometimes I have a big trailer where other times a small space. It all depends on where you're shooting.
Do you have any friends who AREN'T in the business? What do they think about your career?
I have a lot of friends in the business, and a lot who are not. My friends are all so supportive. They understand I don't have a lot of time to hang out. We really don't talk much about the business, even with my acting friends.
Dude. Your hair. Tell me everything!
It's naturally red, it's curly, and very thick. I dyed it for the Middle School movie and Preacher at production's request. I like it better brown, but have been changing it up lately.
Did you actually get to meet Amy Schumer?
I didn't get to work with Amy. It looks like we did, but she actually filmed her scenes on a separate day. I'm a big fan of hers though!
Where do you see yourself in five years?
Hopefully still working on The Mick. I hope it's a huge success. I really enjoy and love the people I am working with. I'd also like to do more movies.
If you and I were playing video games, which game would be play first? Which system?
What kind of car do you want when you get your license?
Well I wouldn't want a fancy beautiful car for my first car, because you're still learning to drive and you ding it up. I do really do want a BMW though.
You played Billy on an episode of Sam & Cat. Tell us something from behind the scenes.
Ariana Grande and Jennette McCurdy were really nice. The dishes I was throwing and breaking on set were prop dishes. We did the scene three times, it was a lot of fun.
Who inspires you and why?
My family. My Mom and Dad especially inspire me. They work hard to allow me to do what I am doing. They've sacrificed a lot to keep me and my sister, Brielle out here in LA. I really appreciate all they've done. Not everyone gets the chances and opportunities we've had.
What's your favorite dessert?
Cheesecake is my favorite. There's a really cool place in Brooklyn, NY called Aunt Butchie's. We know the owner, Frank really well and it's the best cheesecake out there.
Next up, you star as Chip Pemberton, a supremely confident young teen with adult-like sensibilities on FOX's highly anticipated new comedy The Mick. Tell us about the show and how you got the role.
The show is about my Aunt Mickey played by Kaitlin Olson. She comes to visit her sister (my mom) and the next thing you know she's become our guardian because our parents are indicted for security fraud. She's very different from what we are used to. We are entitled kids and we clash with her. The show is so funny! I'm super proud of it.
I got a call to go in and meet with the producers for the role. The creators had seen some of my work; Dave saw me in Wet Hot American Summer and John had seen me in my Peter Pan Geico commercial.
When they were writing the character in, they both knew they wanted me, they just didn't realize that I was the kid in both projects.
After I met with them, I almost immediately got the offer. It was all very quick the way it happened. The writing on The Mick was so funny and I felt like I was going to be able to do a lot with this character.