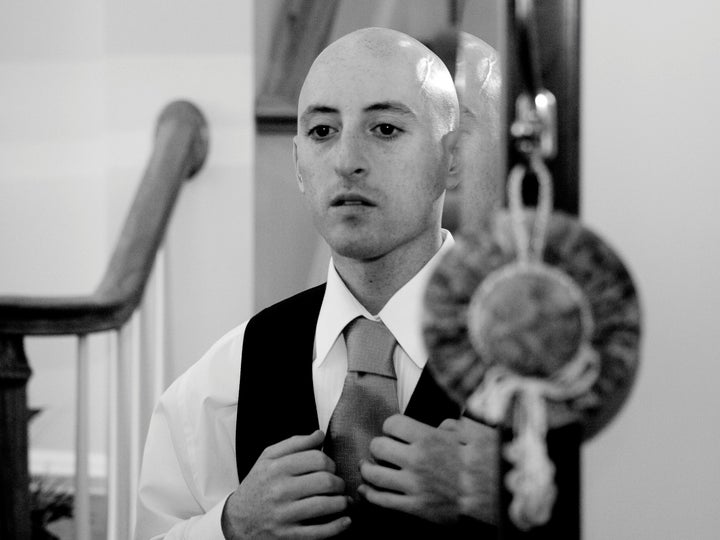 She added "like" to every phrase, ordered a $15 glass of wine and kept checking her iPhone -- the three signs a date is going well. My two glasses of the house wine drained through me and I needed to use the restroom.
My left hip stiffens after being seated for a while, so I normally stretch before getting up to walk. Friends know this about me, but to strangers my hip stretches can look like I'm passing gas. With my date there, I chose to go straight from bar stool to stride.
I used to camouflage my limp, but the arthritis in my deformed and necrotic hip joint has progressed, inhibiting concealment. Without stretching, nothing could hide my rigid movement. My date watched me walk to and from the restroom, and she was likely not admiring the trapezoidal figure I work so hard to maintain.
I also used to hide that I survived Ewing's sarcoma (bone cancer) at 17 years old and myelodysplasia (bone marrow cancer) at 19, until I wrote a book and started blogging about it. My life is far better open than hidden, except for some instances. "I don't think we're a good fit. Happy hunting!" my OkCupid date texted me after I asked her out again, this time to a winery with a predetermined tasting price.
I like to think of myself as pretty free-spirited, but rules have guided my life since cancer. At first they were a survival technique, helping create the delusion that I was superhuman. Rules like: Don't Cry, Don't Complain, Don't Show Pain. Then new ones prevented me from living in fear of recurrence -- Don't Show Fear, Don't Question Your Superiority, Don't Question Your Ability to Survive.
Now nearly 10 years cancer-free, rules help me live a complete and genuine life. Rules like: Accept All Social Invitations Because You Never Know What You'll Miss; Live With No Regrets; and Never Again Be Seen as the Sick Kid.
Seven years ago when I was feeling similar hip pain my surgeon suggested I walk with a cane. "The reduced force could help preserve your hip," he said.
I refused because I imagined everyone would see me as the Sick Kid. People would treat me differently and offer help out of pity. Friends would gossip about me and family would call to inquire about my health. Girls would reject me because I was weak, and not because we really weren't good fits. Thankfully the pain disappeared and my cane remained in my closet.
Nobody including my surgeon can predict my hip's future functionality, but I sense that the pain this time will not go away. I now embrace some form of his suggestion and have decided to use crutches for long-distance walks. Taking control of my pain, and eliminating my fear of traveling and that I'm causing self-harm, is liberating. I am not asking to be seen as the Sick Kid. I am living with no regrets.
Maybe I should change my OkCupid profile picture to one of me using crutches, and then arrive to a date without them. If she doesn't want a second date I could blame it on being able-bodied. That would be, like, pulling the anti-cancer card.
Related