Young and Entrepreneurial is a series of articles where I've decided to interview and write about young individuals disrupting the world, whether it's through entrepreneurship, research, non-profit work, intrapreneurship or singing, dancing, writing or by just doing something innovative that impacts the lives of many people.
These young individuals use their entrepreneurial mindset to get things done. These people strive to find ways to change the current equilibrium. By sharing the stories of these individuals, I hope to inspire youth from all over the world to follow their passions, to take the road less traveled and to disrupt the status quo. Murray, who I got introduced to by my third young entrepreneur Nick Pirollo, is the fifth person to be featured in this series. You can view the first four here.
Elijah Murray's entrepreneurial journey is one that was filled with its fair share of ups and downs, along with spontaneous moments that have altered the course of Murray's career. As I asked him to talk about how he got to where he is today, Murray was able to clearly articulate every step, every decision, every experience and every person that has led him to where he is today, the co-founder and CTO of Lenda, an up and coming online mortgage startup that just raised $1.54M in funding.
Murray's story shows that the entrepreneurial journey to success isn't an overnight one. It's a step by step process that has its fair share of ups and downs but like Murray emphasized, "You have to start somewhere and my advice is to start now."
Murray's entrepreneurial journey started when he was a 12-year-old kid collecting action figures. He would go on eBay and use his mom's account to start brokering deals, trying to find a way to earn money by selling a few of his action figures. This early and frequent use of eBay got him to realize that there were a lot of misspelled objects that as a result were selling for pretty low since nobody could find them. He would start buying, "Mac Boox's and iPhoones," then resell them on both eBay and Craigslist. He would also learn how to repair broken gadgets and resell them for a higher price.
The decision to go to college or not

As he read more about the stories of Steve Jobs and Elon Musk, Murray got even more fascinated by the idea of entrepreneurship. While all his mentors and teachers told him that he was crazy if he didn't go to college, Murray believed that if he dedicated himself enough to building something online and buckled down for a year or so, he would be able to build a company that could sustain him for the rest of his life.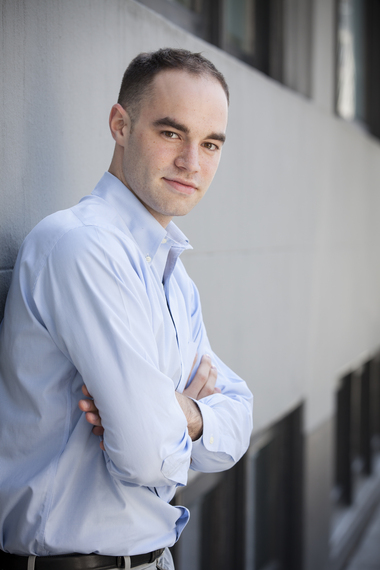 Reading Tim Ferriss's The 4 Hour Work Week reaffirmed Murray's belief in the entrepreneurial lifestyle where you're hacking life, making money online, travelling and just doing what you love. Luckily, Murray was able to get a hold of Tim Ferriss and have an hour-long conversation with him that would be the first turning point of this journey.
Murray recalls Ferriss telling him, "There's no harm in trying. You can always go to college and try it out and make a better decision based on your experience." This was the first piece of advice that made sense to Murray so a few months later and he would find himself in Drexel University.
Murray recalls the first quarter of college being very interesting. He was taking class, going to parties, meeting new people and working on a few entrepreneurial projects on the side. It was hard for him to really lock down on a project given everything that he was doing in college. He would then get a full-time job in a stock options trading company as part of Drexel's Co-op program. This is where he realized he wasn't fit for 9-5 jobs. He recalls, "I was bored all the time. I just wanted to finish up my six months and go somewhere completely foreign and figure out myself."
Taking a leap of faith

And so Murray did. After talking to a few friends on what the best place would be to not only travel but also start an online business, he would quickly find himself in the Philippines. In the Philippines, Murray would end up meeting with Vincent Golango, a friend of a friend he had met in a conference. Murray would end up living with Golango who would become his best friend.
Golango at that time had started a company called WhenInManila. Murray got the chance to help maintain the website and write a few articles for Golango. At the same time, Murray had started going on to Freelancer.com, Elance and Odesk, looking for ways to make money. Murray would find job postings that required skills he didn't know yet but wanted to learn.
He shared, "For instance, I wanted to learn Wordpress web development so I would go and find a client who needed a Wordpress website. From there, I would just Google my way to getting the job done."
Murray would stay in the Philippines for 4 months before moving back to the US for his mom's wedding. He would live at home for 2 months doing freelance work, creating an LLC to make his freelance company official. Murray then decided to take a leap of faith with his friend and live in a sailboat, the first place that he was able to consider his own.
The young entrepreneur lifestyle

Living the young entrepreneur lifestyle, Murray would be eating peanut butter and jelly sandwiches while growing his freelance business. After gaining traction and becoming a repeated business, Murray was able to finally afford to work in a coworking space that charged him $150/month
Murray mentioned, "I felt at home with all the other aspiring entrepreneurs, freelancers, designers and developers. I even got to sit down and talk for two hours with this person who had worked and travelled in the Philippines as well."
After working six months in the coworking space, Murray would get a call from a friend who was doing his co-op in San Francisco in Goldman Sachs. Murray immediately hopped on the chance of becoming his roommate and working in the epicenter of technology. Moving to San Francisco would prove to be a challenge as a lot of his previous clients in Philadelphia wanted him to be back in Philadelphia.
Murray got his lucky break when the only other guy he knew in San Francisco, the guy he had met in Indy Hall called him up in search of a CTO for a mortgage startup that would later on become Lenda.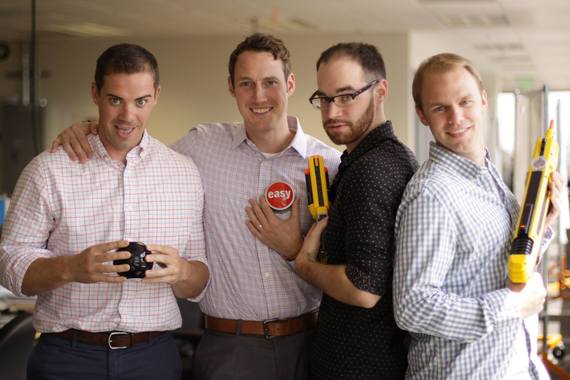 The Lenda Team from left to right: Chris Hiestand (Director of Marketing), Jason van den Brand (CEO & Co-founder), Elijah Murray (CTO & Co-founder), Dave Schaaf (Backend Developer).
Learning on the go

"We launched the prototype in late 2013. In the very beginning, I didn't even really know how to program. I had learned the basics of programming and Wordpress but it wasn't that I could sit down and write a web application. I didn't really know how to do it. But I had faith in myself to teach myself how to do it and figure out what was going on. I started learning Ruby on Rails and eventually figured it out." shared Murray.
This unwavering faith and unparalleled work ethic would lead the Lenda team into 500 Startups in 2014. Today, they continue to build new features and take on new clients.
"Its just a whirlwind of emotions. Everyday, I learn something new about my team, mortgages and running a startup. That learning experience from not knowing how to really program to managing a development team, doing the designs and being the product manager was simply surreal."
His advice to aspiring entrepreneurs is a quote from one of his favorite motivational videos, "The moment you want to succeed as bad as you want to breathe is the moment you will be successful."
He added, "You can't focus on the present or the past but if you can visualize yourself in where you want to be and believe that that's a reality in the future, no matter what happens now, it will happen in the future. You just have to get there. You don't know how you'll get there, but you'll get there."
In terms of long-term plans, Murray shared, "I love ideas and I'm really passionate about design. I see myself getting into physical product and design in the future. I just have all these ideas and I just want to make them. There's tremendous power in having an idea then being able to manifest it in the real world whether it's a website or app. The translation of an idea into something that can be shared to other people is something I love and hope to continue doing."
-----About the Author-----
David Ongchoco is a student entrepreneur, avid storyteller and crazy hustler from the Philippines studying at the University of Pennsylvania majoring in what he likes to call, LIFE. He is currently working on expanding his organization YouthHack and social impact startup ThirdEye. It's David's goal to make an impact in the lives of as many people possible while constantly learning new things every single day. If you have any interesting stories, feel free to email him at david.ongchoco@gmail.com
Calling all HuffPost superfans!
Sign up for membership to become a founding member and help shape HuffPost's next chapter