Young and Entrepreneurial is a series of articles where I've decided to interview and write about young individuals disrupting the world, whether it's through entrepreneurship, research, non-profit work, intrapreneurship or singing, dancing, writing or by just doing something innovative that impacts the lives of many people.
These young individuals use their entrepreneurial mindset to get things done. These people strive to find ways to change the current equilibrium. By sharing the stories of these individuals, I hope to inspire youth from all over the world to follow their passions, to take the road less travelled and to disrupt the status quo.
Piazza is an education platform startup that is quickly becoming a staple for university students. Using the Piazza platform, students get to ask questions and have them answered by fellow students, TAs and Professors. It has also introduced a careers aspect that allows recruiters to filter through students that fit roles they're trying to fill in.
I got to visit Piazza during my spring break trip to Silicon Valley where I got to meet Molly Johnson, Piazza's employee number 4. I was immediately intrigued by Molly's story of how she graduated Cornell University as an English major unsure of what she wanted to do.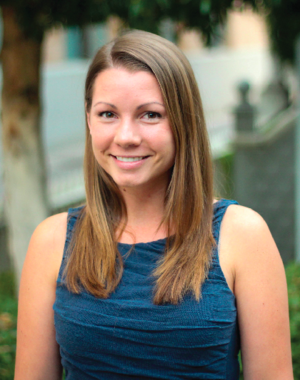 Molly recalls, "I was thinking of going to law school or graduate school or joining the Peace Corps or Teach for America. When I started talking to law students, they told me not to so I graduated not really knowing what to do."
What Molly did know was that she wanted to make an impact. She shared, "One of my friends introduced me to startups, and I kind of liked the idea of working in a small group of people, where you could make a big impact."
Molly would then go on to start researching more about startups. She figured that the best way to learn more about trending startups was to go to the portfolios of top VC firms and see what they recently invested in. She was checking out Bessemer Venture Partner's portfolio when she came across Piazza.
The name stuck with her so she decided to research more about the company. She explained, "The mission and the story of the CEO spoke to me so much that I headed to the jobs page only to find that they weren't offering any positions."
Aligned with the mission

With an unparalleled desire to work for Piazza, Molly decided to find another way to get her foot in the door. She had heard that the email of Piazza employees was firstname @ company.com so she took the risk of emailing the CEO even if she had no technical background or relevant experiences for the job. Four days later, Piazza CEO Pooja Sankar replied to Molly and Molly's overflowing passion for Piazza had stuck out. A one-way ticket to San Francisco later and Molly was joining Piazza as the personal assistant of Pooja.
"I started out by doing a lot of operational work and administrative work. Then within the first week, we found out that person in charge of customer support was leaving. Even if I had no technical experience, I was thrown into the role and had to start supporting all these computer science students and professors using Piazza," Molly shared.
Molly would be forced to understand the technical side of things, pushing her to learn more about computer science and how things worked. Overtime, she started to figure out how to fix bugs that students and professors complained about. Her initial confusion with the way things worked also helped her develop a stronger sense of empathy for the user.
Wearing multiple hats at a startup

"I was suddenly the product manager. I was working with the designers and engineers to build new features. Then suddenly, I had to start working on the financial side of things as well. I came in and they showed me the last few profit and income statements and I started working with the accountants, fixing our financials."
Molly shared, "At a startup, you can't be afraid of throwing yourself into something new and not knowing how things work. It's about being okay with messing up and figuring out where to go when you do so."
She added, "I never said 'no' to a project even if I knew that I had a lot on my plate already. My advice is to just throw yourself into it. Take on as much as you can but know what you really can do. Then you just have to really embrace it."
Molly is currently leading the sales of Piazza right now. She's constantly meeting with people from other companies, getting their feedback and securing deals. Molly also emphasized the importance of taking time to ask your users questions and tailoring your product to their needs.
"In order to build any type of valuable partnership, you have to have a killer product and constantly innovate. I'm constantly asking our partner companies for feedback. I'm asking them why they're using it and what the issues they're facing are. Here at Piazza, we try to quickly innovate and fix things when we get feedback," Molly shared.

The team at Piazza clearly knows how to get things done with paintball

Advice to College Students

While changing from role to role has been challenging at times, Molly just remembers what her older brother once told her, "Sometimes you just need to stick with something because it's hard. You can't always be logical. Sometimes, you just have to power through something for the fact that its hard because that really helps you build up personal endurance and strength and will help you power through even harder things in the future."
From her experience, Molly shares, "Just because there are no jobs in the jobs page, we're always behind on the jobs page. Don't hesitate to reach out. If there are no positions open, just go for it. Everyone in the startup is always looking to meet."
Having had to learn a bit of computer science on the side while at Piazza in order to better understand the technical side of things, Molly encourages Humanities majors to take Computer Sciences classes in college as well. "Even if you don't like it, it might inspire you. Here in the tech industry, it's becoming more of a norm to know the language."
Having seen Piazza grow from an early stage startup to a growth stage startup that now employs over 20 employees, Molly identified a few key things in growing a startup, "You have to first of all, maintain the focus on product and innovation. Our CEO Pooja would message us at 4am telling us to fix very small details of our product. Second, you have to have relentless focus on the key tasks and priorities. You have to be driving towards specific goals. Finally, you have to be hyper focused on building a team of All-Stars."
In the long term, Molly wants to start a company and be the CEO or COO. She said, "I don't have that concrete ten-year plan but I just want to learn as much as I can and eventually be known in this field as one of the best."
In the meantime, Molly hopes to continue improving the lives of students through Piazza, mentioning that they're putting a lot of emphasis right now on Piazza Careers and connecting students with recruiters. Coming full circle, Molly hopes to help students have a better understanding of what different careers are like so that they don't have to be so clueless like she was when she graduated Cornell because not everyone will be fortunate enough to land in a quickly expanding startup like Piazza.
David Ongchoco is a student entrepreneur and avid storyteller from the Philippines studying at the University of Pennsylvania majoring in what he likes to call, LIFE. He is currently working on expanding his nonprofit organization YouthHack and social impact startup ThirdEye. It's David's goal to make an impact in the lives of as many people possible while constantly learning new things every single day. David can be reached at david.ongchoco@gmail.com
Calling all HuffPost superfans!
Sign up for membership to become a founding member and help shape HuffPost's next chapter