Young and Entrepreneurial is a series of articles where I've decided to interview and write about young individuals disrupting the world, whether it's through entrepreneurship, research, non-profit work, intrapreneurship or singing, dancing, writing or by just doing something innovative that impacts the lives of many people.
These young individuals use their entrepreneurial mindset to get things done. These people strive to find ways to change the current equilibrium. By sharing the stories of these individuals, I hope to inspire youth from all over the world to follow their passions, to take the road less travelled and to disrupt the status quo.
A few weeks back, I was talking to student entrepreneur and Scholly CEO Christopher Gray (who was in Shark Tank a few weeks back). As I asked him about youth entrepreneurship and high school programs, he recommended that I meet and interview this high school entrepreneur and his mentee named David Zamarin, who was already working on his second startup. I then read more about him through different media outlets like Philadelphia Business Journal, CBS Philly, Fox 29 Philly and more. A few weeks later and I got to Skype with him and decided to feature him on my "Young and Entrepreneurial" series.
Zamarin is the Founder and CEO of DetraPel, which is a hydrophobic spray that uses nanotechnology to protect different objects from almost anything with a goal of keeping the world stain free. He sold his first business LickYourSole at the age of 15. He is currently a junior at Masterman High School in Philadelphia. He shared with me how he first got into entrepreneurship and the lessons he has learned in his early entrepreneurship journey.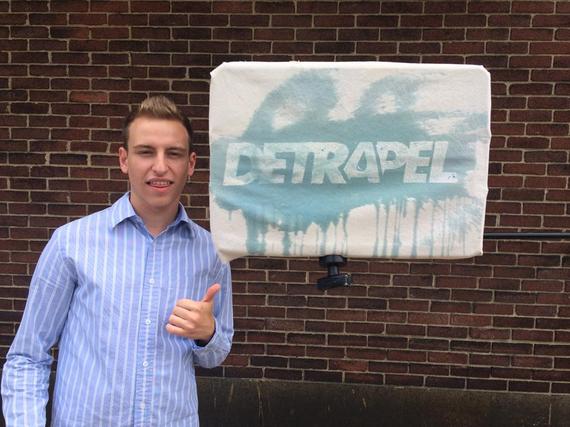 Zamarin was one of the star students of the Philly Startup Corps program that helped high school students start their own ventures and create something real. He recalls receiving a Startup Corps flier that read, "Start something real."
LickYourSole - Zamarin's first venture

After joining Startup Corps, Zamarin started his first venture LickYourSole during his freshman year, the idea coming from a personal problem of keeping his shoes clean and new as a sneaker head. Through the Startup Corps program, Zamarin was able to gain access to a variety of mentors. He was able to learn from actual entrepreneurs and get feedback from seasoned veterans like First Round Capital founder and serial entrepreneur Josh Kopelman.
While LickYourSole rapidly grew in the first few months, after four months, LickYourSole had hit a peak in revenue after partnering with the different sports teams of Temple, Penn, Drexel and other Universities in Philadelphia. This is where Zamarin had to make a tough decision as a first time entrepreneur: whether to continue or not. Zamarin eventually decided to sell the company for $25,000 to one of his employees who was interested in taking over.
After selling LickYourSole, Zamarin was still interested in shoe cleaning and wanted to develop a stain repellant. After trying to negotiate a deal with shoe cleaning competitor NeverWet to work on a stain repellant, Zamarin decided to do his own research instead and create his own stain repellent.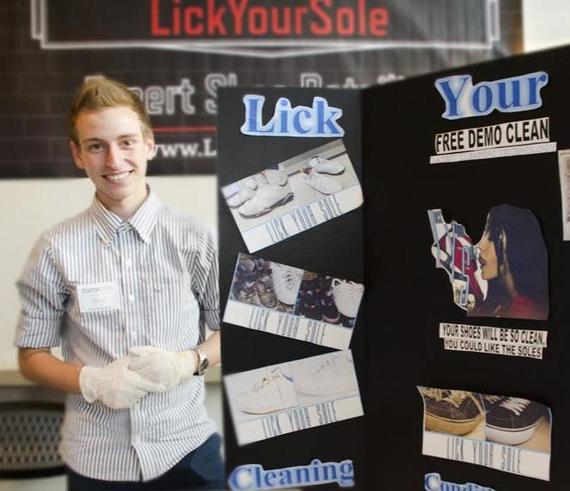 He ended up discovering a type of leaf that had the heavy-duty water and stain repellent chemical properties. The 16-year old Zamarin developed the product's nanotechnology formula, before having it manufactured at a lab in Florida.
The Launch of DetraPel

With the money he earned from his successful exit with LickYourSole, Zamarin went full steam ahead with DetraPel, which he launched last January 2014 and is now being sold in 4 different stores and in an online shop.
Zamarin credits his hardworking parents for influencing him to work just as hard. He especially looks up to his mom who was laid off several times in the last few years but kept on persevering. "My mom didn't know how to speak English that well so she always had a hard time getting a job. But my stepfather sent her to Drexel where she was able to eventually finish with a Civil Engineering degree."
This combination of adversity and uncertainty pushed Zamarin to work even harder and find ways to succeed early on. He recalled how when he was a kid, his grandmother would give him some popsicles that he would end up selling to his friends. A few years later, he would ask his dad for a $100 loan and buy electronics that he would sell online and to his friends--earning more than $5000. Clearly, the entrepreneurial spirit was there early on.
Through this journey, Zamarin has learned a lot from these early experiences balancing high school with running DetraPel. After joining more than 10 clubs during his freshman year in high school, Zamarin realized that it would be best for him to focus on a few clubs so that he could allocate more time to his startup business and his academics. This led him to the first lesson he learned: Time is the most valuable asset you have. We only have 24 hours in a day, and so we should choose our priorities so we don't spread ourselves too thin.
Hand in hand, as he started to gain more traction and customers for LickYourSole and DetraPel, Zamarin had to start learning more about managing a team and delegating tasks. This is when he realized that, "You can't do everything; you have to choose what you want to focus your time on then start delegating tasks to other people."
Zamarin is a big fan of having a calendar and planner where he overestimates timeslots on purpose to make sure that he has time for everything. Currently, he's taking classes at the University of Pennsylvania as well, making the commute every Tuesday and Thursday. He shared to me, "Penn is my dream school. I really hope to be able to study here for University." Zamarin also took classes at Penn last summer while participating in a startup incubator bootcamp program in Philadelphia.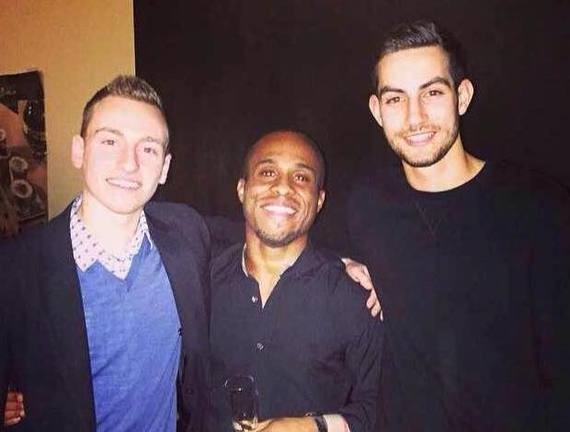 Zamarin with Scholly CEO Christopher Gray during the Scholly Shark Tank viewing party

Lessons as a young entrepreneur

Recalling his experiences selling his products to customers, Zamarin learned that if you want to be a successful entrepreneur, "you have to be solving a problem selflessly". You have to understand what your customers want and constantly ask for feedback.
Like many young entrepreneurs, Zamarin has made his fair share of mistakes in the process of running both LickYourSole and DetraPel. He recalls losing a lot of money after getting scammed on one of his manufacturing orders. He also recalled carelessly investing in a few friends' projects that didn't pan out.
But these early mistakes have helped him realized that, "You have to own up to your mistakes, accept them, learn from them then move on." Zamarin also emphasized how you can't get things get to you, "you have to stay humble and grounded". The startup journey is full of ups and downs, and it's great that Zamarin has realized this early on. He hopes to venture more into technology startups in the future but for now, his main priority is growing DetraPel, and of course, getting his college applications ready.
Zamarin credits his experience interning for Scholly for helping him better understand how to run his own startup. "When I asked (Scholly CEO) Chris if I could intern when I met him, he resisted at first. However, I kept persisting and he finally allowed me to intern for him during the summer. Since then Chris has become my mentor, brother and friend."
His advice to student entrepreneurs? Learn from your mistakes and extend all your resources. Starting early is the best possible time. When you're young, you don't have any risks because you have something to fall back on. So like Startup Corps founder Rich Sedmak once told him, "Go out and just do it."
*This is the 8th post in my "Young and Entrepreneurial" Series. You can read past features here.
David Ongchoco is a student entrepreneur and avid storyteller from the Philippines studying at the University of Pennsylvania majoring in what he likes to call, LIFE. He is currently working on expanding his nonprofit organization YouthHack and social impact startup ThirdEye. It's David's goal to make an impact in the lives of as many people possible while constantly learning new things every single day. David can be reached at david.ongchoco@gmail.com
Calling all HuffPost superfans!
Sign up for membership to become a founding member and help shape HuffPost's next chapter