Young and Entrepreneurial is a series of articles where I've decided to interview and write about young individuals disrupting the world, whether it's through entrepreneurship, research, non-profit work, intrapreneurship or singing, dancing, writing or by just doing something innovative that impacts the lives of many people.
These young individuals use their entrepreneurial mindset to get things done. These people strive to find ways to change the current equilibrium. By sharing the stories of these individuals, I hope to inspire youth from all over the world to follow their passions, to take the road less travelled and to disrupt the status quo.
When you talk about PennApps, Dorm Room Fund or just the University of Pennsylvania tech and startup community, it's hard not to come across the name Pulak Mittal. Pulak was the man who grew PennApps to a 1000-person hackathon while being a partner in Dorm Room Fund and later on running his own startup Emerald Exam before graduating and becoming the personal assistant for YCombinator President Sam Altman. One year later, and he's currently working at ed-tech startup Clever.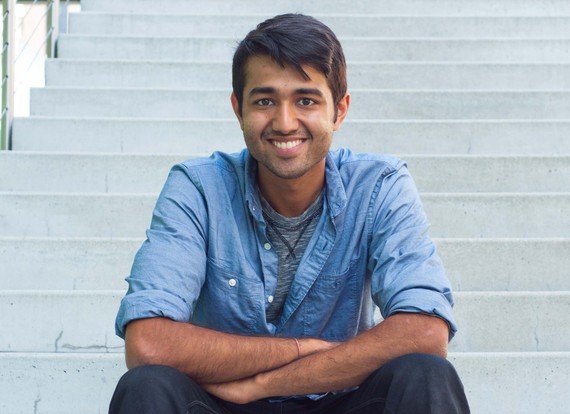 Pulak's love for technology and entrepreneurship started with him being a Computer Science major. It was in Penn's Computer Science Club the Dining Philosophers, where he would meet then Dining Philosopher President and PennApps founder Alexey Komissarouk, who he would work with for his first web project.
Alexey would pull Pulak to join the spring PennApps where he got involved with volunteering to help out for the planning of the event. During that same semester, Pulak was a teaching assistant for an introductory computer science class, where he became an active user of Piazza, a Q&A platform for students. This would lead him to intern at Piazza in the summer, where he was immediately assigned an impactful project to build their Android Application.
Pulak shared, "I didn't have any experience with Android but I was forced to learn quickly and seek help from mentors." He added, "Working in Silicon Valley gave me the opportunity to meet up with other interns, entrepreneurs and venture capitalists. This also gave me a chance to expand my network of sponsors for PennApps."
Growth of PennApps

With the help of this newfound network of sponsors, Pulak was able to spearhead the growth of PennApps the following year. PennApps suddenly grew from a 40-person event to a 200-person one then finally to what it is today, with more than 1000 students coming from all over the world. Suddenly students from all over the country was inspired by the growth of PennApps and started hosting their own hackathons.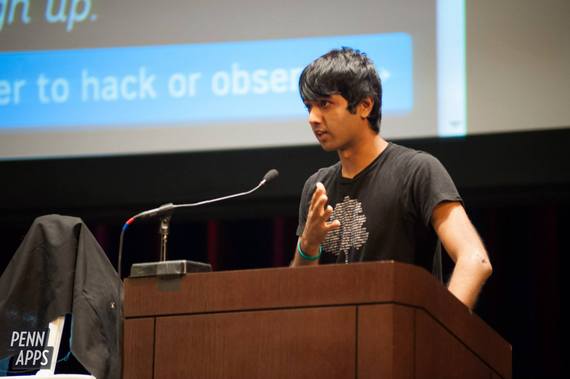 Pulak at PennApps Fall 2013

Sophomore year, Pulak interned in Facebook to see what it was like to work in a bigger company whose product everyone in the world was using. At that time, Facebook had just IPO'd and reached a billion users. However, it was through this same experience where Pulak realized that working in a big company wasn't for him. "I wanted an environment where I could come, learn and build things, while seeing what I build make an impact in what the company does."
During that same summer, Pulak's friend Isaac Sukin had interned in First Round Capital, where there was this new idea being thrown around. Pulak shared, "A few people at First Round had identified this gap between the traditional venture capital funds for people who were dead serious about pursuing their startup full time and talented students who needed the resources to test out an idea without having to drop out of school." A few discussions later and Dorm Room Fund was born with Pulak being one of the founding partners.
Suddenly, Pulak was fully immersed in the Philadelphia Tech and Startup scene. He was the President of the Dining Philosophers, Director of PennApps and led the Penn TechTrek where Penn students would go to Silicon Valley to visit different tech startups.
As he started to get more involved in Dorm Room Fund, Pulak knew that he didn't have time for everything. He explained, "This is when I realized that there was a need for an organizational structure for PennApps. Prior to this, I was doing 80% of the work, and not delegating the tasks properly. This had to change because I realized that this was not sustainable so I decided to setup different committees and empower others to get things done."
College Startup Experience: Emerald Exam

It was towards the end of Pulak's junior year when he was impressed by fellow Penn Junior Alex Rattray's pitch to Dorm Room Fund. Rattray had been working on a startup called Emerald Exam, which helped schools administer online exams. After DRF decided to invest in Rattray, Pulak would contact Rattray and ask if he could get involved.
Pulak said, "I had always been interested in the education space because I believed that education is one of the things that can really make a difference in the lives of many people."
After one month of working in Emerald Exam, Pulak would join Rattray as a cofounder and work on Emerald Exam full time during the summer. The duo would decide to graduate early as well on December 2013 and use their last semester to stay in the First Round Capital office and work on Emerald Exam. However, despite securing contracts with Penn and a few other schools, the duo would eventually decide that although the product worked, the margins were just not enough for it to become a hyper growth startup.
Pulak shared, "Although we decided not to continue on, we still learned a lot of lessons on what to do and what not to do from this experience."
Pulak then spent the rest of the year soul searching and thinking about his next steps. This is when he realized that everything boiled down to two things. He wanted to first, be happy, and second, make the world a better place. Pulak imagines this better place to be a world where everyone is engaged and excited by learning.
How Pulak got involved with YCombinator

After spending a few months back home in Seattle where he got a chance to just relax, workout, hangout with friends, Pulak would get a message from his friend saying that YCombinator President Sam Altman was looking for a personal assistant to help him with projects he had that he didn't have time for.
Pulak shared, "With the help of recommendations from YC Alumni friends I had gotten to meet from the different Hackathons and networking events, I was able to secure an interview with Altman." After two days of working with Altman, Pulak would get the job. He would then go on to lead the worldwide, "How to start a startup" Lecture Series that brought in successful entrepreneurs to give lectures to students at Stanford that would be broadcasted all over the world.
From this experience, Pulak got a chance to meet some of the most successful startup founders. He would also sit in the office hours that YC founders would have with Sam. He would learn how to develop patterns and see common trends of successful and unsuccessful founders. He shared, "A few of the common mistakes I saw were that too many founders would over think things while not paying enough attention to detail."
However, Pulak had started to miss working on the technical side of things, "From doing the operations for Emerald Exam and helping on the special project with YCombinator, I realized how much I missed coding and actually working on the technical aspects of a product."
He added, "It's really important that the company you're working in is aligned with your passion and mission." Having said that, Pulak has moved on to work in Clever, an education startup that allows schools to manage all their education applications in one platform with a single login.
Advice to Aspiring Entrepreneurs

Pulak Mittal is definitely one of the most well connected 23 year olds out there, and he shared some advice on how to build these relationships. "You mostly want to be able to help others. When you talk to someone, try to think of someone who you know might be helpful to them, someone who might be a good customer or might have faced the same problems that they're facing then connect them."
He added, "You want to form two way relationships. Just being willing to be helpful makes it much more likely that other people will help you. Don't be self-centered. Really think about the entire ecosystem and how you could contribute to it."
Finally, Mittal believes that a big part of success is putting yourself in a position to be lucky. He shared, "You just have to be willing to make it happen. Make your own luck. Go out of your way to make some of these spontaneous interactions. Always be thinking."
He added, "I started keeping a list of things that people have asked me to look out for. I have this list of things to check out, things that are going on, things that make me happy, so everyone time someone mentions something, I don't forget. This is because some of the biggest changes and biggest decisions of my life have come out of conversations with other people."
David Ongchoco is a student entrepreneur and avid storyteller from the Philippines studying at the University of Pennsylvania majoring in what he likes to call, LIFE. He is currently working on expanding his nonprofit organization YouthHack and social impact startup ThirdEye. It's David's goal to make an impact in the lives of as many people possible while constantly learning new things every single day. David can be reached at david.ongchoco@gmail.com