Young and Entrepreneurial is a series of articles where I've decided to interview and write about young individuals disrupting the world, whether it's through entrepreneurship, non-profit work, intrapreneurship or singing, dancing, writing or by just doing something innovative that impacts the lives of many people. These young individuals use their entrepreneurial mindset to get things done. By sharing the stories of these individuals, I hope to inspire youth from all over the world to follow their passions, to take the road less travelled and to disrupt the status quo. This is the 12th post in the Young and Entrepreneurial Series. To read previous features and to stay up to date with future features, like our Facebook page here.

The Philippine government in the past few years have used the "It's more fun in the Philippines" campaign in attracting foreigners and tourists to the country. But "why is it more fun?" and "how is it more fun" are the two big questions 24 year old April Cuenca wanted to answer when she decided to start FlipTrip, which simplifies the online travel planning and booking process.
Cuenca explained, "Fliptrip is your gateway to finding new destinations. Find an unexpected paradise and have a great adventure right here in the Philippines." FlipTrip connects tourists to local communities, organizing you transportation, activities, accommodation and itinerary.
"What can you do to change the world?"

The idea for FlipTrip actually began way back when April was still 12 years old when she watched the news of a community getting devastated by a typhoon and wondered what could help these communities. It was during a discussion with her sisters while they were watching former senator and secretary of tourism Dick Gordon talk about the power of tourism that sparked April's passion for tourism for development.
This spark for community development and tourism would only be furthered when April's high school teacher asked her, "What can you do to change the world?"
While April was extremely passionate about tourism, she had risen as a top football player in the Philippine high school division. She would go on to play for the UP Football Team before tearing her ACL, MCL, and other ligaments during her senior year. She would be stripped of her scholarship, which led her to decide to drop out of school.
"I never finished my degree. I had to stop football and football was my scholarship. We just didn't have enough resources at that time to pay for my degree. There would have been help had I asked. It was a personal decision that surprised and dismayed even my family. However, at the end of the day, I wanted to get the experience that I needed to understand what was going on in the field I wanted to go into."
The journey to 51 provinces

With this, April decided to work as a tour guide and logistics manager for a travel show in order to better understand what was happening on the ground. Three years later, she had travelled to more than 51 provinces before starting FlipTrip.
She expounded, "I travelled for an entire year basically. I was in and out of manila for more than half of the year. It was a lot of fun. I was able to experience so many new things. My perception of the Philippines totally changed. I would stay 2-3 weeks in a given province just finding what its about and what's so special about the place and what we can really promote."
April would get in contact with the local community and start learning more about them. She would give minor suggestions of things the locals could do to help improve their tourism and attract more people.
The 7-hour hiking trek

April recalls a particular week she spent in Romblon, hiking in the rain forest with indigenous people. Then the chief of another village came and invited them to visit their village too since it was just close by. Little did April and her team know that it would take them another 7 hours of hiking to get there. April expounded, "We didn't have any water or food anymore. And so we were drinking from the rivers. Our guide would also just climb up the coconut tree and hack down a coconut for us."
After hours of hiking, they reached a waterfall. She remembers the locals telling her, "You know mam, you guys are the first non indigenous people to get here."
This experience along with several others would lead April to see how tourism worked, and how empowering it was for the people. She explained, "This is your home, show us what you're proud of. The way people expressed this in such an indirect way through tourism, it really inspired me to travel more."
After the travel show she was in ended, people started asking April where to go and who to talk to. Before she knew it, even international travel agencies were contacting her on what new destinations to explore. April said, "I was just doing consultancy. People would ask me to do their trips and recommend places."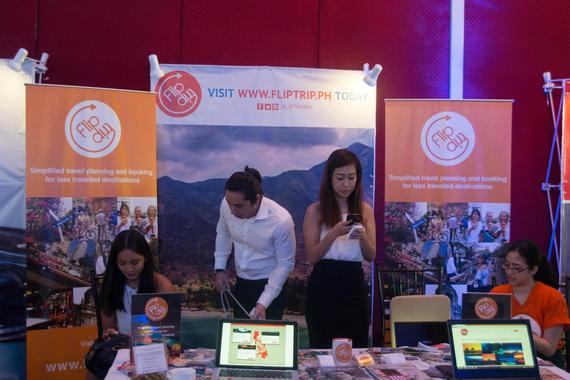 The Philippines and the World

April shared, "My boyfriend is German and he decided to come to the Philippines because it was the only exchange program where you didn't need to learn a new language. It's so weird how he actually knew about Philippines in the first place."
This sparked April's curiosity and she would go on to interview travellers and backpackers asking them how they heard about the Philippines. Amongst some of the common answers she would receive are, "We have a lot of Filipinos and communities in my home. They're so hardworking. But they know how to have the most fun."
April explained, "While one of the biggest issues of the Filipino diaspora is brain drain, having people abroad really highlights the Filipino. Filipinos who are abroad are first and foremost the ambassadors, who get people curious about the Philippines." April added how the beauty of the Philippines is that it's like going to so many different countries within a country.
But it was when Typhoon Yolanda struck so many communities that April decided that she wanted to help revitalize these communities and help them create an infrastructure and demand for tourism. She shared, "I really wanted to act on this realization. They are ready to grow. It's just that they're not as connected. When you go and plan your trip, you go online. You go and look where to stay, and how to get there. Our goal with FlipTrip is to connect tourists to these local communities."
FlipTrip started in Manila but has expanded to 6 other provinces in Aurora, Bulacan, Tarlac, Pangasinan, Zambales and Cagayan.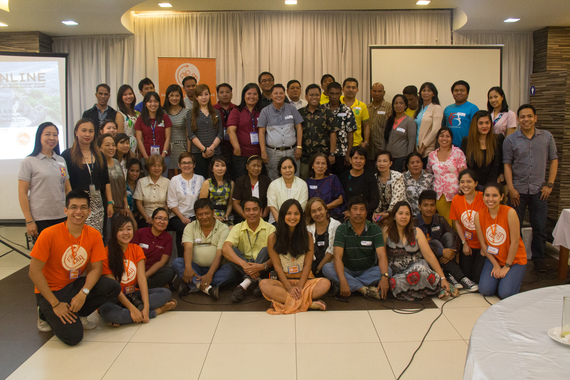 Representatives from both the public and private sector came together at the WhyOnline Cagayan Seminar FlipTrip organized
Public-Private Partnership

April explained how it's not enough for a private movement to make local tourism sustainable, it has to be a holistic movement. According to April, "The local government should take ownership because they're the ones who have the say on who operates what, who gets registered, who gets accredited andwho gets trained to operate a tour."
Cuenca and her team also recently organized a "Why Online" Digital Tourism Seminar in Cagayan, in partnership with the Cagayan Economic Zone Authority, where close to a hundred got a chance to learn more about the state of tourism, their province and why it's important for them to get online and get connected for their local community to strive.
Favorite Memory

April recalls her trip to the Taal Heritage Town where she got to meet kids who had learned how to become tour guides after following the real tour guides. April would end up giving her cellphone number to the kids, challenging them to give her a reason to come back by sending her a fun fact about something new they learned about their community.
She shared, "They're 8 year-olds but they can talk to you about each point of the town. Everyday, they would send me a fun fact about something new that they learned. And when I went back, after losing my phone, the kids ran and hugged me, and I only had met them once."
She celebrated her 25th birthday by throwing a party for these 30 kids in the Taal heritage. She said, "We had a children's party and played games with them, and fed them their first taste of Jollibee. We put together a great pool of prizes and giveaways that consisted of legit FlipTrip school bags, school sets donated by National Bookstore Foundation, books and assorted storybooks and supplies from friends and family. The wonderful Villavicencio family even let us use their village clubhouse and pool. "
Advice to Young Entrepreneurs

April enjoys the exploration that entrepreneurship has given her. She shares, "The best thing about being an entrepreneur is you get to explore and test out your ideas. It's also really awesome to be an entrepreneur because you can see that what you do affects."
She adds, "You're never going to be ready. You're never going to know what you need to know. Just go and do it. Learn along the way. When you don't know what the answer is, ask. People will always want to help you."
April shared how, when FlipTrip was starting out, her cofounder, Jackie Yap, and she would go through all the posts of the Facebook group Startup PH in hopes of learning more about the Philippine startup scene. This is where they would come across IdeaSpace Foundation, and the rest is history. It was even through this network that they found their third co-founder and CTO, Ragde Falcis.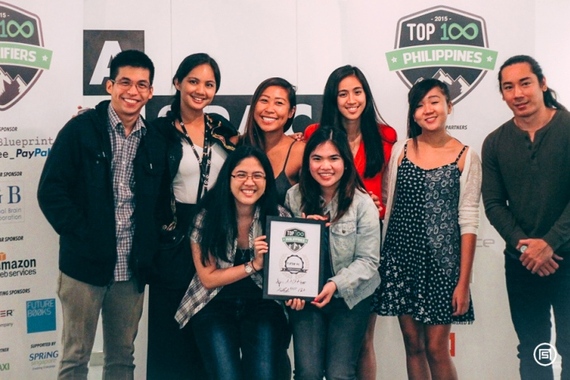 FlipTrip was the winner of the Peoples' Choice award at the Philippines Qualifier of Echelon's TOP100 Startups (Image Credit: A SPACE Manila).
The Future of FlipTrip

"When we got into IdeaSpace, the real work began. We needed to have a system and product in place. Then we got to review it with mentors." April shared how her team got a specialized course on entrepreneurship, and more importantly a community where they got to share their experiences with not only mentors, but nine other startup teams.
April also emphasized how, "Passion will always be the difference between those who try and those who succeed. I learned this when I was in football when our coach, Bob Manlulo, would always push us to play with 'puso' (heart)."
She closed our interview by pitching FlipTrip to me once more, "Fliptrip is the gateway for you to find new destinations. Find the unexpected and have a great adventure here in the Philippines."
Indeed, it's been an unexpected journey for April so far from being an innocent 12 year old with big dreams to dropping out of school to travelling to 51 provinces and starting FlipTrip. A bright future definitely awaits her as she aims to grow FlipTrip and empower local communities all over the world.
*This is the 12th post in the Young and Entrepreneurial Series. To read previous features and to stay up to date with future features, like our Facebook page here.
---About the Author---
David Ongchoco is a student entrepreneur and avid storyteller from the Philippines studying at the University of Pennsylvania majoring in what he likes to call, LIFE. He is currently working on expanding his nonprofit organization YouthHack and social impact startup ThirdEye. It's David's goal to make an impact in the lives of as many people possible while constantly learning new things every single day. David can be reached at david.ongchoco@gmail.com