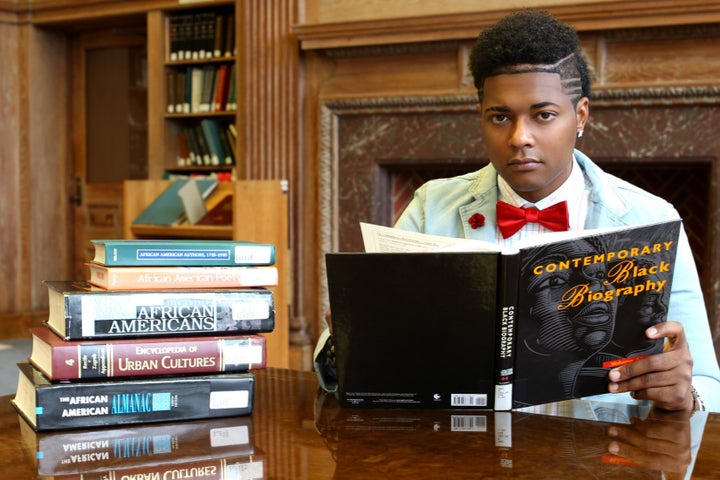 It's 11:15pm on a brisk November night in the nation's capital. Most students on Howard University's campus are sleeping, if not studying or watching election returns pour in across the country on CNN or scrolling through twitter-delivered news articles on their smartphones. They watch pundits and talking heads with fancy graphics discuss the sweeping sea change just brought to Washington as Republicans wipe clean President Obama's majority in the House.
Meanwhile, one Howard University Bison was across town in Foggy Bottom, braving a crowded celebration hall of volunteers, campaign staffers, socialites and the city's political and media establishment to welcome new mayor, Vincent Gray. Gray, who had run one of the most intense campaigns in D.C. history against popular incumbent Adrian Fenty, relied on young, energetic marketers for every single vote. David Castain, known for his party promotions on campus and across the city at the time, was one of these marketers and was celebrating with Gray personally, stunning his fellow peers almost as much as Gray's upset victory.
But that was six years ago, and now we're ending the fall of 2016. Today, Vincent Gray has served his term as mayor and is currently a city council member and Castain has graduated from Howard University's John H. Johnson, School of Communications. In 2014 he graduated from Georgetown University's renowned Public Relations and Young and Hungry.
Corporate Communications master's program where he was the recipient of the Golden Bulldog Award for Most Creative. He is now a third year Sociology Ph.D. student at Howard University and the recipient of the Excellence Award for Entrepreneur of the Year. Not to mention national recognition as one of the top 30 under 30 distinguished HBCU-educated scholars by HBCU Buzz.
"Study while others are sleeping, work while others are loafing, prepare while others are playing and dream while others are wishing", said William Arthur Ward, putting words to the popular adages of hard work and determination. Those words have helped Castain become living proof of the American Dream.
Raised in a single parent household, Castain grew up watching his family struggle to make ends meet and hustle to survive. From selling candy bars for a dollar from family packs bought at Costco to selling hair bows and seasonal ornaments crafted by his mother for the ladies, anything that could help out was always welcomed. With no father figure around he wasn't able to block the allure of easy money and flashy consumer goods that proliferated his neighborhood.
Hanging in the wrong circles as a teenager lead to an incident in 2006 that he thought would cost him a chance at strong future and more importantly a good life. When a second chance came his way two years later, he enrolled at Howard University and vowed to change himself and never again do anything detrimental to his future success.
These days college (if not a Master's Degree) is a requirement for young adults who wish to attain a solid and sustainable lifestyle, putting a mandatory emphasis on excelling at coursework for everyone. However, for Castain, "carpe diem" went far beyond good marks and took on very different meaning entirely.
Castain is a marketing maven, a mixture of the best features from DJ Khaled, Tony Stark and Robin Hood. He talks nonchalantly about organizing events with celebrities such as Drake, Nicki Minaj, Chris Brown, Meek Mill, T.I., Chris Brown, Trey songz, Lebron James and John Wall just to name a few. One would think his success would go to his head. Yet Castain keeps his troubled past fresh in his mind as a memory that nothing is forever and to always continue to work hard with humility.
"I met Mr. David Castain quite by accident meeting and greeting customers that came to my location on the campus of Howard University", said Kevin McMahon, owner to one of D.C.'s fastest-growing dessert chain FroZenYo. "I was attracted immediately to his extremely outgoing personality and the fact that almost everyone who came to my store knew him". They hit it off immediately and following Castain's speech at Howard's 2013 graduation ceremony; David Castain and Associates acquired their first contract with his franchise. They were fast at work establishing numerous sources of media generated advertising for the company. From marketing campaigns to Instagram and Twitter, to an MTV-produced docu-drama and FroZenYo's first commercial, the partnership has been a huge success.
Castain's firm also worked with companies like Chipotle, Fuel Pizza, Z- Burger, The Fillmore, VIP Outdoor, Franklin Park Homes, and Grey Goose. According to Data Fox, David Castain and Associates has an annual gross revenue of $5.5 million. David Castain's net worth is approximately $1.3 million.
"People wonder what it is that party promoters go on to do," said Castain, reflecting. Ebony Magazine describes him as "single and sexy", and the Inland Valley Daily Bulletin said he "is the kind of person movies are made about". Bae App chose him as "Washington, D.C.'s most eligible bachelor and as a prominent figure in the D.C. night scene, he was named one of the country's best promoters by the Washington Times.
His accomplishments, both educational entrepreneurial, have led to much recognition, including large social media platforms, mentees, and a vast fan base. His tweets have gone viral and his platforms have catapulted his personal brand resulting in selection for panels, speaking engagements, and red carpet appearances at notable award shows.
"They don't believe that people who are in the nightlife profession have the ability to transition into other things", he said. "But, I went from night clubs to corporate America. Marketing is a seduction, a process that creates a set of conditions for a sale to occur and an ongoing relationship to be developed. It doesn't matter if you're selling an experience or a product, the same rules apply."
Castain has since limited his event promotion and has spent more time in the library as his graduate studies begin to pick up. Still, his hunger to grow has remained; his firm even landed a contract with CORT Furniture, the world's largest provider of rental furniture and corporate relocation. A company owned by non-other than billionaire Warren Buffet's Berkshire Hathaway.
"David's biggest challenge is the fact that there are only 24 hours in the day", said Adam Howard, Territory Sales Manager at CORT. "I really think he would work more than that if he could."
Castain was attracted to the company for practical reasons. Familiar with moving from dorm to dorm and from varying off-campus housing, he liked the idea of the firm's affordable packages that let students furnish entire apartments for a monthly fee. While helping his peers save on furniture may have been his concern, CORT was attracted to his different perspective and vast connections in the greater Washington metropolitan area. For David Castain & Associates, the project represents progress and continuing to build upon success.
For many young black males from disadvantaged backgrounds, challenging situations will continue to arise. Castain hopes his story will enlighten his peers to rise to the occasion and push others to take a second look at a community often overlooked.
Committed to giving back to the community, he founded the David Castain Foundation, a non-profit organization geared towards changing the future of youth who may not otherwise possess the necessary tools and resources to achieve success. This foundation provides youth with an escape to pursue their dreams and aspirations, while being exposed to beneficial programs and workshops like resume writing and college application assistance that are designed to turn those dreams into realities.
"I have led men into battle and believe I read them well", said McMahon. "I will sign my name to Mr. David Castain and be proud to do so."
Follow David Castain on Twitter and Instagram at @DavidCastain.
Related
Popular in the Community