Young and Entrepreneurial is a series of articles where I've decided to interview and write about young individuals disrupting the world, whether it's through entrepreneurship, research, non-profit work, intrapreneurship or singing, dancing, writing or by just doing something innovative that impacts the lives of many people.
These young individuals use their entrepreneurial mindset to get things done. These people strive to find ways to change the current equilibrium. By sharing the stories of these individuals, I hope to inspire youth from all over the world to follow their passions, to take the road less travelled and to disrupt the status quo.

The first person I'll be featuring in this series is Penn Alumnus Jon Youshaei who is a Google Associate Product Marketing Manager, writer and intrapreneur. Jon Youshaei is a first-generation American whose claim to fame has been having every vowel in his last name. Coincidentally, it was actually Jon who inspired me to find a way to start writing for the Huffington Post. Amazing how things have gone full circle.
I first read about Jon Youshaei because of his entrepreneurial venture CrowdQuest in one of the University of Pennsylvania (Penn) publications. Being a current Penn freshman, I've been reaching out to Penn alumni and getting their perspective on different things. When I came across his website, "Every Vowel", in one of my friend's timeline, I figured that it wouldn't hurt to try reaching out to him. A Facebook message later, and I was listening to Jon Youshaei share his story and advice to current students at Penn.
Youshaei first got interested in technology when he started CrowdQuest, which helped college students avail of coupon deals in different restaurants in Philadelphia. Youshaei recalls:
The reason why I got into Google is actually because of my experience at CrowdQuest. It was like my introduction to the power of technology. I remember sitting in my dorm room and just looking at the website. Within the first day, I saw that more than 200 people were getting their first deal. Only with technology can some kid in a dorm room create something that can have more than a hundred users across campus.
After that first taste of the power of technology, Youshaei wanted to learn more, and found Google to be the perfect place to satisfy his hunger and curiosity. As an Associate Product Marketing Associate in Google, Youshaei is on the Youtube team where he helps with all the big brand experiences and marketing. A few months ago, he was at Google I/O, which is one of the biggest conferences for developers, where he got the chance to interview some of today's most inspiring and successful entrepreneurs including the founders of Tinder, Secret and Twitter (go to his Youtube channel for more).
From interviewing and getting to meet all these CEOs and cofounders (with Twitter Cofounder Biz Stone being one his favorites), Youshaei has realized how all these people were not afraid to do something unconventional, and walk a different path.
This past year, Youshaei was part of the team that worked on the Youtube Rewind Project, which celebrates all the big moments in the past year. He got a chance to go and shoot scenes in London, Tokyo, Rio and other places around the world. "I'm learning so much, and I'm being surrounded by people who are way smarter than I am. I'm just trying to focus and enjoy every moment."
But more than just being a Googler, Yoshaei is an avid writer as well, and his following has been growing in the past few months. Yoshaei recalled how he first got into writing:
It all started at Penn when Arianna Huffington came to campus, and I sent her one of my [articles] and she really liked it, and got it published in the Huffington Post. Ever since then I've started writing for the Huffington Post, Forbes and Fast Company. I had no formal training in writing, and I just wanted to write, so I just started. Things kind of move forward when you 'just do it.'
I love writing because of two things. One, it allows you to spotlight other people and share their story. There are so many interesting stories out there that go unheard. I see it as my job as a writer to help people learn more about them and learn something new. Second, I think it's such a great way to have a lot of conversations at once, and it allows you to be a much more critical thinker. And if you put your words into paper, it might be able to help other people with their career.
Youshaei's first article was actually on then Youtube CEO Salar Kamangar. In the article, he outlined how Kamangar was able to become the 9th employee at Google. The beauty in Youshaei's articles that he always aims to give readers take always they could use in their own lives. In his Forbes column, you'll find articles with both interview and resume tips. His most recent article on "The Uberpreneur: How An Uber Driver Makes $252,000 A Year," made it all the way to the top story in the Forbes website.
In terms of what he wish he knew in college, Youshaei emphasized the importance of being open minded and not limiting yourself to what other people are doing. "Too many people think that there are only two career paths (finance and consulting) at Penn but there are way more." Youshaei also recalls running for the class board because he wanted to meet as many people as possible. He ended up being on the class board as Class President all four years, spearheading projects like bringing hot air balloons on Penn's Campus for the first time.
His advice to Penn students and college students in general was simple, "Be quirky. You're at Penn because you're different so don't try to shy away from that. Just embrace that and carry that with into whatever you do. Don't try to change who you are. Instead become more of who you are."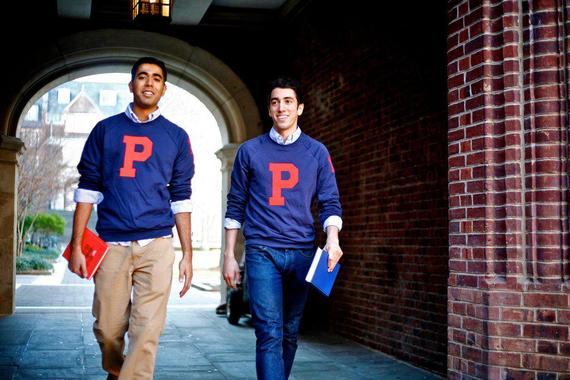 Youshaei will always remember his stay at Penn as some of the best years of his life (photo taken from Youshaei).
---- About the Author ----
David Ongchoco is currently a freshman from the Philippines studying at the University of Pennsylvania majoring in LIFE. David hopes to continue fuelling his passions in technology, social impact, entrepreneurship, and education. He is currently working on expanding his organization YouthHack and social impact startup ThirdEye. It's David's goal to make an impact in the lives of as many people possible while constantly learning new things every single day. If you have any interesting stories, feel free to email him at david@youthhack.net.
Calling all HuffPost superfans!
Sign up for membership to become a founding member and help shape HuffPost's next chapter