ICON magazine's quote echoed in many architecture websites and blogs after the launch of the 2008 April issue:
For the first time, "young" actually means young, but "architect" may no longer mean architect.
At least not in the sense of the aged solitary genius fighting contractors and builders to realize his one-off iconic piece; architecture is opening up to the youthful and ambitious.
You could blame it on the recession, the globalization, the trend towards collaboration and multidisciplinarity or even on Mark Zuckerberg and the web 2.0 young guns. As Bjarke Ingels, one of the most successful 30-somethings in the architectural scene says,
I was very jealous of all the 19-year old Internet enterpeneurs who became multimillionaires overnight...[...] I thought it was unfair that I was stuck in such a gentlemen's business where you would have to wait until middle age before given the opportunity to build.
But times are changing and for the first time it seems there is a shortcut or better yet a movement in the way that architectural careers are developing. Here is something that might have been unimaginable a 10 years ago - a selection of buildings by the under 40s: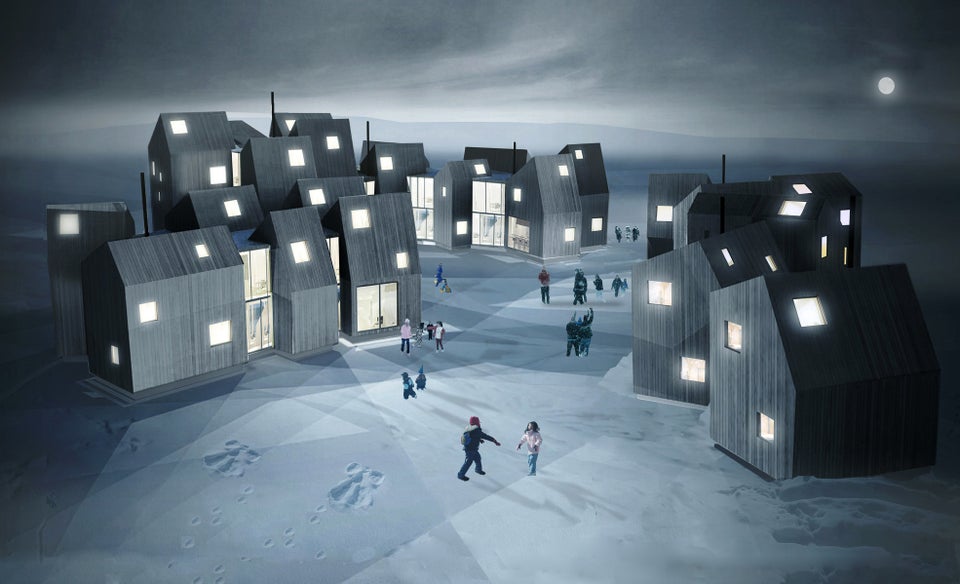 Trust No One Over 40
Not so long ago the typical professional path of a graduate meant working long hardcore hours under the wing of a bigger company and patiently layering brick over brick of professional experience, until a chance of a break comes somewhere in the late 40s. It necessarily included the slow and logical gradation from pavilions, beach houses and private homes to perhaps a small public facility and if lucky enough, a major commission. But all those preconceptions were shattered when in 2001 the 26-year olds Bjarke Ingels and Julied De Smedt left Rem Koolhaas' OMA to found their own, hugely successful PLOT, which only 5 years later peacefully split in the two just as successful practices BIG and JDS. OMA though was long before known as future-star incubator - just check this cute infographic. Or if you're a bit more shameless, go for this one, all from the resourceful and witty "Notes on becoming a famous architect" blog.
Most commonly the cut-off age limit for joining the "young architects" graph is assumed to be 40. But as practices are nowadays often founded and led by professionals in their early 30s or even younger, most of them are far from BIG's joyous success and would argue that actually producing buildings is what makes an architect. And while professionals and critics share the rising concern that ongoing recession and scarcity of jobs might chase young practitioners out of the field a considerable part of the latter are actually redefining the profession. Can you imagine starchitect gurus converting a former gas station into a temporary community cinema or gathering a dream team of colleagues to help the underprivileged world?
There is surely an agenda or rather, multiple agendas that arise as the discipline becomes even more densely involved with issues of economy, globalization, ecology and social processes. A lot of youngsters return to the hands-on craftsmen approach to skip the contractor and constructor steps through inventing and building their own briefs, mostly as light, temporary structures to pass the according laws. And this approach has produced some of the most original and provocative urban interventions recently going as far as Michael Rakowitz' ParaSITE project. An experiment running for over 10 years now his custom-made inflatable "bubble tents" for homeless people literally parasitizing on private homes have triggered an intensive social and political debate. Another decade-old, major initiative is Cameron Sinclair and Kate Stoth's Architecture for Humanity: a non-profit network of over 50 000 professionals providing design, construction and development services to communities in need.
Today's selection celebrates the diversity of the emerging faces: from the "radical pleasing agenda" of comic-loving BIG through the digital blobby optimism of EMERGENT to the caravan architects of Fantastic Norway, travelling around the country to offer architectural services to different communities. There are, of course, numerous cultural and economic implications to this and perhaps rightfully Guardian's Rowan Moore warns us that
On a first sight what seems to be lacking is a strong critical platform, but I'd like to think of Daniel Libeskind saying that
You can't do architecture if you don't believe in a better future. You might as well be a poet or a musician composing in a minor key. But to be an architect, you need to construct something.
Popular in the Community