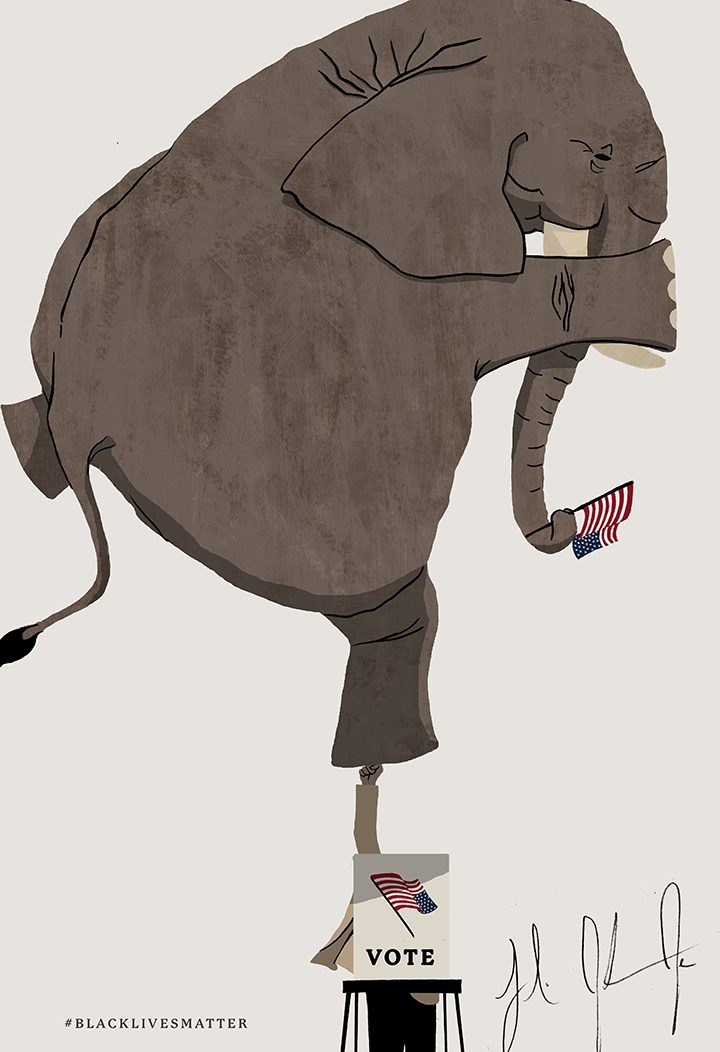 Just recently, I had the chance to spend time with three different groups of young people. I chaperoned a high school Black Student Association on a trip to see 13th, Ava DuVernay's documentary on mass incarceration and the prison industrial complex. I was serenaded by a precious and brilliant group of 5- to 8-year-olds, rehearsing on stage for an upcoming engagement. And I joined a small group of teens at the local Boys and Girls Club for a lively discussion about the importance of voting. These are our Black futures!!!
At the same Boys and Girls Club just a few months ago, one young lady told me that she'd never learned about Black people and allies of other races dying to secure voting rights for Black people. "They don't teach us this in school," she said, speaking directly to my spirit and reigniting in me a vivid and beautiful vision for change – change that I knew right then that she would help lead.
My vision for Black futures looks like Black youth voter education and young Black voters everywhere.
"We can and we will create this future by showing up fully and electing folks who prioritize people over profits."
Voter education begins in elementary school. By middle school, children know ALL of the history surrounding our ancestors' contributions to society, plus the history of voting rights and voter suppression. By the time they reach high school, students are actively volunteering to help with issues important to them.
In this future, students are also able to vote at 16 and are automatically registered to vote when they get their first driver's license or state ID. They know enough about political offices and candidates who are running to be able to help educate others. As they enter college, students lead the organizing of their peers (and affinity groups) both on and off campus.
I see children and adults well versed on how to build and use political power for the good of all. I see well-qualified Black candidates that are successful in their bids for offices on every level. They truly represent the people – never corporate interests with zero malfeasance – because their integrity allows them to do nothing less.
Gone are the days when so-called "criminal disenfranchisement laws" – designed to keep people from their Constitutional right to vote – are accepted as legal in the United States. There is no more prison industrial complex, zero disenfranchised formerly incarcerated persons, and no in-home surveillance, shackling people to what should be the serene sanctuary of their homes.
In my vision, all people – not just Black youth – understand immediately that tragically low voter turnout for midterm elections could result in formerly incarcerated folks having their voting rights restored by one Kentucky Governor only to bestripped away again by a new Governor just one month later – and never let this happen.
If it still exists in this future, our future, the GOP has given up on their relentless voter suppression tactics towards Black people and other non-whites, because their schemes no longer work.
In this future, we break records every year for the number of people registered and turned out to vote for every. Single. Election. And out front among these new voters are Black youth.
And honestly, we can and we will create this future by showing up fully and electing folks who prioritize people over profits.
I dedicate this piece to young Black people – to every young person – and to all who nurture their potential and brilliance. Thank you, Okemos BSU, Pam's Academy of Champions, and Lansing Boys and Girls Club, for the love and for supporting and inspiring young people.
This post is part of the Black Futures Month blog series brought to you by The Huffington Post and the Black Lives Matter Network. Each day in February, look for a new post exploring cultural and political issues affecting the Black community and examining the impact it will have going forward. For more Black History Month content, check out Black Voices' 'We, Too, Are America' coverage.
Popular in the Community