WildCare's Wildlife Hospital treats over 4,000 ill, injured and orphaned wild animal patients from over 200 species every year. This is one patient's story.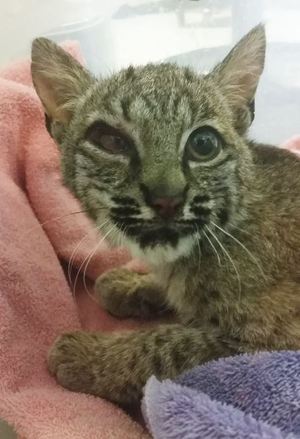 Weighing less than seven pounds, the pathetic pile of fur by the roadside looked like a domestic tabby hit by a vehicle. When her rescuer saw her, he assumed she was dead.
But then he saw her breathe, so he pulled over his car.
Small and spotted as she was, he did at first think she was someone's injured pet. He pulled off the dress shirt he was wearing over a T-shirt and picked her up to wrap her in it.
That's when he noticed the bobbed tail and tufted ears and realized this was a Bobcat, albeit one small enough to be just out of kittenhood. He knew she needed help.
The cat's rescuer knew the only place that could save an injured Bobcat was WildCare, so he called the local humane society to transport the injured cat to our Wildlife Hospital.
He kept the completely unconscious feline warm on the seat heater of his car while he waited. Fortunately she didn't wake up!
When she arrived at the Wildlife Hospital, the Bobcat was still mostly unconscious. Medical Staff was able to perform her intake exam without sedation. They started with a weight check, and then gave the cat subcutaneous fluids and pain medications. Then they palpated her entire body to check for injuries. Watch in the video below as the cat wakes up a little before being weighed and placed in an oxygen box.
Although Medical Staff had concerns about the cat's radiographs (x-rays) potentially showing spinal compression, the next day the cat proved she could stand up and walk without assistance, which was great news. A break in one of the bones of the foot was the only fracture diagnosed, and splinting it was deemed unnecessary.
The biggest concern was the injury to the cat's eye, and the head trauma that had caused it. In the video below, volunteer veterinarian Julianna Sorem, DVM examines the cat's eye and gently palpates her orbital socket. When she was admitted to the Wildlife Hospital, the cat's right eye had been so swollen shut it was impossible to tell if the eyeball had survived the accident. Fortunately, several days of rest and appropriate medications brought down the swelling. Even more fortunately, the eye was undamaged.
Fast forward a week, and the Bobcat is feeling much better! In the video below, she shows that both her eyes and her ferocious attitude have made a full recovery! Medical Staff is removing towels from the carrying kennel in preparation to transport the animal to our sister center, Sonoma County Wildlife Rescue, which generously allows us access to their extensive caging for large mammals needing large enclosures for recovery. Be sure to turn up your volume to hear the cat's growling and snarling!
When WildCare moves to our new location (our new Wildlife Hospital is estimated to be completed in late 2017), we will have the appropriate caging onsite for animals like this Bobcat. We can't wait! Learn more about WildCare's impending move here.)
Finally, after a month in care, this Bobcat has gained a couple of pounds, recovered from her injuries, and demonstrated how incredibly fierce a Bobcat can be!
WildCare staff, reporters from the San Francisco Chronicle (read the article) and the Marin Independent Journal (read the article), and the cat's rescuer, Cory, and his parents were all on hand to witness her return to the wild.
Enjoy her break for freedom below, including her brief (but heart-stopping!) dodge into the crowd of photographers, as she heads into her rightful place in the wild.
WildCare is a 501(c)3 nonprofit organization supported almost entirely by private donations and individual memberships. Visit us online at wildcarebayarea.org.