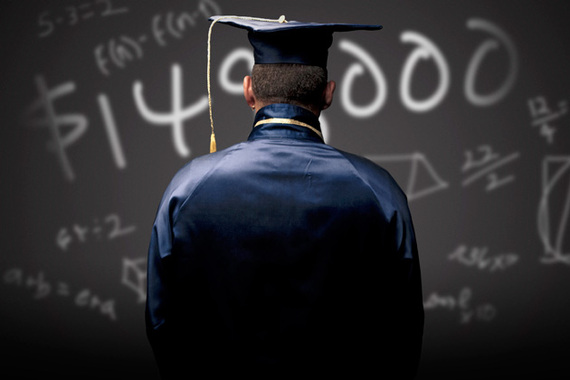 A recent survey from TIAA CREF, one of the leading financial services providers in the United States, indicates that nearly sixty percent of college educated Latinos find it difficult to cover their monthly expenses. Only forty percent of Latino college graduates feel they have enough saved in a rainy day fund. For these graduates, harsh reality is directly tied to what many activists are calling this generation's crisis: student loan debt. On average, Latinos accumulate nearly $49,700 in student loan debt over their course of their undergraduate education. The majority of Latinos' undergraduate debt comes from private loans, which carry a variable interest rate. This means that Latinos are taking out loans that are likely to carry high interest rates, have higher monthly payments and a take a longer time to pay off. The path to paying of undergraduate debt is indeed a difficult one for Latinos as more than half indicate that even well into their 30s that they still have too much debt.
At first glance, this is a startling reality that contradicts dream of pursuing a postsecondary degree. For many Latinos, education is viewed as the path to achieving the American Dream. Defined as obtaining a good job, purchasing a home and saving for the future. Increasingly, however, the hope of a better life is slipping away from college educated Latinos. As a young and educated Latino, I understand many of the pressures that my peers face: paying off their debts while also balancing personal and familial responsibilities and preparing for a secure future. Latinos' growing student debt has strong implications not only for Latinos, but also for the future of our nation. Here is what is at stake if Latinos graduates continue to be crushed by their student loan debt: an increasingly unstable housing market, a disintegrating social security system and the future of our political system. As the demographics of our nation continue to shift and more Latinos become college age and enroll in postsecondary education, key stakeholders have a role to play in ensuring the future of our nation. Institutions of higher education, policymakers and researchers all have a role to play in ensuring that Latinos complete college with as little debt as possible. The future of our nation depends on it. In order to improve the financial well-being of Latinos, however, we must first understand how Latino college graduates are accumulating such high debt totals.
Over the course of the past decade, erratic state support for higher education has negatively impacted institutions of higher education. In 2011-2012, states cut their funding for higher education by an average of 7.6%, with only 9 states maintaining level funding. In 2015, overall state funding has increased by 5.2% (from the previous year), but in many instances states are still funding higher education at lower levels than other public entities including the health and prison systems. This inconsistency in funding has prompted institutions of higher education to turn to students to finance a larger portion of their postsecondary education.
As a result of decreasing support for higher education and the increasing costs associated with higher education, many institutions are raising their tuition and fees. Over the past 30 years, the cost of tuition, fees room and board at public institutions has nearly tripled. As a result, many students have been left to pick up the tab- and are increasingly paying the price for pursuing a postsecondary degree. These data paint a bleak picture for Latinos as they accumulate some of the highest debt totals. Reversing these trends will take a massive effort institutions of higher education, policymakers and researchers. Each of these stakeholders to play a significant role to ensure that Latinos graduate from college with as little debt as possible.
Institutions of higher education can take multiple steps to decrease Latino student debt totals. First, colleges and universities should examine how their institutional aid dollars are distributed to ensure that Latinos receive enough financial support. In recent years, an increasing number of institutions have shifted their funding formulas from need-based aid to merit-based aid. This negatively impacts Latinos, as they are less likely to receive merit-based aid than their high-achieving counterparts, leaving them to use federal and private loans to finance their education. Second, institutions can engage in cost cutting measures that will help defray the cost of providing higher education to students. Many of these include providing online courses and sharing administrative staff. Institutions can then reinvest these savings into need-based financial aid.
Policymakers have a role to play in helping to reduce the burden of student loan debt for Latinos. First, policymakers can deepen their commitment to federal work-study. For decades, the Pell Grant has served as the foundation of federal student aid. Increasingly, however, the grant has struggled to keep pace with the rising cost of college. Programs like work-study can help defray the cost of higher education while also allowing Latinos to gain valuable work experience and develop relationships with faculty and staff on campus. In addition, work study is linked to retention and success after college. Second, federal officials should help elevate existing methods to help Latinos to pay back their student loans. Programs like income-based repayment and public service loan forgiveness are a good starting point to get out of debt, however few graduates know about these options.
Student loan debt totals are increasingly holding Latinos back from their future. Instead of striving to obtain a good job and to save for a home, Latinos are striving just to pay back their loans. This predicament does not bode well for the future of our nation. If we do not improve the financial well-being of Latino college graduates what will our nation look like in 2020, or in 2050? Not only will we not be able to compete globally, we will not be able to sustain our own economy. What will the American Dream look like then?