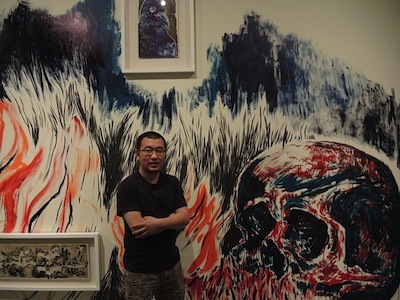 Chinese artist Sun Xun with his painting installation at Museum of Fine Arts, St. Petersburg (Florida), part of the historic museum show, My Generation: Young Chinese Artists
GO FIGURE. A new artistic generation has appeared in China and they have something new and revealing to say about their world and their lives!
My Generation: Young Chinese Artists, a museum exhibition featuring 27 emerging artists has just opened in Florida, at two venues: the Tampa Art Museum and the Museum of Fine Arts, St. Petersburg.
The show looks at the new generation of artists who have emerged in mainland China since 2000, a period marked by increased openness to the West and greater experimentation. It is curated by Barbara Pollack, one of the foremost authorities on contemporary Chinese art, who since the late 1990s has written extensively on the subject and is the author of The Wild, Wild East: An American Art Critic's Adventures in China (Blue Kingfisher Ltd., 2010).
I had the pleasure of touring both shows with Pollack, and I asked her what the impetus was to spend the past four years making the exhibition.
After I finished my Wild, Wild East book I realized that it was a capsule of an older generation," said Pollack. "Yet a new generation of artists was coming to prominence, artists who were born after the death of Mao in 1976 and the end of the Cultural Revolution; and I realized they have a very different perspective from the older generation. They are less overtly political, more personal in their exploration of the beauty and travails of their lives. Some with humor and others with poignance seem to want to tell us intimate stories of who they are, where they came from-- their family influences, their cultural past, and their frustrations.

Truly this is political art, but it is couched in a very personal and private voice. I've made more than 20 trips to China to curate this show, and have met with each of the artists. And I've had the keen interest of Tampa Museum of Art Executive Director Todd D. Smith, who has made trips to China with me and become a champion of the show and who brought on the St, Petersburg Museum as an exhibition partner.
I was fortunate to tour the show the day before the opening, and had the opportunity to meet three of the artists who were making on-site installations.
Ye Nan (of the Irrelevant Commission collective) was installing an illuminated hanging sculpture that seemed two parts lily pond and one part eccentric lamp-- all made, he said, from his grandfather's broken porcelains and a brass tea kettle. For me, a Brazil-loving culture fiend, the work sounded a near-universal voice.
Next, I met Jin Shan, who was completing a huge, crystalline, futurist architectural stage set. Not yet finished with the installation, Jin was adding a small revolving lighting element that would cast shadows shaped like a crane in flight, a peony, and a sunrise, which were based on the traditional-style works of his father, also a painter.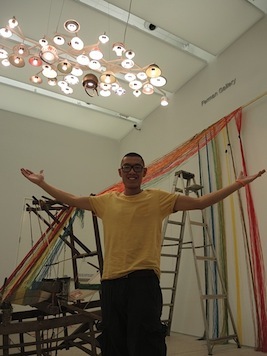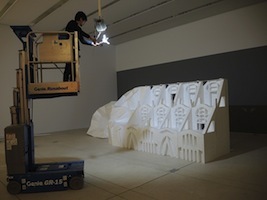 At top: Ye Nan on site for the installation of Irrelevant Commission's About Family (2011); and Jin Shan installing his sculpture installation, No Man City (2014)
And then, at the St. Petersburg Museum, I met Sun Xun, who was finishing a complex room of dozens of framed paintings on paper, all installed over landscapes of his that were painted in ink directly on the wall. Sun's drawings have an instantly engaging quality that will rev up anybody's inner collector-- which is great, because the estimable New York gallerist Sean Kelly is giving Sun his gallery as a studio for the month of December, 2014, so that the artist's first New York gallery solo show can be unveiled in January, 2015. All eyes, no doubt, will be watching that opening with keen interest.
Other exhibition highlights included the brooding monochrome paintings of Shi Zhiying, who shows with James Cohan Gallery in New York; the strangely compelling performance video by Fang Lu, entitled Rotten, in which food and produce are changed into a woman's cosmetics and wardrobe, in gentle protest of the power and import once given in society to female beautification and objectification; the close-up, self-portrait paintings of Song Kun, whose Nan Goldin-like oeuvre I first learned about in 2007 from the artist's It's My Life project show at the Hammer Museum at UCLA, Los Angeles; and then, with special appeal for all of us who live in congested cities, Liu Chuang's video of a slow motion "performance" of two cars traveling at slow speeds around Beijing's Ring Road, creating a kind of moving island in a stream. The latter work is hysterically funny and reminded me of almost every day I'm on the congested roads of São Paulo.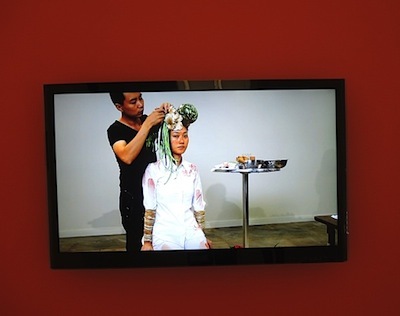 My Generation: installation view of Fang Lu's video, Rotten (2011)
My Generation is accompanied by a striking and informative catalogue, the cover of which features a poignant photograph by Chi Peng, whose work I have seen over the years at Chambers Fine Art in New York. The catalog contains insightful essays by curator Pollack and multimedia artist and curator Li Zhenhua, who is based in Shanghai and Zurich; a foreword by Tampa Museum of Art Executive Director Todd D. Smith and MFA Director Kent Lydecker; reproductions of all the works in the show; and artist biographies.
A superb two-museum show, My Generation is scheduled to travel to the Oklahoma City Museum of Art later this year. Significantly, the show will not travel to New York, a sad comment on the limits of that city's arts institutions-- and such a shame, given New York's vast cross-cultural audience!
MUSEUM OF FINE ARTS, ST. PETERSBURG
255 Beach Dr., NE, St. Petersburg, FL 33701
Monday - Saturday, 10 a.m. - 5 p.m.; Thursday, 10 a.m. - 8 p.m.; Sunday, noon - 5 p.m.
Show runs June 7 through September 28, 2014
fine-arts.org
TAMPA MUSEUM OF ART
120 W Gasparilla Plaza, Tampa, FL 33602
Monday - Thursday, 11 a.m. - 7 p.m.; Friday, 11 a.m. - 8 p.m.;
Saturday and Sunday, 11 a.m. - 5 p.m.
Show runs June 7 through September 28, 2014
tampamuseum.org
Below: Prior to installation, My Generation curator Barbara Pollack examines Shi Zhiying's The Pacific Ocean (2011)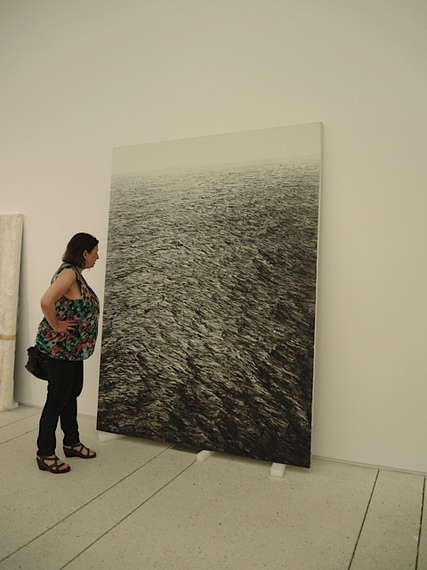 Popular in the Community